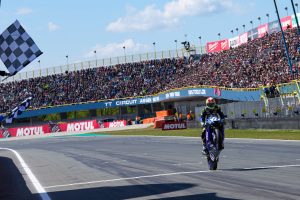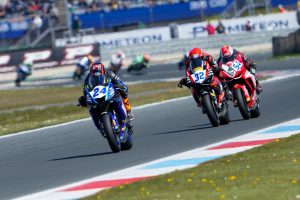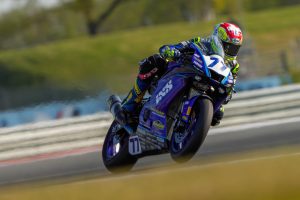 Aegerter wins red-flagged home race in Assen for Ten Kate Racing, Taccini tenth after strong race
This weekend the second round of the FIM Supersport World Championship is held at the TT Circuit Assen. A special weekend for Ten Kate Racing as it is the team's home race, just half an hour drive from the headquarters in Nieuwleusen.
On Friday, reigning World Champion Dominique Aegerter immediately showed that he has come to Assen to win. In sunny but cold conditions the Swiss rider set the fastest lap time of the day in the first free practice session, Leonardo Taccini ended a difficult first day in 21st position.
In Saturday morning's Superpole session Aegerter was again flawless, the Swiss did a 1'36.906 and broke his own lap record from last year. Leonardo Taccini qualified in 21st place for both World Supersport races.
In the first race of the weekend, Aegerter started well and immediately took the lead. The Swiss rider was under a lot of attack in the opening stages and dropped back to third place. He was eager to fight back and came back to second position on the seventh lap. For a long time Aegerter was in a fight with Dutch rider Glenn van Straalen, whom he managed to pass at the end of the fourteenth lap.
Immediately after this overtake the red flag was waved due to an incident of two riders, making Aegerter the winner of Race 1 in Assen. A perfectly timed overtake by Aegerter gave him and Ten Kate Racing the full 25 points in front of the Dutch crowd.
Leonardo Taccini made a good start and moved up from 21st to 12th position on the first lap. In the race he was involved in a fierce battle and went out of the track a few times. In the end the young Italian managed to fight his way back up to tenth position, his best result in the World Supersport class.
Dominique Aegerter: "I am very happy to have scored the 25 points today. At first I wasn't sure if I had won, I overtook Glenn just in time ahead of the timing point. My speed was good all day, especially this morning in Superpole where I set a new lap record with a 1'36.9. The Ten Kate Racing team did a great job again, I am super happy to give them a win in their home race. It was nice to see all the partners of the team and all the Dutch fans today. Hopefully we can do the whole race distance tomorrow and the sun will be shining again."
Leonardo Taccini: "I think it was not a bad race from P21 to P10, but I think there is still more to come. On the first lap I made a mistake and had to go straight. I lost a couple of places and I lost contact with the group. I then managed to get back to the group but made another small mistake and lost a few places. In the end I was able to make up places and cross the finish line in tenth place. If I make a good start tomorrow and stay calm in the first lap a better position is possible."
Kervin Bos – team manager: "Winning at home is of course the reason why we do it. Leonardo Taccini has surprised us again with his best result in the World Supersport class. I am very proud that Leonardo has made these steps and shows why we have him in the team, hopefully he can continue this upward trend for tomorrow. Aegerter was fantastic again today, scoring 25 points. I have to admit that we were lucky with the red flag, the timing was just right. We have to learn from that for the future. We have a plan of attack for tomorrow and we are all looking forward to race again in Assen."
Aegerter reigns supreme in Race 2 at Assen and delivers perfect weekend for Ten Kate Racing, Taccini scores points again
Dominique Aegerter rode a flawless second World Supersport race at the TT Circuit Assen on Sunday afternoon. The Swiss rider crossed the finish line with a big lead and completed a perfect weekend with pole position, a new absolute lap record and two victories with fastest race laps in both.
Aegerter started well but was forced wide in the first corner, dropping back to fourth. The Swiss rider was involved in a fierce duel but remained calm. After several laps of battle, Aegerter took over the lead at the end of lap nine and stamped his authority on the race. He quickly built up a lead that was impossible to overcome and crossed the line for another win with a great wheelie.
Leonardo Taccini had a good start again and moved up from 21st position on the grid to 15th position. The Italian then found himself in a small group fighting for thirteenth place. In the closing stages of the race it looked like he was going to finish outside the points but thanks to some clever overtaking actions Taccini finished thirteenth. Points again for the 19-year-old Italian who is visibly making progress.
With another double victory for Aegerter at the TT Circuit Assen, the Swiss rider and the Ten Kate Racing team have now won the last four World Supersport races at the Dutch track. With three wins and a second place from the first three races, Aegerter leads the championship with 95 points and already has a 30-point advantage. Taccini is sixteenth in the championship with nine points.
Dominique Aegerter: "It was a perfect weekend here in Assen. Just like last year, we achieved pole position with a new lap record and won both races with the fastest lap. We made the most of it and it has been almost the perfect start to the season so far with 95 points from these four races. I like riding at Assen and the weather was good today, the team gave me a great bike that performed well in all weather conditions. Of course engine tuner Frits Jaspers also did a great job and was on the podium with me today. This weekend was just great and I take extra motivation from it."
Leonardo Taccini: "It was not really the race I had hoped for today. Yesterday was a bit better but anyway I improved myself today. The problem was that halfway through the race my arm started to hurt a bit and I lost a few places. At the end I was able to pick up the pace a bit and managed to finish thirteenth. That was not really the goal we had in mind but we scored points again. Now it's on to Estoril, I'm looking forward to making some progress there."
Kervin Bos – Team Manager: "Pole position with a new absolute lap record, two fastest race laps and two victories: it couldn't be better. These are the things you dream of and then when it happens it doesn't quite sink in. I am very happy and proud, not only of our riders but also of the sponsors and partners who are here this weekend. Leonardo Taccini has been very good and I think that's a very important point from this weekend. He showed the growth that we hoped he would be able to do, and in the end that is what he does.
Dominique Aegerter showed he is far from his peak and is only getting better and better. There is definitely more to come. We have strengthened our leading position in the championship and I think we have sent a message to the rest of the field."