Saturday
Dominique Aegerter and Ten Kate Racing second in season opener at Motorland Aragón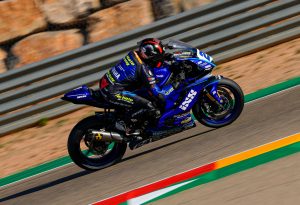 Dominique Aegerter finished second in the first World Supersport race of the season in Aragón on Saturday. Ten Kate Racing teammate Leonardo Taccini finished eighteenth in the first race of 2022 at the Spanish circuit.
This weekend the first round of the 2022 FIM Supersport World Championship is held at Motorland Aragón. For Dominique Aegerter and Ten Kate Racing it is the first race weekend of the season, a season in which defending the 2021 world title is the main goal.
During practice and qualifying, Aegerter was constantly up front and managed to qualify in second place in Saturday's Superpole for Saturday afternoon's Race 1 of the Pirelli Aragon Round. In this race the Swiss rider battled for victory the entire race, which after a great duel was only decided in the final corner. Aegerter had to pull out all the stops to avoid his near-fall. He ran off the track and crossed the finish line 0.239 seconds behind the winner.
Team-mate Leonardo Taccini made constant progress in free practice but had a poor qualifying session, resulting in a twenty-second starting position. This made for a difficult race and he 'only' crossed the finish line in eighteenth place.
Dominique Aegerter (P2): "Of course I'm happy with the 20 points, but after a great battle for victory throughout the race we had a critical moment in the last corner. Baldassari lost the front and almost crashed, hitting me – there are quite a few rubber strips on my suit – and I went off track. Of course I would have liked to win, but given the incident I think we should be happy and satisfied with second place. Compared to last year, we are doing a lot better here now, thanks to Ten Kate Racing for their extensive and hard work this winter. Our package is better again and that is a big credit to the guys in Nieuwleusen. I can't wait to start tomorrow in Race 2 and fight for victory again."

Leonardo Taccini (P18): "It was a really tricky first race, this because I didn't have a great result in Superpole. Having to start the race from twenty-second didn't make it easy for myself. It was a tough and difficult race. On Sunday we will have to do better and make progress. I will do everything I can to score a better result on Sunday."

Kervin Bos, Ten Kate Racing team manager: "It was a great first race of the season here in Aragón today. We saw a great fight for the win between Dominique and Lorenzo Baldassarri the whole race. Our package is just very good, that's the main thing and to see Dominique here second in Race 1 at the most difficult circuit of the season for him is satisfying. We still have a few small things we can improve, the guys will be working really hard on that tonight. Then we'll be back out in force tomorrow to fight for victory in Race 2. As for Leonardo, he didn't do a bad race but it was just a shame that things didn't go his way in qualifying. With a little bit of progression he can go for a better result on Sunday."
Sunday
Aegerter wins Race 2 of Pirelli Aragon Round, DNF for Taccini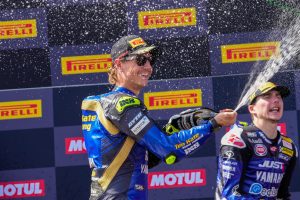 Dominique Aegerter has won Sunday's Race 2 of the Pirelli Aragón Round at Motorland Aragón. Ten Kate Racing teammate Leonardo Taccini crashed during the race in fourteenth position, resulting in a DNF.
Sunday morning during warm-up at a fresh but sunny Motorland Aragon, Dominique Aegerter already showed that he was to be reckoned with later in the day. The Swiss rider set the fastest lap time in the twenty-minute session, showing he was ready for Race 2 later in the day.
Aegerter took the lead at the start of the race and a thrilling duel ensued with Lorenzo Baldassarri for the lead. Despite the fact that the Ten Kate Racing rider had to leave the lead to his closest competitor for a while, the reigning world champion struck in the closing stages of the race and crossed the finish line as the winner after fifteen laps.
Leonardo Taccini had a good start of the race and managed to move up to fourteenth position. Unfortunately, things went wrong and the young Italian crashed out with his first DNF of the season.
Dominique Aegerter: "Today was another great race in which we fought a similar duel as the day before. In Race 1 we had to let Baldassarri take the win because of a critical moment in the last corner of the race but today we were able to finish the race and took the win. Thanks to the guys at Ten Kate Racing for giving me another great machine. A year ago we left Aragón in second and fifth place, so we are on the right track. I'm already looking forward to the team's home race in two weeks' time at the TT Circuit Assen."

Leonardo Taccini: "What can I say. It was just a shame that I crashed in the race, because up until then it was going pretty well and I had already made up quite a few positions. It was a real shame. We now head to Assen, the circuit where we tested at recently and which is also the team's home circuit. It is now important to forget this day as soon as possible and score two better results in Assen."

Kervin Bos, Ten Kate Racing team manager: "Wow, the first win of the season is in the bag and that in Aragón, the circuit where we had a really tough time a year ago. The guys had found something today and Dominique showed once again that he is a proper racer. Just great. As for Leonardo, it was just not good today with two crashes but we know he is young and has the potential. We just need to go through the process with him step by step. In Assen we already tested and he will definitely benefit from that.
In two weeks' time we have our home race at the TT Circuit Assen, where we have something extra in store. The fans are welcome again, it's open paddock so we hope to see you all in Assen in the weekend of 22-24 April."
With his second place on Saturday and victory on Sunday, Aegerter leaves Motorland Aragón with 45 World Championship points scored as leader in the championship standings, a leading position he shares with Baldassarri.