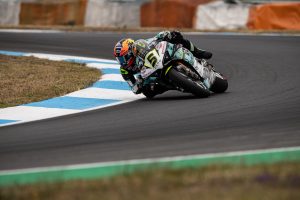 Three weeks after the injury suffered at Estoril, with the broken right collarbone, Philipp Oettl is ready to go on track for the Misano weekend! Medical examination on Thursday morning passed successfully, now the focus is all on the home event of Team Go Eleven.
Friday, the German rookie will have to regain his feeling with the Ducati Panigale V4-RS, after the hard crash in Portugal; it will be essential not to stress the right shoulder too much, conserving energy for the races, but at the same time, in free practice, finding the right set-up and feeling good on the bike is decisive for the rest of the weekend. Oettl will get back on his Panigale through the corners of the Misano World Circuit, where he showed off in the winter tests, finishing in the top five; now the weather and grip conditions will be completely different, the heat should make the track more slippery and difficult to understand. Furthermore, today, the rain fell copiously on the Romagna track; in FP 1 it will be necessary to analyse if the track has been "dirty" or is already in perfect condition.
Now it's time to put the first gear, get on track, and tomorrow evening we will have a first real confirmation of the forces on the field.
Philipp Oettl (Rider): 
"We are in Misano, I like this track and during the winter we rode quite fast. But now I have to check the shoulder, In FP 1 I hope to do some good laps to get feeling back. Then we will see, if I don't have too much pain, we could do a good result and I need to regain a good feeling with the bike, too. I am optimistic for the weekend, I want to ride again the bike, cause I had such a good feeling in Estoril and Assen, so I can't wait to ride tomorrow!"
Posted on Thursday, June 9th, 2022 in News