From England to The Netherlands, the TT-Circuit Assen, one of the fastest tracks on the calendar, awaits the protagonists of the WorldSBK. Fast turns, hairpins and Esses alongside with short straights; on this track the riders have always written important pages of history.
Team Go Eleven and Chaz Davies come from a weekend with a positive improvement in Donington Park, heavily affected by both the weather and the right shoulder injury of the Welshman. In Assen, with the V4, the riders had only one race in 2019, with very hard conditions, and the famous snowfall on Saturday that caused the postponement of Race 1. A completely different climate this year, much warmer, which will change the references from past seasons. Go Eleven and Chaz are aiming for a good result to return to the positions that matter and relaunch in a championship standing. As for the shoulder of the number 7, the pain is less than in Donington, but still not 100%. The conditions will, however, be evaluated session by session and the feedback will be known only once on track. The basic set-up for the first round will be the one from Donington Race 2.
Now it's just time to fix the details, check the last parts of the bike and go on track tomorrow morning!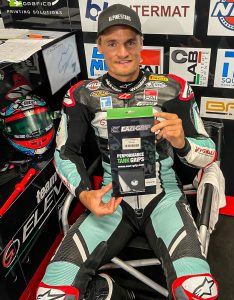 Chaz Davies (Rider):
"It's nice to be back here in Assen, after not coming here last year. It's a fun circuit, I think that a lot of people enjoy it. A recent memory of Assen was a strange 2019, because we had such strange conditions, snowing and really cold. This weekend will be a lot different, I am optimistic to have a solid weekend. I feel a little bit better than I did in Donington with the shoulder, but I am still not 100%. Anyway I am confident that I should feel better on the bike. We will try to bring home the best result possible, and that's if not on, near the Podium!"
Posted on Thursday, July 22nd, 2021 in News