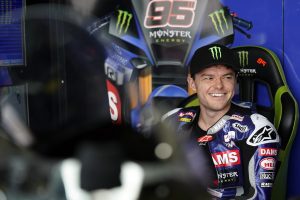 "I had really good intentions for the start of the year. I set off for Spain with Taylor and had a full five-week training plan with him and a few others for the time we were there, but I managed 1.5 days of it!
"This is bike racing at the end of the day; you get the highs and you get the lows. I've come off one of the biggest highs of my career, winning the British Championship and I felt so good coming into the year, so I can't lie it was frustrating to have a silly little crash at Cartagena and I'm paying the price for that!
"It's not an ideal way to start the season, I should still be out there now coming to the end of five weeks of solid training, but instead I'm coming to the end of my first five weeks of rehabilitation!
"There's never an ideal time to have an injury, but as far as timing goes, that is something that has been on our side with this situation in the sense I've got plenty of time to be fit before the season starts. When I've been injured before it's been during the season and I'm rushing to get fit, riding with broken bones etc, so to have almost nine weeks between getting injured and when I'm supposed to be back on a bike means I can do this properly and be in the strongest possible way for the start of the year. I'm a month into my recovery now and feeling a lot better, so with another month to go before testing I'm thinking I should be in a good position.
"I came back from Spain at the start of the month and I was in a wheelchair and my arm was in a sling. I was feeling a bit sorry for myself, but now I'm able to walk without a crutch or moonboot on my foot and the sling is gone. If you looked at me you wouldn't know there was anything wrong which is a step in the right direction!
"I'm walking again and able to bear weight on the ankle as well as move my arm, so this means I have been able to start training again in the last week. I see my physio every day, Monday to Friday, and then I've got some exercises and other things I can do at home to try and help as well.
"Each day I am constantly doing something to get better. The training is nothing intense, it's light stuff but as I progress I can do more and more. I went back to Loughborough University last week for the first time and now my shoulder is becoming a bit better I'll start to do more gym work in the next week or so. I'm not back to 100% just yet, there's a bit to go, but the fact I'm training and able to do something, even getting a sweat on, is good for my head more than anything else!
"I've been quite lucky with injuries in the sense that I've always seemed to be able to recover quite quickly. Whenever I'm injured I can manage it quite well. At the start it was very frustrating as I was in a wheelchair and sling and couldn't do a lot, but now I'm walking I've been able to see clear progress, for example going from walking with a limp to where I am now, walking pretty much normally. We are making good progress and I'd say probably even ahead of schedule.
"As I've said, time is on our side. There were maybe points at the beginning where I was worried, but since getting home and starting to walk and train again and seeing the progress I've made in the last month has made me think I should be OK for testing. Even if I'm not 100% for testing, there's another two weeks on top of that before the first round so at this stage I don't think there's anything to suggest I wouldn't be ready and in a strong position for the first round. Plus, with the first round at Silverstone that's also a bonus as it's not too physical, I won there last year with a broken hand!
"There's no pressure in terms of testing either, it's not like we've got a new bike or radically different things to try. The team have been working hard to develop the bike over the winter, but a lot of the new parts we're getting come directly from World Superbikes so in a way they're already tried and tested so we can just bolt them on. And one of the many positives to having someone as fast and experienced as Jason the other side of the garage means that if there is anything new to try, he will be able to try it and I can trust his judgement and capability. Normally if something works for him it works for both of us, so he might have to do a bit more of the donkey work whereas I'll focus on being bike fit!
"I've got the date of the first BSB test in my mind and I'm aiming to be as physically fit and mobile as possible for that and then we can make a plan from there for going forwards. All in all, things are looking a lot better than they did a month ago so with another month to go, I'd say we are on track."