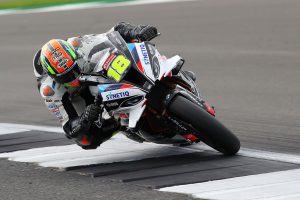 Danny Buchan has claimed his place in this season's Bennetts British Superbike Championship Title Fighters' Showdown after a thrilling fourth-placed finish, in a re-started BSB Race 3 here at Silverstone on the national circuit for SYNETIQ BMW.
It was a weekend of high drama with Danny crashing out of race one, followed by a twelfth placed finish in race two, which left a nail-biting finale. Twenty-three races completed this season to date, but it all came down to a 15-lap restart for Buchan to claim that all-important Title Fighters' Showdown spot – bestowed upon the top eight riders going into the final nine races of the season.
That fourth place cemented Danny's place in the top eight, sitting in seventh overall in the championship standings, and a real live shot at lifting this season's BSB title with SYNETIQ BMW. His team-mate Andrew Irwin was again hampered by some mechanical misgivings in the middle race of three, but did score a brace of eleventh-placed finishes, in races one and three.
"That was a bit close for comfort and every single member of the team played a part in helping Danny reach the Showdown stage of the championship. For one reason or another this has been a difficult year to date after Danny initially looked to be in a comfortable position near the front of the points' table. Honestly, either one of the two crashes he suffered recently could have been season ending, so for him and the TAS Racing boys to bounce back and finish the job in style today is very pleasing. It was a tough weekend for Andrew including another unfortunate technical issue although he showed great fighting spirit again today and was happy to assist our efforts as a team if possible.
As a team we have had some bad luck in recent years in reaching the Showdown stage, so it is very nice to repay our fantastic partners with this achievement, however we aren't here just to make up the numbers and we fully expect to challenge for podiums with both riders during the final three rounds."
PHILIP NEILL SYNETIQ BMW TEAM PRINCIPAL
"Obviously I'm over the moon to be in the Showdown. We've deserved to be in there all year but have just had a little bit of bad luck along the way. Now we can try to have a go at the championship; we are not too far away. So now it's time to build on what we have learned and go forward. Mega job by the SYNETIQ BMW team for putting a good bike under me and a big shout-out to my team-mate Andrew for helping me as much as he could in those races."
DANNY BUCHAN #83 BRITISH SUPERBIKE RIDER
"It was a difficult weekend, we had some problems that were out of our control, which hindered the first couple of races. In race three the bike felt really good, but I ran a bit wide and lost some ground, although we had a job to do and I think we did that quite well. We now move forward to the final three rounds and hopefully our fortunes will change.
Well done to Danny and all the team for making the Showdown, he's done a great job, so let's hope he can now go on and fight for the championship."
ANDREW IRWIN #18 BRITISH SUPERBIKE RIDER