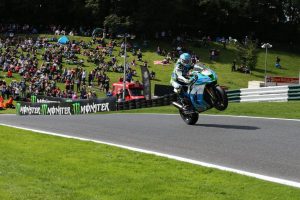 The Silicone Engineering Racing team is looking forward to its return to the Bennetts British Superbike Championship when the season gets underway later this year.
The Cumbria-based team plans to contest the 2021 championship after sitting out of last year's shortened season due to the Covid-19 situation.
And following the cancellation of the Isle of Man TT for the second year in succession, the squad is now looking forward to getting back out on the short circuits with rider Dean Harrison back aboard the Kawasaki ZX-10RR.
The team has confirmed it will return to BSB when the series kicks-off at Oulton Park at the end of May, but is also hoping to tackle a few roads events should they happen this year.
"There are a few things we are looking at but returning to the Bennetts British Superbike Championship was always top of our list," explained Team Manager Jonny Bagnall.
"We are pleased to be back on the grid for the 2021 season with Dean. The BSB Championship has played a huge role in our past success. The benefits of competing regularly with other riders of such a high calibre has proved an even more invaluable tool for developing the team, rider, and bike.
"Despite the 2021 IOM TT already being cancelled, the team is committed and looking forward to competing in the 2021 BSB championship on Kawasaki's ZX-10RR and look forward to developing further still, with the help of our partners and sponsors."
BSB CALENDAR 2021
Round 1: May 29-31 – Oulton Park
Round 2: June 4-6 – Thruxton
Round 3: June 18-20 – Snetterton 300
Round 4: July 9-11 – Knockhill
Round 5: July 23-25 – Brands Hatch GP
Round 6: August 6-8 – Donington Park National
Round 7: August 20-22 – Cadwell Park
Round 8: September 10-12 – Silverstone National
Round 9: September 17-19 – Oulton Park
Round 10: October 1-3 – Donington Park GP
Round 11: October 15-17 – Brands Hatch GP