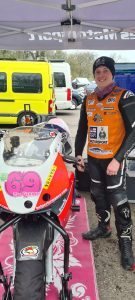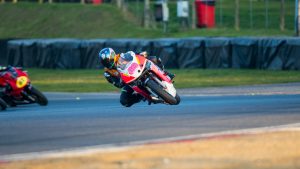 The first report of the 2022 season from RNRMRRT's new rider AB AWW Alex Skegg…
I have been part of the RNRMRRT since July 2021 and started out working as pit crew, helping the other riders get out to races on time. The pit work has always been great but the itch to be a rider and get out on track has been eating at me for a long time. I decided to stop holding off and jump in by completing my ACU racing license and buying myself a rough conditioned CBR600. Over the Christmas period I spent every night in the workshop stripping the whole bike and getting it to  a race-worthy condition. Many weeks of blood, sweat and tears later just weeks before I put my entry in to my first race, the bike was done. It wouldn't have been possible without the support and tips from the rest of the team.
Thursday 24th at 22:00 we arrived to a pitch black Brands Hatch. Unloading the bike, not knowing what the weekend would hold.
Friday morning we went for a track walk to assess the conditions and learn the best lines/brake points before my first ever test session.
Each lap I rode filled me with more confidence and I learnt better lines to take through the corners, slowly reducing my lap times until I managed a decent 56 second lap.
Saturday was race day and to say I was nervous is an understatement. I've learnt now there's nothing worse than getting your leathers on before a race and realising you need yet another nervous wee! Qualifying 23rd out of 24 didn't put me off as for my first ever race I just wanted to finish in one piece. Hurtling down the main straight past the chequered flag was a feeling I'll never forget even if it was in last place. The main thing was I was getting track time and experience.
The 3rd race of the weekend was when things really turned around for me after I finished 4th in class, narrowly missing a 3rd place podium by just 0.1 seconds! An incredible achievement that I will treasure, and hopefully improve next round.
After finishing the final race just 3 seconds behind the leader of my class I was able to kick back and relax with a big grin on my face. The most enjoyable race for me was the Military inter services race between the Navy, Army, and the Royal Air Force. Having our own little competition going on between myself and a fellow navy rider, it was an exiting game of car and mouse until I developed a fuelling issue and had to retire from the race. Now I have fixed the problem, and I am looking forward to the next race meeting where I hope to be even faster and hopefully come home with a trophy.
Posted on Wednesday, March 30th, 2022 in News