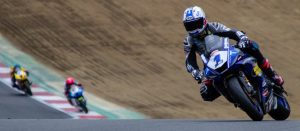 Rory Skinner concluded his dominant Quattro Group British Supersport Championship season with another dominant win. Harry Truelove launched off pole position to take the holeshot ahead of Brad Jones and Ben Currie. As they started the second lap, series leader Skinner sliced his way into third as the leading four riders were covered by less than half a second.
A mistake at Druids by Truelove saw the two Tyser Yamaha riders find their way through before a big crash from Truelove just two corners later saw him tumble out of contention. Wasting no time, Skinner was into the lead and soon setting a string of fast laps to edge away from Jones.
As the race reached the halfway stage, Bradley Perie was holding third ahead of Ben Currie, Lee Johnston and Korie McGreevy. Maintaining positions until the final lap, Skinner eventually took the win by 4.003s. Perie eventually secured seconds whilst Jones was third. Mason Law took the GP2 class victory to secure the 2020 title.
Quattro Group British Supersport Championship, Feature race, Brands Hatch:
Rory Skinner (Tysers Yamaha)
Bradley Perie (Diamond H Racing) +4.003s
Brad Jones (Tysers Yamaha) +4.073s
Ben Currie (Gearlink Kawasaki) +4.113s
Korie McGreevy (Century Racing Yamaha) +9.746s
Lee Johnston (Ashcourt Racing Yamaha) +9.835s
2020 Quattro Group British Supersport Championship Standings:
Rory Skinner (Tysers Yamaha) 270
Bradley Jones (Tysers Yamaha) 174
James Westmoreland (Gearlink Kawasaki) 152
Bradley Perie (Diamond H Racing Yamaha) 147
Lee Johnston (Ashcourt Racing Yamaha) 118
Harry Truelove (Trulove Brothers Racing Yamaha) 103
Posted on Monday, October 19th, 2020 in News