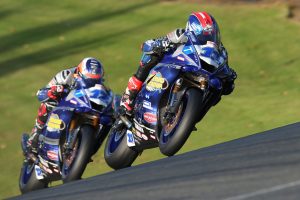 Quattro Group British Supersport Championship leader Rory Skinner returned to the top step of the podium in yesterday's 15-lap feature race at Cheshire's Oulton Park, in a thrilling race that saw him pushed all the way by Tysers Yamaha team-mate Brad Jones.
The 18-year-old from Perth finished a close second to Jones in Saturday's 12-lap sprint race, and Skinner and his team made some radical suspension changes to their Yamaha YZF-R6 overnight, which immediately resulted in them setting their fastest lap times of the weekend in the Sunday afternoon warm-up session.
After making a relatively steady start from third on the grid, Rory slotted in behind his team-mate and moved into the lead at the end of lap two. From there he was never headed, although Brad remained right in his slipstream throughout, as the two Team Appleyard Macadam Racing prepared bikes pulled away from the pack at a pace of almost a second a lap. Rory ran every single lap in the 1:38 bracket and crossed the line just 0.303 seconds ahead of his team-mate, the biggest gap between them in the whole race, to pocket his seventh race win of the campaign and extend his series lead over second-placed Jones to 73 points with four races remaining. Bradley Perie took the final podium slot, 14 seconds behind the Tysers Yamaha duo, after winning a thrilling seven way battle.
"Those were two brilliant races with Brad," said Rory. "We've been a little slower to get up to speed this weekend, as Oulton Park is a unique and challenging track and this was my first time here on a Yamaha. We didn't quite find the set-up to take it to Brad on Saturday, but we made some big changes to the bike for Sunday and I was able to watch the race back and see ways to improve my own lines for feature race. The team have done a brilliant job this weekend. Brad pushed me all the way and a double one-two is our best result of the season, which is reward for all their hard work."
Racing resumes at Donington Park in two weeks' time.
Image credit Bonnie Lane
Posted on Monday, September 21st, 2020 in News