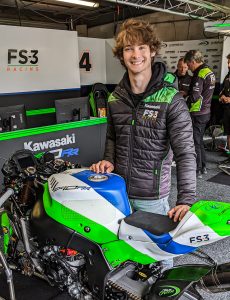 Cheshire Mouldings FS-3 Kawasaki's Rory Skinner will add two Moto2 World Championship wildcard appearances to his schedule, joining the American Racing team between Bennetts British Superbike Championship events at the British and Austrian Grands Prix.
Skinner, 20, currently holds fourth in the Bennetts BSB standings with multiple podium finishes. The Scottish contender has already won in Red Bull Rookies, British Talent Cup and British Supersport, clinching the British Talent Cup title in 2018 before taking the British Supersport title in 2020 to become the series' youngest ever champion.
Skinner said: "I'm really looking forward to getting started on a Moto2 bike. To be wildcarding at the British Grand Prix and do my first Moto2 round at home, it'll be really cool to race in front of my home crowd. I want to thank Darren and Nigel at FS-3, and John and Eitan for all making it happen.
"It's an awesome opportunity for me and something that I've wanted to do since forever. Riding in Grand Prix has been my goal and always been my aim since I started riding as a kid so to finally get to do two wildcards – it's awesome! I'm under no illusion that it'll be a massive learning curve but I'm looking forward to the challenge!"
Eitan Butbul, American Racing Team Owner, commented: "We started out managing Rory since the end of 2020 and last year there weren't any spots available at world level here, while there was a great opportunity to continue in BSB with FS-3. They've given him a superb package allowing him to showcase just what a talent he is, so we're sure he can do the same at Grand Prix level with the right opportunity over a season.
"Usually the teams in Moto2 look for someone already inside the paddock, so that's why we wanted to use our own team and resources to give him a shot at showing the World Championship paddock what he's capable of with two wildcard appearances this year. He's of the right age now, has enough experience and success behind him to make the jump. So we're very excited to see what he's able to do and we, as a team, relish the challenge of helping riders move forward in their careers in one of the toughest classes on the planet.
"We want to give a huge thanks to Darren and Nigel from FS-3 for allowing him to take this opportunity."
Nigel Snook, Cheshire Mouldings FS-3 Racing Kawasaki Team Principal commented: "Supporting young talent is in the DNA of our team. Taking on Rory for two years to develop his skills on a Superbike in the British Championship was a perfect fit for us. We got to know Rory during his time in the British Talent Cup and a dominant year in the British Supersport Championship, so we always knew that his goal was to get back to the MotoGP paddock and we've been working closely with John Hopkins and American Racing to help make that happen.
"Rory has impressed many people with the way he's got to grips with the ZX-10RR. He has become a regular on the podium and is currently lying fourth in the BSB championship standings, up against some very experienced riders. The fact that Rory is now on the verge of his first Grand Prix start demonstrates the strength of our Championship and our team. We are wishing Rory well and expect him to surprise a few people!"