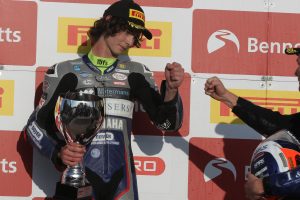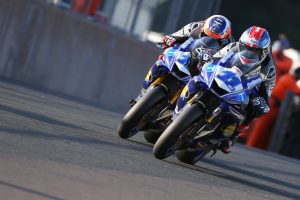 Perth motorcycle racer Rory Skinner is aiming to become the youngest ever champion in the 32 year history of the Quattro Plant British Supersport Championship at Donington Park this weekend, less than a week after celebrating his 19th birthday.
The 2018 British Talent Cup champion has won seven of the eight races this year and goes to the Leicestershire circuit with a 73 point advantage over his nearest rival, Tysers Yamaha team-mate Brad Jones. With 100 points available across the final two race weekends, Skinner, who turned 19 last Sunday (27 September) can secure his first championship in the adult ranks if he scores 27 points or takes one more race across the final two race weekends, at Donington Park or at Brands Hatch in two weeks' time.
"It's been a fantastic season for me so far and I am really enjoying riding the Tysers Yamaha R6," said Rory. "I clicked with the bike and the team straight away and that's reflected in our results. I'm just going to Donington Park with the same approach as every race. With all the delays at the start of the year the season has been squeezed into six weekends over 12 weeks, so there isn't really much time to dwell on anything. I really enjoy Donington and looking forward to get going. The championship is obviously in the back of my mind but I'll just take the weekend session by session just like I have all season, and see where we end up!"
Rain is forecast at Donington Park, throwing another variable into the mix as Skinner has yet to ride the Team Appleyard Macadam prepared Tysers Yamaha in wet conditions. Due to the ongoing coronavirus pandemic, no spectators are allowed at the event, however both Rory's races will be broadcast live on free-to-air television, with Saturday's Sprint race and Sunday's Feature race both shown on Quest (Freeview channel 12). Lights go out on Saturday's 12-lapper at 16:45, with Sunday's 16-lap race scheduled for a 15:25 start. Action can also be watched online through the Eurosport Player, with commentary and live timing available globally through the Bennetts British Superbike Championship website – www.britishsuperbike.com
Youngest ever champion?
Should he win the championship this season, Rory will become the youngest ever champion in a series that lists world champions and current Grand Prix stars Cal Crutchlow and Sam Lowes among its alumni. Currently the youngest champion is Stuart Easton, who won the 2002 series aged 19 years and 55 days. Easton is one of five Scots to have been crowned British supersport champion since the series started back in 1989, alongside Ian Simpson, John Crawford, Jim Moodie and, most recently, Tarran Mackenzie.
Donington memories
Donington Park holds good memories for Skinner. In 2013, aged just 13, he became the youngest ever winner of an Aprilia Superteens race at the former Grand Prix track, while six years ago, he tied up the Superteen title at the same Leicestershire venue on his 14th birthday, in turn becoming that series' youngest champion at the time. That early success led to an opportunity to race on the international scene, and he raced very competitively for two full seasons alongside some of the leading Spanish and Italian riders in the Junior Moto3 World Championship. A lack of funding saw him return home to win the 2018 British Talent Cup and last year move into the adult ranks through the British Supersport Championship, the main support class to the prestigious Bennetts British Superbike Championship.
After a challenging debut campaign running his own machine in the middleweight series, the highlight of which was a third place at Donington Park last October, Team Appleyard Macadam Racing picked Rory up to replace outgoing champion Jack Kennedy in their Tysers Yamaha squad. The teenager has won seven of the eight races so far, opening up with a double win around Donington Park's National circuit in August and taking his team's 50th race win last time out at Oulton Park. Those results mean that he goes to Donington Park with a 73 point advantage over Jones and giving him a first opportunity to take the title in his sophomore season in the class.