Richard Cooper achieves provisional Super Twins pole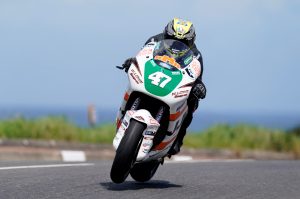 We'd had intriguing opening Supersport, Superbike qualifying sessions, what would Super Twins NW200 first qualifying provide?
Despite the weather struggling to make its' mind up, rain, sun, clouds, light rain, conditions remained decent for Twins pilots.
Following a delay to proceedings, action got underway just before 1:40 PM.
As we neared the session's halfway-point, the top three was Jeremy McWilliams, KMR Kawasaki's Richard Cooper and Superbike Q1 pace setter Michael Dunlop.
Triple NW200 winner McWilliams (4:52.452) remained at the helm, as the session's closing stages beckoned.
2.53 seconds separated the former Moto GP exponent and 47 plate holder Cooper.
Could anyone stop McWilliams clinching Q1 victory?
The answer was yes as ex National Superstock 1000 Champion Cooper, vaulted to P1, lapping under the existing lap record (4 minutes 49.037 seconds).
Third quickest behind Cooper, Bayview Hotel Paton's McWilliams was PreZ Racing's Paul Jordan who was just 0.814 faster than JMcC Roofing Racing's Adam McLean.
Michael Dunlop, Lee Johnston made it four Northern Irish racers in the top six, whilst the remainder of this afternoon's ten quickest Super Twins runners was made up by:
Team ILR with Frog Vehicle Developments Michael Sweeney and Stefano Bonetti, R7 Yamaha mounted Peter Hickman despite an obvious huge power deficit to the opposition and race winner last year Joe Loughlin.
Alastair Seeley leads Richard Cooper in Supersport Q1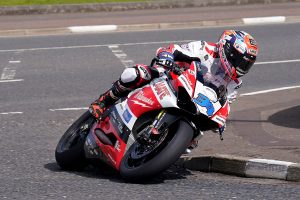 Blue skies, dry conditions all round was a pleasant sight for those getting ready for the Supersport qualifying opener, at the FonaCAB & Nicholl Oils North West 200.
Fifteen minutes into the 29 minutes plus long session, moderately delayed by an oil spillage from the prior newcomers practice stint, the times sheet topping rider was quickest Triangle course newcomer in history, Richard Cooper.
Cooper led Boyce Precision Engineering/Russell Racing team-mate Dean Harrison by 0.833 of a second.
F900R BMW Cup series leader Cooper, went onto further strengthen his grip on Q1, lapping sub 4 minutes 37 seconds.
Post the fifth timed laps, Carrickfergus's Alastair Seeley showing ominous pace, was now P2 on the live timing leader board, 0.758 down on Cooper's best lap thus far.
Soon NW200 wins record holder Seeley went P1, lapping at 4 minutes 36.589 seconds.
Seeley astride the Powertoolmate/Milwaukee Ducati remained speediest at the session's finalisation ahead of 47 plate holder Cooper and 2019 Senior TT Champion Harrison.
Supersport TT lap record holder Michael Dunlop, post a late burst of pace placed P4 as Peter Hickman, Ashcourt Racing's Lee Johnston completed the top six.
Rounding out top ten most rapid middleweight class exponents were Davey Todd, impressive NW200 debutant Michael Browne, PreZ Racing's Paul Jordan and reigning Steve Henshaw Gold Cup Champion Adam McLean.
Michael Dunlop scoops Superbike Q1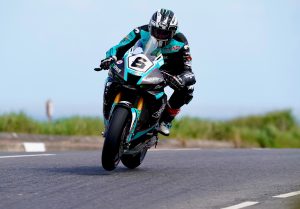 You could sense the excitement reaching fever pitch as Superbike first qualifying, dawned at the FonaCAB & Nicholl Oils North West 200.
Post the session's mid-point stage, Hawk Racing's Michael Dunlop had swooped to the top of the timing leader board, lapping at 4 minutes 25.869 seconds.
Top chasers at the time to Dunlop were Supersport Q1 pace setter Alastair Seeley and existing outright lap record holder Peter Hickman.
With just over six minutes of the session to run, Milwaukee BMW's Seeley went fastest, posting a new PB lap time of 4:24.587 seconds.
As Q1 reached its' climax, 21 times TT winner Dunlop was back into P1, going sub 4:23 seconds, pulling 1.929 clear of NW200 wins record holder Seeley.
Dunlop, Seeley would finish respectively first, second quickest.
Next up in P3 was fellow countryman, Ashcourt Racing's Lee Johnston (4:28.887).
FHO Racing's Hickman, John McGuinness MBE looking in decent fettle, DAO Racing's Dean Harrison would finalise the top six.
Positions seventh to tenth in SBK Q1 were accrued respectively by Davey Todd, Glenn Irwin who appeared not impressed at the session been reduced to thirty minutes, Manx ace Conor Cummins and top newcomer Michael Browne.
Alastair Seeley takes Stock 1000 first qualifying honours
Would you believe it, steam on the Triangle course! This combined with pesky wet weather led to NW200 Superstock first qualifying been delayed.
Once Superstock Q1 got underway, the action was as fierce as ever.
Halfway into proceedings and world's fastest road racer, existing NW200 lap record holder Peter Hickman was holding sway.
Despite conditions described on the BBC by Davey Todd as damp, sketchy, Hickman still managed to record a sub 4:29 seconds lap time (4:28.889 seconds).
Soon though NW200 wins record holder, Synetiq BMW's Alastair Seeley (4:26.565), had outpaced Hickman, moving 2.324 seconds to the good.
With just over nine minutes of the session to go, Lee Johnston aboard ex Glenn Irwin Honda Racing machinery, had taken over the top spot, lapping at 4:26.502 seconds.
This placed him just 0.063 ahead of fellow countryman Seeley.
Changes, changes, changes again then arose with FHO Racing's Hickman re-taking provisional pole.
Aforementioned Carrickfergus ace Seeley was in determined mood though and in the sessions' closing stages, re-claimed provisional pole, lapping at 4:21.769 seconds.
Hickman had to ultimately settle for the third quickest time with Michael Dunlop charging late on to the second fastest time.
Above showcased King of The Roads winner Davey Todd placed fourth fastest, just ahead of Ashcourt Racing's Johnston.
Wrapping up the Superstock Q1 top ten were Dean Harrison, Josh Brookes, Conor Cummins, John McGuinness MBE and top Yamaha challenger Lami OMG Racing's James Hillier.