Richard Cooper claims North West 200 Supertwin pole position
Thursday's FonaCAB & Nicholl Oils North West 200 competition commenced at just past 10:00 AM, with focus on the second Super Twins qualifying session.
Overnight rain meant conditions weren't 100 percent, for those hoping to make the most of the 45 minutes long session.
28 minutes into the session, pace setters were Lee Johnston, R7 Yamaha pilots Peter Hickman, Macau Motorcycle GP wins record holder Michael Rutter.
Johnson, Hickman, Rutter's respective best lap speeds were (102.168), (102.123), (100.825).
Outright lap record holder Hickman, Ashcourt Racing's Johnston would go onto record lap speeds exceeding 104 mph but had to soon give second, third best respectively to KMR Kawasaki's Richard Cooper.
The Nottingham racer after only his second timed lap, lapped at 105.255 mph (5 minutes 06.797 seconds).
This proved enough for Cooper to top Q2 and thanks to his unofficial class lap record on Tuesday, take pole position for tonight's Milltown Service Station Twins race opener.
With no one besting their leading times from Tuesday, the overall Super Twins qualifying top five sees Cooper followed by Jeremy McWilliams, Paul Jordan, Adam McLean and Michael Dunlop.
Alastair Seeley sets the combined fastest qualifying time for Superstock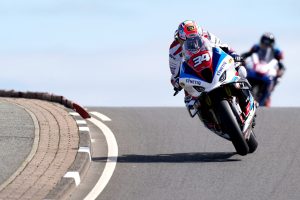 You could tell before second Superstock qualifying, that class participants were unsure about what conditions to expect. Drying, mixed, damp, dry lines, dry overall?
Stock 1000's took to the Triangle at 11:11 AM with a vibrant mix of Kawasaki's, BMW's, Honda's, Suzuki's, Yamaha's circulating alongside each other.
22 minutes into the 45-minute session, under twenty riders had set representative lap times.
Fastest of those to register lap times was Lami OMG Racing's James Hillier (4:50.607 – 111.119 mph).
Fast forward to under thirty minutes of stock 1000 action to run, the Q2 top three was DAO Racing's Dean Harrison (4:44.336), Bathams Racing's Michael Rutter (4:49.617), aforementioned prior pace setter Hillier.
Conditions were gradually getting better as showcased by 14 times event winner Rutter, who had jumped to the top of the time sheets, having lapped at 4 minutes 40.356 seconds.
The seven times TT winner went quicker post his eighth timed lap, (115.842 mph – 4:38.759 seconds).
As we neared second qualifying's conclusion, it was looking like the times from Tuesday would decide tonight's front row, for the Briggs Equipment Superstock race.
This outcome proved correct, meaning pole position for Synetiq BMW's Alastair Seeley ahead of eventual, final second qualifying top speedster Michael Dunlop (4:31.428 seconds – 115.842 mph).
Q2 runner-up Peter Hickman completes row one, with row two occupied by Davey Todd, Lee Johnston and leading Kawasaki pilot Harrison.
Row three features Josh Brookes, Conor Cummins and Honda Racing stalwart John McGuinness MBE.
Seeley also claims Superbike pole and Supersport pole!
Picturesque blue skies, the sun beaming down onto the grandstand, coast roads, improving conditions, the scene was set for captivating big bike competition.
After the remainder of Supersport Q2 was cancelled, following an incident at Church Corner involving Lee Johnston, whom we at Road Racing News wish a very speedy recovery, a reduced twenty-five minute plus session was in prospect for 'Big Bike' exponents.
Glenn Irwin, Josh Brookes, James Hillier we're first to power into Portstewart, York Corner.
Milwaukee BMW's Alastair Seeley quickly usurped Michael Dunlop's table topping lap from Tuesday, going into provisional pole courtesy of a 4:21.613 seconds lap time.
Seeley's next lap saw him circulate the illustrious Triangle course, in sub 4 minutes 21 seconds, (4:20.634 – 123.898 mph).
This gave him at the time an advantage of 2.816 seconds over previous provisional pole sitter Dunlop.
Just as closing session stages beckoned, the session was red flagged, due to an incident at Metropole.
At the time of the red-flag, the Superbike Q2 top ten was declared overall qualifying winner Seeley, world's fastest road racer Peter Hickman (4:22.449), DAO Racing's Dean Harrison (4:23.150), 21 times TT winner Dunlop (4:23.450), Davey Todd (4:24.317).
Josh Brookes (4:24.672), Beermonster Ducati's Glenn Irwin, Conor Cummins, top NW200 newcomer Michael Browne, Honda Racing UK's John McGuinness MBE.