Friday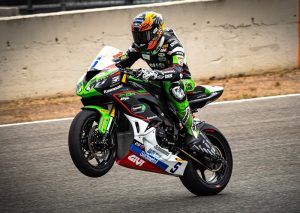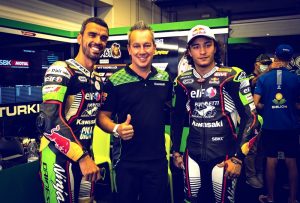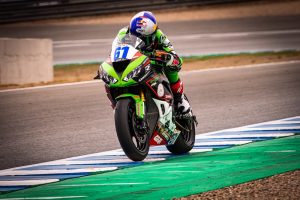 Oettl first in practice at Jerez. Incredible seventh place for Sofuoglu. Oncu ninth.
The Angel Nieto circuit in Jerez, Spain, is hosting the ninth WorldSSP round. For Kawasaki Puccetti Racing, this is a special event, not only because the season finale is fast approaching, but particularly because Kenan Sofuoglu returned to the track today with the team's Ninja ZX-6R to take part in the two free practice sessions. The five-time Supersport world champion did this as a way to bid farewell to WorldSSP as it has been since its first season in 1999, while also welcoming a new Supersport era, one that will begin next year with the arrival of new engine sizes and new bikes.
In the morning's first practice, Philipp Oettl put in an excellent performance to set the outright fastest lap, a 1'42"249. Oncu also did well to place ninth (1'43"633). Sofuoglu used this first session to regain feeling with his Ninja and the Andalusian track, a best of 1'44"715 placing him eighteenth at the session's end.
The second session rain in the afternoon under cloudy skies but on a dry track. Oettl (1'42"509) was unable to improve on his morning's time, but no one was in fact able to better that and so he finished in first place in the day's combined standings. Kenan Sofuoglu had a fantastic session. Despite having not ridden for more than three years, the Turkish rider set a 1'43"905 which saw him round out the day in seventh place overall!
Can Oncu (1'43"131) worked on the set-up of his Ninja together with his team, improving on his morning's best by half a second to confirm ninth place.
Tomorrow Oettl and Oncu will return to the track for Superpole and the first of the races making up this ninth WorldSSP round at Jerez.
Circuit Angel Nieto – Jerez – Spain
Supersport World Championship
Combined free practice results: 1) Oettl (Kawasaki) – 2) Aegerter (Yamaha) – 3) Gonzales (Yamaha) – 4) Oddendal (Yamaha) – 5) Tuuli (MV Agusta) – 6) Krummenacher (Yamaha) – 7) Sofuoglu (Kawasaki) – 8) De Rosa (Kawasaki) – 9) Oncu (Kawasaki)
Kenan Sofuoglu
"I had so much fun and was pleased that people were happy to see me back on track. I'm actually shocked as to how fast I was, and the fact I finished seventh, because I stopped racing over three years ago and haven't been on a race bike since. This morning I started out calmly, working to regain the feeling with the bike and the track and then in the afternoon I improved and am really happy. I want to thank the Puccetti team because it's always a pleasure to work with them. I love this team and without them, I wouldn't have gone back out on track."
Can Oncu
"I'm quite pleased with the work we've done and with my lap time. I lapped with consistently fast times and, working with my team, we found a set-up that allowed me to improve during the afternoon's session. We need to continue like this tomorrow. As for the races, I'm optimistic because I'm usually quicker on race day than I am in practice. Thanks to my technicians for all their hard work today."
Philipp Oettl
"A very positive day. I was pleased to be very fast in both sessions and set the quickest lap of the day, and I hope to continue on in this way tomorrow. We started with a different bike configuration and immediately understood in which direction to work. I like the track and know it very well and this has been our best Friday of the season so far. I'm also pleased with my race pace and so am confident, because we have what we need to do well in the races. I want to thank the team for their great work."
Two constructive practice sessions for Mahias at Jerez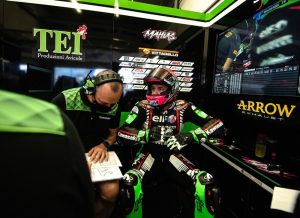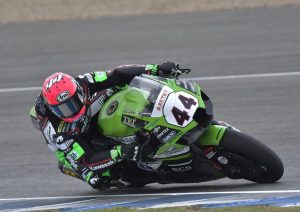 With today's two practice sessions in Spain, at the Angel Nieto circuit of Jerez, Kawasaki Puccetti Racing powers its way into round ten of the Superbike World Championship. The previous Barcelona round proved particularly complicated for Lucas Mahias, who was out on track in cool and cloudy conditions for first practice this morning, with the aim of working with his team to best prepare for the weekend's three races. With a time of 1'41"512, the Frenchman finished the opening session in sixteenth place.
The day's second session ran in the afternoon, with Lucas able to improve slightly on his earlier time. With a best of 1'41"375, he rounded out the day in eighteenth place in the combined standings.
Tomorrow will see Mahias compete first in the Superpole and then, in the early afternoon, in the first of three races making up this tenth WorldSBK round.
Circuit Angel Nieto – Jerez – Spain
Superbike World Championship
Combined free practice results: 1) Rea (Kawasaki) – 2) Rinaldi (Ducati) – 3) Razgatlioglu (Yamaha) – 4) Haslam (Honda) – 5) Redding (Ducati) …….. 18) Mahias (Kawasaki)
Lucas Mahias
"Today's two sessions were useful in allowing us to find good feeling with the bike at this track. I worked hard with my team to find a good set-up for our Kawasaki. In the afternoon, without focusing too much on lap times, I improved, and this bodes well for tomorrow, when it will be important to do well in Superpole in order to have a good grid position for the first two races. Thanks to my team too, as they are really helping me."
Saturday
Oettl scores his first WorldSSP Superpole at Jerez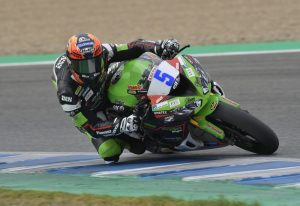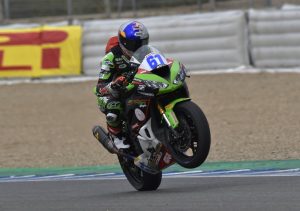 The second day making up the ninth WorldSSP round played out in cool and sunny conditions at the Angel Nieto circuit in Jerez, Spain. Yesterday's free practice sessions saw the return of five-time Supersport World Champion Kenan Sofuoglu, who wanted to bid farewell to the Supersport format that's been in place since 1999, and welcome in the new intermediate class that will see the arrival of new bikes of different engine sizes.
It proved to be a positive day for Kawasaki Puccetti Racing, because by the end of the free practice sessions, Philipp Oettl (1'42"509) had set the fastest overall time, Can Oncu (1'43"131) had finished ninth and Sofuoglu had amazed everyone by setting the seventh fastest time (1'43"095). An incredible performance considering that Kenan hadn't ridden a race bike for almost four years.
This morning, Oettl and Oncu were back on track for the Superpole, which established the starting grid for the weekend's two races. Once again, it was Oettl (1'41"798) who set the fastest time, scoring his very first career Superpole as a result! Oncu improved on his best lap of yesterday (1'42"707) to finish ninth.
Sadly, the race that should have got underway this afternoon was cancelled, as was the rest of the day's track action, after a serious incident during the WorldSSP300 race, in which young Spanish rider Dean Berta Vinales tragically lost his life. Kawasaki Puccetti Racing extends its sincerest condolences to Dean's family, friends the entire Vinales Racing Team.
Circuit Angel Nieto – Jerez – Spain
Supersport World Championship
Superpole: 1) Oettl (Kawasaki) – 2) Aegerter (Yamaha) – 3) Caricasulo (Yamaha) – 4) Gonzales (Yamaha) – 5) Krummenacher (Yamaha)- 6) Tuuli (MV Agusta) …….9) Oncu (Kawasaki)
Mahias stops due to a wrist injury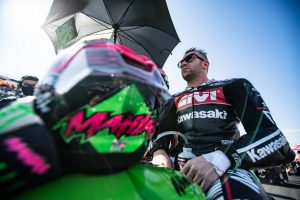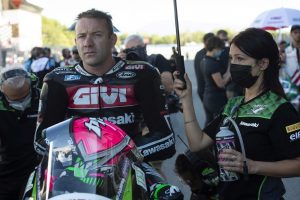 Lucas Mahias is still suffering from a fractured scaphoid on his left hand, a consequence of his race 1 crash at Assen on 24 July. Despite having surgery just a few days after the incident, the situation with his left wrist has worsened and, for this reason, Kawasaki Puccetti Racing, in agreement with Kawasaki, the Dorna medical staff and the rider himself, have decided to stop Lucas, in order to allow him to fully recover from the injury and undergo another surgical procedure that can help fix the fracture once and for all. Mahias will therefore not take part in the next three WorldSBK rounds, the name of his replacement to be announced in the coming days.
Sunday
Oettl second in the race at Jerez! Sixth for Oncu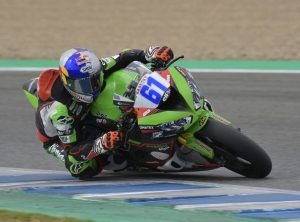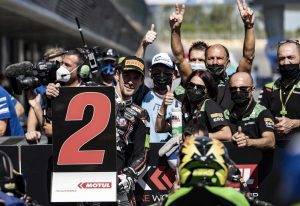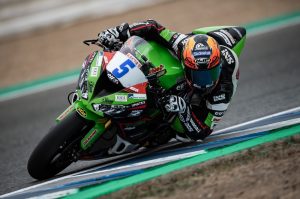 Following yesterday's accident in the Supersport 300 race, in which Dean Berta Vinales tragically lost his life, the rest of Saturday's racing was cancelled, but the Spaniard's family requested that today's races go ahead in memory of Dean.
The Kawasaki Puccetti Racing riders were out on track for morning warm-up, during which they refined the set-up of their ZX-6R. During yesterday's Superpole, Philipp Oettl scored his first Supersport pole position and therefore lined up on the front row of the grid today, while Can Oncu qualified ninth, thus starting from row three.
Oettl got away well and immediately moved into second position, Oncu lying seventh. Despite maintaining a very fast pace, the German was unable to remain in contact with the race leader, but held second all the way to the line, having fought off attacks by other riders in the final stages. Oncu battled as part of the chasing group and made up one position to cross the line sixth.
In the championship standings, Oettl is third with 217 points, while Oncu is tenth with 113. The next Supersport World Championship will run from 1-3 October at the Algarve Circuit in Portimao, Portugal.
Circuit Angel Nieto, Jerez – Spain
Supersport World Championship
Race 17: 1) Aegerter (Yamaha) – 2) Oettl (Kawasaki) – 3) Tuuli (MV Agusta) – 4) Gonzales (Yamaha) – 5) Caricasulo (Yamaha) – 6) Oncu (Kawasaki) – 7) De Rosa (Kawasaki)
Can Oncu
"I expected more from this race, but I'll settle for sixth and the points I've earned. I started quite well and was immediately up in the chasing group, but I couldn't get into a rhythm that would allow me to make up many places. The team worked hard and I did my best, but we still need a little extra in order to be a little further forward".
Philipp Oettl
"I wanted to win this race but I failed by ten seconds. I did not expect the gap to be that big, so I am surprised. I think I picked up some rubber from the track on my front tyre early in the race because it felt like I had a huge problem with the front. I had to check there was no puncture. I was a little bit worried for a while but in the next few corners there was nothing to worry about. By then there was a gap as Aegerter went out in front and I never saw him again. I expected to fight for the win today but it was a fight for track position. I am happy to be on the podium, happy for the team who worked 100% this weekend, but I am also not happy as I wanted to win."