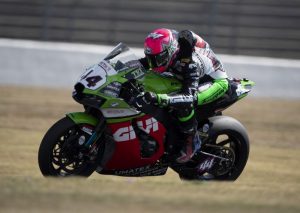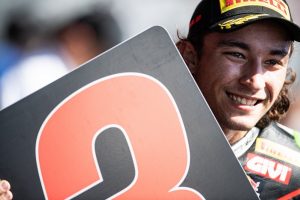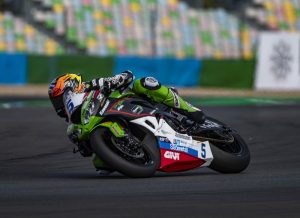 It's two weeks since the Magny-Cours round in France and already time for Kawasaki Puccetti Racing to travel to Spain, and the Barcelona Catalunya circuit, for round nine of the Superbike World Championship and round eight of the Supersport World Championship.
The French event proved unlucky early on, when Lucas Mahias crashed out during Superpole. The French rider, who had fractured his left wrist at Assen and was forced to sit out the Most round as a result, had been keen to do well in front of his home crowd, but unfortunately a slight head injury meant that the doctors ruled him out of race 1. On Sunday, Mahias competed in the two races as planned, but was not in ideal physical shape.
Saturday's Supersport race saw Philipp Oettl and Can Oncu finish seventh and eighth respectively, but Sunday brought a very different outcome, sealing the young Turk's place as one of the category's top riders. Oncu scored his first podium in the 600 class, crossing the line third, just ahead of his team-mate. A result that confirms the validity of the work being done by Manuel Puccetti's team, the squad more than capable of promoting young riders and launching them on the international stage.
Both championships now head into a triple-header with the Barcelona event, which will be immediately followed up with rounds at Jerez de la Frontera and then Portimão in Portugal.
In Supersport, Oncu will be aiming for the podium once more, perhaps trying to improve his position, and the same goes for his team-mate Oettl, who will be looking to improve his position in the general standings (currently third). In Superbike, Mahias will be seeking that level of consistency that he has been missing until now, mainly as a result of crashes and injuries.
The Catalunya circuit is located in Montmeló, roughly 20 kilometres north-east of Barcelona. It was inaugurated in 1992 ahead of the Olympic Games and has always been home to the Spanish F1 and MotoGP rounds. The Superbikes only came to the Spanish track for the first time last year, but it's one that riders enjoy, also thanks to its fast corners. In 1994, some of the run-off areas were extended, while 2004 brought modification to the La Caixa-Ban de Sabadell turns, replaced by a very narrow turn. In 2007, a new chicane was inserted between the final Europcar and New Holland corners, and at the end of last year, the exit of turn ten was widened. The track is 4627 metres long with fourteen turns, eight of which are right-handers and six left.
Lucas Mahias
"I'm in better physical shape than I was at Magny-Cours, though I'm not fully fit yet. The French races were very difficult and so this weekend I hope to regain that confidence I had with my bike before the Superpole crash. Before Magny-Cours we'd been making good progress and so we need to get back on the path that was interrupted by my crash. I'm sure we'll be able to do it if we all work together."
Can Oncu
"We achieved our first podium last time out at Magny-Cours and hopefully we can score more, and even better ones. I know practice will probably be tough at Barcelona but I will try to get inside the top ten in qualifying. That would be like a pole position for me! Then, in the races, if we are able to get a good start, we'd already be in the top group. I am not a practice guy, but the race is a different story. In the races you will see my name near the top for sure. We have found some things in our set-up that we have improved upon, and I think with another small step we can fight for the win."
Philipp Oettl
"I like the track. I think the next three weekends will be hot and challenging, but it's not a problem. Turn 10 has been modified and because we haven't tested here since that change was made, we're going to have to learn it, but it shouldn't be difficult. We were competitive at this track last year and so I think we can do even better this year. Our tactics remain the same, although with three rounds in a row, we'll need to try and relax between each one because it will be demanding on the body."