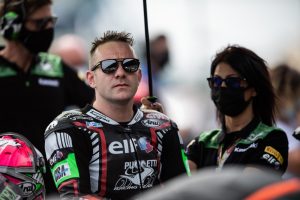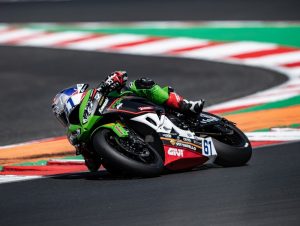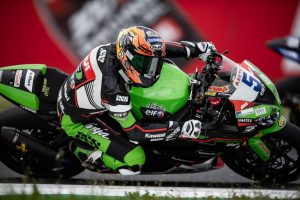 Oettl and Oncu aim for the WorldSSP podium at Navarra. Mahias returns to SBK.
Just two weeks have passed since the Most round but it's already time for the WorldSBK and WorldSSP championship teams and riders to get back to work and explore a new track, in the shape of Navarra, in Northern Spain. This is the seventh round of the Superbike championship, and the sixth for the Supersport class.
In the 600 series, Kawasaki Puccetti Racing was on the race 1 podium at Most with Philipp Oettl. A result that consolidates the German rider's third place in the general standings. Can Oncu continued to grow in the Czech Republic, and although the young Turk has not yet been able to achieve what he deserves in the races, the podium is clearly within reach considering his constant progress.
An injury to his left wrist sustained during a crash at Assen forced Lucas Mahias to miss the Most round but after surgery and rehabilitation, the French rider is now ready to return to his ZX-10RR at the new track of Navarra. He will not be supported by crew chief Michael Shanley this weekend, who has tested positive to Covid-19, albeit without any serious symptoms. Standing in for Shanley is Pietro Caprara, a very experienced technician who has recently worked with the Aprilia MotoGP team. The entire team wishes Michael a speedy recovery and is sure he'll be back for the Magny-Cours round in two weeks' time.
The Navarra Circuit takes its name from the Northern region of Spain in which it is situated. It was inaugurated on 19 June 2010 and hosted its first motorcycle races on 31 July of that same year. Lying a short distance from the town of Los Arcos, the track measures 3.933 km in length and is between 12 and 15 metres wide. It features 15 turns, nine right-handers and 6 left. The start/finish straight is 800 metres long, while the paddock area spans an area of 41,000 square metres. The facility also incorporates a 731-metre karting track and an area dedicated to road awareness.
This is the first time the Navarra circuit is hosting a motorcycle world championship round.
Lucas Mahias
"I was very sorry not to be able to race at Most, but the fracture to the scaphoid required surgery and then a period of rehabilitation, after which I was able to start training again. I already competed in Navarra in 2010, but I don't remember so much of that experience and therefore also for me it will be a new track and I hope to learn it as quickly as possible. I'm not 100% of my physical condition, but I will commit myself to the maximum to reach good results. I won't be joined by Michael, who I hope recovers quickly, but it will be interesting to work with an experienced technician like Pietro Caprara".
Can Oncu
"I've trained really hard since the Most round, especially with the motard and I feel ready to race at Navarra. It's a brand-new track for me, but I usually learn new tracks quickly, and so I hope that's true this weekend too. They tell me it's a track with many turns, where the rider can make the difference and so I can't wait to discovery it with my Ninja".
Philipp Oettl
"I've ridden the Navarra track with my training bike. It's a unique track and one that I think can suit the characteristics of our Kawasaki. We had a positive round at Most, where we battled hard for the victory, and I'm sure that we can be centre state again at Navarra".