Friday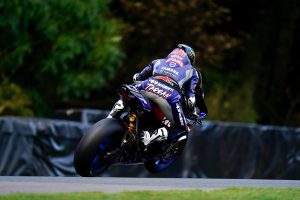 The McAMS Yamaha team got off to a strong start as the 2021 Bennetts British Superbike Championship Showdown got underway at Oulton Park with both Jason O'Halloran and Tarran Mackenzie progressing comfortably to Q2.
O'Halloran, who won all three races at Oulton Park back in June, had a number of things to try on the opening day as the bike has progressed somewhat since the first round earlier this year. Quick from the off on the Pirelli SCX rear, the Aussie continued with the same tyre throughout the session, sitting seventh as the chequered flag fell.
Mackenzie, still riding with a broken hand after his Silverstone crash, focused on getting himself comfortable on the R1 at the physical Cheshire circuit. Ending the session 13th, he ended the session 0.981 seconds from the top spot.
Having made a few tweaks for FP2, O'Halloran was instantly lapping in the 1'34 bracket, improving his time before returning to the pits to a 1'34.468 – quicker than the pole position lap here at the first round. Knowing he was through to Q2, the series leader returned to the track on the same SCX rear for the end of the session and continued to post competitive times, rounding out the second practice fourth quickest, just 0.285 seconds off the riders who used new rubber at the end.
Changing little on the bike from the morning session, Mackenzie was getting more and more comfortable as the laps went on, setting a fastest time of 1'35.190 – enough to see him earn a pass directly into Q2.
Ian Hutchinson enjoyed a strong day on the Edwards 1902 Superstock R1, setting the seventh quickest time on the combined timesheets but feeling there's a lot more to come tomorrow.
Jason O'Halloran
"Today was a good day, I was quite fortunate in FP2 as I did a lap time I knew was good enough for the top 12 on my first lap, this meant we didn't need to put a tyre in later in the session to make sure we got through so instead I concentrated on used tyre pace and used the opportunity to test a few things. Our pace is good, I feel good on the bike, there's a few things we can tweak to smooth it out a little bit but I think we'll be in a good place for tomorrow and I feel strong."
Tarran Mackenzie
"We had a really good meeting here earlier in the year so we're running the bike exactly how it was then. I'm suffering a little bit with my hand and wrist, more than I expected to really but it is what it is and I've just got to deal with it and manage it as much as possible. The weather looks consistent which is a good thing so we'll see where we are in Qualifying tomorrow and get ready for the race."
Ian Hutchinson
"We made a big step at the Silverstone test so I was quite intrigued to try the bike here, all in all it's feeling pretty good and we are a lot quicker than we were when we were here earlier in the year, but the bike is very different so there's a few things we need to get used to and try and hopefully we can have a good qualifying and race."
Steve Rodgers
"Today was a good day for both riders. Jason only used one tyre in each session whereas a lot of riders stuck a tyre in at the end. There are a few areas to improve but he's looking strong, which we knew he could be here so tomorrow should be good! Tarran is struggling with his hand a bit, but he's got through to Q2 and his lap times are quite competitive so hopefully the hand improves over the weekend and he can have three good races."
Saturday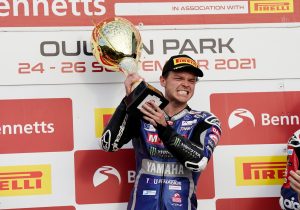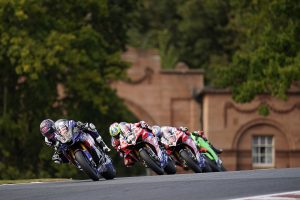 McAMS Yamaha experienced the highs and lows of racing as the 2021 Bennetts British Superbike Championship Showdown got underway at Oulton Park with a sensational victory for Tarran Mackenzie after team-mate and championship leader Jason O'Halloran crashed out of the lead.
Saturday at Oulton Park got off to a challenging start as some unexpected rain showers left both FP3 and Qualifying wet. Ahead of Q2, high temperatures had dried the track slightly but with rain still in the air, all riders headed out on wet tyres.
Both O'Halloran and Mackenzie were quick throughout the session with both enjoying stints at the top, but pole would go to a canny Josh Brookes who pitted after his sighting lap for intermediate tyres, which proved to be the correct choice as he took the top spot by 1.5 seconds from O'Halloran with Mackenzie fourth.
As the race got underway, O'Halloran took an early lead with Mackenzie third but Brookes had other ideas passing his countryman for the lead before the end of the opening lap. The duo would swap spaces on a number of occasions before O'Halloran sat behind Brookes in second place as Mackenzie was passed by Iddon and moved back to fourth.
Setting the fastest lap of the race at the mid-way point, O'Halloran made an attempt for the lead but Brookes came immediately back. However, the series leader would cement a move at Knickerbrook on the tenth lap and looked to bridge a gap. With a small gap, O'Halloran was pushing on when he slipped out of contention at the same corner he'd previously made the pass for the lead.
Having been battling with Iddon for third, Mackenzie sensed an opportunity as the Ducatis looked uncomfortable in the final laps. The Scotsman pulled off a strong move into Hizzy's to take the lead on the final lap and didn't look back to take his first superbike victory (and podium) at Oulton Park.
The result sees Mackenzie close O'Halloran's championship lead to just five points with eight races remaining in the 2021 campaign.
Ian Hutchinson enjoyed an incredible ride from 22nd on the grid after a wet qualifying to an impressive ninth position on the Edwards 1902 Yamaha in the Superstock class.
The McAMS Yamaha team would like to extend their condolences to the family and friends of Yamaha rider Dean Berta Viñales, who tragically passed following an incident in today's World Supersport 300 race at Jerez. Our thoughts are with them at this time.
Tarran Mackenzie
"That was a big surprise for me! Before the race, I hadn't done too many laps in practice and the laps I did do everyone had better pace than me so we decided that I'd try and get a good start and try and hang on in. When I started to get into a bit of a rhythm I saw that they weren't really gapping me and the gap behind was building up and it was the four of us at the front. The gap to second place was fluctuating, we kept closing back up and when Jason made a mistake and Brookes was leading, I made a mistake at the second chicane but I pushed on and managed to catch Brookes on the last two laps and got the drive and made the pass stick at Hizzy's and made it stick. I've never been on the podium here so to get my first win here is unbelievable. My hand hasn't felt good all week, especially riding a superbike round here, but the adrenaline took over! Now we'll see what we can do tomorrow."
Jason O'Halloran
"It was obviously a difficult day for us but it is what it is. The championship is made for entertainment and I've just made it entertaining for everyone! It's frustrating and disappointing but if we look at the positives I was the fastest guy out there, I was leading the race and I made a mistake and I crashed and that's part of motorbike racing. We've got two more chances tomorrow, we start from pole position and I think there's some work we can do to improve a certain part of the bike and if we can do that I'm sure we can bounce back strongly."
Ian Hutchinson
"I'm pleased with today's ride, the bike was feeling good and we were able to come through from 22nd to a top ten finish, but I'm frustrated with qualifying as if we'd been higher up the grid we could definitely have had a go. I'm looking forward to starting further up tomorrow!"
Steve Rodgers
"Today just defines motorcycle racing – you have the highs and you have the lows. We saw the highs with Tarran and the lows with Jason. It was a superb ride from Taz, he's been struggling with his hand this weekend and Oulton has never really been the strongest track for him. Jason was looking good for the win but just made a mistake as he looked to stretch his lead, these things happen and Tarran capitalised on the opportunity, taking crucial points in the championship for both himself, but also the team and Yamaha. It was the team's 17th win of the year, and the championship looks like it's going to be pretty exciting over the next few races!"
Sunday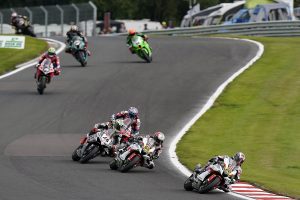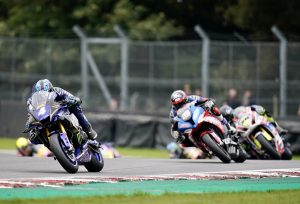 McAMS Yamaha's rollercoaster weekend continued on Sunday with a further two podiums for Tarran Mackenzie and Jason O'Halloran at Oulton Park.
Donning a special livery to celebrate 60 years of Yamaha Racing in Grand Prix, O'Halloran bolted off pole position to lead the early stages of the second race, determined to make up for the mistake that saw him lose vital championship points in the first outing of the weekend.
Looking comfortable but unable to pull a gap of more than half a second, the Aussie led for 17 laps before a fast-charging Tommy Bridewell passed him on the final lap to take the win.
Having secured an emotional victory on Saturday, Tarran Mackenzie maintained his fourth position for most of the race before pushing on in the final stages, moving into third the 25-year-old was strong on the final lap, finishing just 0.030 seconds behind his team-mate to take McAMS Yamaha's eleventh double podium of the season.
Starting fifth on the grid for the third and final race of the weekend, Mackenzie became embroiled in what would soon become a battle for second as Bridewell checked out at the front. Fighting hard, Mackenzie had dropped to fourth but fought back through to third with a move on Lee Jackson at Old Hall, unfortunately the duo touched on exit with Jackson crashing out. Mackenzie was then handed a three second time penalty for the move, demoting him from a rostrum finish to fifth.
It was another race to forget for Jason O'Halloran who relinquished his series lead for the first time since Knockhill after crashing out of eighth place as he tucked the front at Cascades.
Despite this, McAMS Yamaha continue to lead the championship as Mackenzie moves into the top spot, two points ahead of his team-mate but a strong weekend for Bridewell means he now sits just nine points off the #95 Yamaha. Yamaha continue to lead the manufacture and team championships.
Ian Hutchinson took ninth on the Edwards 1902 Yamaha in the National Superstock category.
The series continues with Round 10 of the championship at Donington Park next weekend.
Tarran Mackenzie
"I didn't expect to have a weekend like this, honestly I thought I was going to leave here with a big points gap so to come out championship leader is amazing. I was watching my pit board every lap and was ticking the laps off in fourth before making some moves towards the end. I've had three strong races here which I didn't expect as my hand is still broken, so to be on the podium twice and have a strong third race I can't really complain. We go to Donington and Brands now, two tracks which I really love and have won at before so we'll look to end the season on a high."
Jason O'Halloran
"It's been a difficult weekend. We were leading the race yesterday and crashed, I led every lap of the race this morning and then had another crash in race three. It's not been ideal, I've struggled a little bit with the feeling of the front of the bike all weekend and it caught me out twice. I just need to reset, go through things away from the track and make a plan for next weekend to come out stronger."
Steve Rodgers
"What can I say? It's been a weekend of ups and downs for us. Taz had an incredible win yesterday and we had both riders on the podium in the second race. The final race of the weekend proved a bit trickier as Jason crashed out and Taz was demoted from the podium. Taz now leads the championship with Jason second and we've lost the buffer we had to Tommy, but such is the nature of the showdown. We're back at square one now with six races to go, so all we can do over the final six races is do our best and try and win the championship. We've had 17 wins this season and a shed load of podiums, so we know we can do it – we just need to make it happen!"