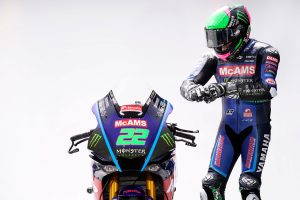 The McAMS Yamaha team is primed and ready to take to the track at Silverstone as the 2022 Bennetts British Superbike Championship gets underway this weekend.
The Raceways Motorcycles-run effort dominated the 2021 season with riders Tarran Mackenzie and Jason O'Halloran sharing 21 victories and 42 podiums between them as they stormed to the riders, team and manufacturer crowns.
However, the team have not rested upon their laurels and the championship-winning R1 features a number of upgrades for the 2022 season as the Fleetwood-based team continue to work closely with Yamaha Racing and their World Superbike effort.
Defending their crown will be no easy task, something that has been somewhat exacerbated by the absence of reigning champion Tarran Mackenzie – who will miss the weekend's opening races after a high-speed crash in testing at Silverstone last week left him with a broken ankle.
This leaves Jason O'Halloran to fly the flag solo for the McAMS Yamaha team at Silverstone this weekend, but 14-times a race winner on the R1, the Aussie is already a proven title fighter having dominated the main season last year.
O'Halloran took a win and a second place at Silverstone's national track in 2021 and after a strong pre-season testing programme, he's feeling confident heading into the new year.
The weekend will also see Lincolnshire's Tim Neave make his debut aboard the Edwards 1902 McAMS Yamaha R1 in the Pirelli National Superstock Championship. The former flat-track ace has made quite the impression on the R1 in stock trim, topping both the Snetterton and Silverstone pre-season tests but he is very aware that it's this weekend when things start to count.
Practice sessions for the weekend get underway on Friday, the team's progess, as always, can be followed on the @McAMSYamaha social media pages on Facebook, Twitter, Instagram, plus new-for-2022, the team are also now on TikTok!
Jason O'Halloran
"I'm looking forward to getting started this weekend. Silverstone is a track I enjoy and our bike has always worked very well there. Last week's test was a bit of a write off with the weather, so it's a relief to see the forecast looks decent for the weekend. We've learned quite a bit about the bike in pre-season which I believe puts us in a really strong position to start the year. I can't wait to just roll out in FP1 and get things going now! I'd also like to extend my best wishes to Tarran for his recovery and hope to have him back on track with us soon."
Tarran Mackenzie
"I'm obviously disappointed to be missing the opening round this weekend, especially after feeling so good on the bike at Snetterton, but it is what it is. The operation on my ankle went well and I'm now focusing on my recovery, working with my physio and aiming to be back as soon as we can to get our season on track. I'd like to wish the whole team the best of luck this weekend as the season gets started."
Tim Neave
"After testing, I am really excited to jump on the R1 and race it for the first time! Testing hasn't all been smooth for us, but despite some issues we were quick both at Snetterton and Silverstone which is really encouraging as I know how much more there is to come. Now is the time to make it count and if we can work like we have over the last two tests, I am sure we can do a good job and start the season as we mean to go on."
Steve Rodgers
"We are very excited to get the season started this weekend as we return to the championship as defending champions. Obviously it will be a little bittersweet without Tarran on track with the #1 plate, but this is exactly why we as a team hire two, proven championship contenders to ride our bike. Jason has had a really strong couple of pre-season tests and we are really looking forward to what he can do on the R1 at a track we know works very well for the bike. I am also very much looking forward to Tim Neave making his race debut on the R1 in the Superstock class, he has impressed me a lot throughout testing and if he can continue working like he has been, then good things should be on the way for him."