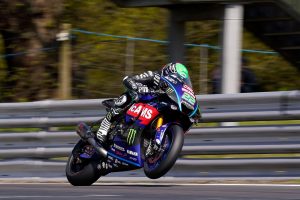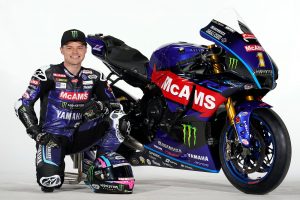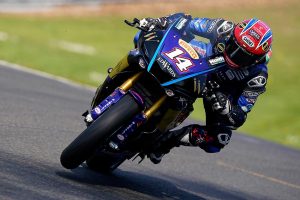 The second round of the 2022 Bennetts British Superbike Championship takes place at Oulton Park this weekend and the McAMS Yamaha team are raring to go as they look to return to full strength for their home round.
Australian Jason O'Halloran sits sixth in the standings after a solid points haul at Silverstone, but a productive test at the Cheshire track last week saw the team take a big step forward with the 2022 package, a step O'Halloran believes will see him closer to the front coming into this Bank Holiday event.
Tarran Mackenzie is targeting a return to action this weekend after a broken ankle sustained in a crash during the final pre-season test ruled him out of the season opener at Silverstone. The 2021 champion will be required to undergo an assessment by the BSB medical team ahead of the event, and pending their approval, his plan is to roll out for the opening free practice.
After an emphatic double victory at Silverstone, Tim Neave will be looking for further success on the Edward 1902 Yamaha in the Pirelli National Superstock class. Neave also enjoyed a fruitful test at Oulton Park last week and is feeling strong ahead of the weekend.
Practice for the event gets underway on Saturday with Qualifying and Race action on Sunday with the main race day taking place on Bank Holiday Monday.
Jason O'Halloran
"Silverstone was the most laps we'd done on this bike all year and we learned quite a bit there, but heading to Oulton for the test last week was very valuable. We think we know which direction to go in to get closer to the front, so I'm really looking forward to trying that. We weren't far off in the test, but with a few changes I think we can be right up there."
Tarran Mackenzie
"My ankle felt quite a bit better just a few days after I had the cast off, I've got a bit more movement than we had expected. I've been seeing my physio every day and have been undergoing some light training too. Oulton is a physically demanding track, but if I'm passed fit we'll give it a go in practice and see how I'm feeling from there."
Tim Neave
Edwards 1902 Superstock
"Silverstone was a dream start for us, so it would be nice to carry that momentum to Oulton. We had a strong test there last week, which was good because Oulton is very different to Snetterton and Silverstone where we'd tested and raced. Overall, the bike felt strong for the test so I am confident we can build on that over the race weekend working the same way we did through the Silverstone round."
Steve Rodgers
Team Principal
"Silverstone was a solid start for Jason, but we would have liked to have been a bit closer to the front. Our test at Oulton Park was quite productive and we now think we know what was holding us back a little at Silverstone, so it will be interesting to see if we are in a better place. It will be nice to have Tarran back with us this weekend. He is feeling OK so wants to see if he can ride, but there is zero pressure from our side. If he's passed fit and feels comfortable on the bike in FP1 we'll proceed from there step by step."