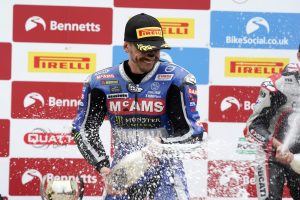 Jason O'Halloran will remain with the McAMS Yamaha team for a fourth season in 2022 after a penning a one-year extension to his agreement with the Raceways Motorcycles squad.
Having enjoyed his best-ever season in the Bennetts British Superbike Championship in 2021, winning 11 races and finishing on the podium 22 times, O'Halloran will be back on the R1 next year as he looks to clinch the crown he narrowly missed out on this season.
The Australian was imperious in the first three quarters of the year, finishing on the podium at least once at each of the first eight rounds and taking victories at all but one of them. He dominated two events with treble victories at Oulton Park and Thruxton, showing his prowess as a BSB title contender.
His efforts played a significant role in McAMS Yamaha winning the 2021 Teams' Trophy by a phenomenal 200 points, as well as Yamaha winning the manufacturers' crown by over 100 points.
The news means McAMS Yamaha's line-up remains unchanged with O'Halloran and champion Mackenzie fronting the squad for the fourth consecutive year. Both proven winners and title fighters – the duo have both played a significant role in developing the relatively young team into the successful outfit it is today.
Despite having won 21 out of 33 races this season, the McAMS Yamaha team are pushing ahead with improvements for 2022. Working closely with the PATA Yamaha WorldSBK effort, the team are expecting a number of upgrades for the start of the season which will further progress the already-proven R1 package.
Testing for the 2022 season will get underway in March next year.
Jason O'Halloran
"2021 was my best ever season in BSB, I came into the season with four BSB wins to my name and ended the year on 15 having been on the podium in 22 out of the 33 races. There's no hiding from the fact the end of the year didn't go to plan, but, considering '21 was a career best season for me, that is just added motivation for 2022. We've sat down during the winter, worked out where we need to improve and had a really productive visit to Yamaha Racing in Italy, who have a lot to come for the R1 which is encouraging. The R1 is without doubt the bike to be on at the minute and since joining McAMS Yamaha, each year we have made a significant step so hopefully we can do that again next year."
Steve Rodgers – Team Principal
"It's almost unheard of for a team in BSB to keep the same rider line-up for four years straight, but for us it was a no brainer. Between them, Jason and Tarran won 63% of races last year and there were only a handful of races where one of our bikes wasn't on the podium.
"There are almost no words to describe Jason's dominance and consistency in the first eight rounds of the year, he was well and truly the man to beat for most of the season. The Showdown didn't quite go his way, but having sat down with him I am confident that will only make him stronger for 2022. He's already shown what he's capable of and there is no doubt that McAMS Yamaha has the strongest line-up on the BSB grid, both of them can win, so fingers crossed we can retain that title with one of them!"