Solid start for McAMS Yamaha at Snetterton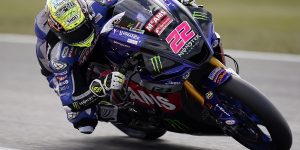 It was a solid start for the McAMS Yamaha team as proceedings got underway at the seventh round of the 2021 Bennetts British Superbike Championship at Snetterton with series leader Jason O'Halloran fifth quickest.
The poor summer seemed to make way for a day of fine weather as the opening first practice session got underway with O'Halloran and Mackenzie keen to try the R1 around BSB's longest circuit given the improvements for 2021.
The duo were on the pace almost straight away with Mackenzie taking the top spot in the first ten minutes. O'Halloran was never far away, and it was his turn to take to the top with eight minutes remaining. Pitting with five minutes to go and calling it a session, the Aussie moved down to third on the timesheet by the chequered flag. A small technical issue hampered Mackenzie's progress, leaving him fifth in that session.
Track temperature was up in the afternoon's FP2 with riders instantly improving their lap times. At the half way point, Mackenzie sat fifth quickest with O'Halloran seventh after making a number of changes between sessions.
After a quick stop, O'Halloran returned to the track and jumped to second with four minutes remaining, before being pushed down to fifth in the closing stages.
Unable to go quicker on a new tyre, Mackenzie ended the session 11th overall – fortunately enough to progress directly to the second qualifying session tomorrow.
It was a strong day for the Edwards 1902 Yamaha Superstock team with Ian Hutchinson second quickest in the afternoon's second session, just 0.040 off the top spot.
Jason O'Halloran
Pos: 5th          Time: 1'47.390
"It was a good day and it's nice to be close to the front, but we have plenty of things to work on to try and make it better for tomorrow. This track is a little trickier for us, so to be so close to the front and a lot closer on used tyre pace is encouraging as I feel like there's still quite a bit of work we can do to make the bike a bit better too, so we'll see what tomorrow brings."
Tarran Mackenzie
Pos: 11th          Time: 1'47.848
"I'm happy enough with day one. I had a good feeling with the bike straight away in FP1 which was nice as we were at the sharp end straight away. In FP2 we tried something with the bike that was a step forward in one way but a step back also so we're trying to fine tune that to find a happy medium for tomorrow. We went a bit quicker and I wasn't too far off, so I'm pretty confident when we get everything running right we'll be closer to the front. It's nice to be straight through to Q2 as we've missed that for the last few rounds and the good news is my hand felt good all the way through, so we're ready for tomorrow."
Ian Hutchinson
Combined times: 2nd – 1'50.60
"Today was good, we were quick in both sessions, especially the second session which is encouraging as there are still a few things I'd like to improve with the bike. It's not perfect and there are a few things I'd like to sort overnight so we can carry that sort of pace throughout the race, but that's our strongest first day so far this year so if we can make a bit of an improvement tomorrow hopefully we can have a good race."
Steve Rodgers
Team Principal
"Today was a solid day overall for both riders, we knew coming to Snetterton that we had struggled here last year but we have made a big step on that already and aren't too far away from the front. Jason isn't far off at all, so if we can just perfect a few little things then there's no reason he can't be in the fight. Tarran's pace on used rubber is encouraging but unfortunately it didn't come together for him with the new tyre at the end of the session hence his lower position, but we aren't too concerned. It was great to see Hutchy up there on the stocker, the Edwards 1902 guys have made huge progress with the R1 this year so we are looking forward to seeing what he can do tomorrow"
Victory for Mackenzie and third for O'Halloran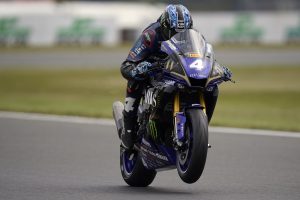 Tarran Mackenzie took his third victory of the season for McAMS Yamaha in a frantic opening race at Snetterton with team-mate Jason O'Halloran completing the podium in third, narrowly missing second.
Saturday got off to a productive start for the squad with O'Halloran and Mackenzie instantly quick in the final three practice session, sitting first and second at the half way point. Their laps would be enough to remain second and fifth for the 20 minute session with things looking strong for qualifying.
A number of rapid times in practice suggested Qualifying was going to be a close affair and it certainly was, with the level set in Q1 with Ducati's Christian Iddon setting a 1'47.0. It was soon clear that pole would need to be well in the 1'46 bracket.
Improving lap by lap, O'Halloran's time of 1'46.387 missed pole by a whisker – just 0.033 seconds for second place with team-mate Mackenzie a tenth further back to complete the front row.
As the race got underway, Mackenzie settled into second with O'Halloran fourth in the early stages, but it wasn't long before the Aussie moved up to third and then made a move on his team-mate for second and began to put pressure on race leader Glenn Irwin.
Irwin made things a little easier as he tipped off on lap five, leaving the McAMS Yamaha riders first and second. O'Halloran had the lead initially, but Mackenzie was keen to get ahead, making his move at Agostini's on lap nine.
Knowing tyre life would be important, Mackenzie couldn't quite stretch a gap leaving his team-mate on his tail, meanwhile the Ducati of Tommy Bridewell was closing them both down.
Despite a mistake on the final corner, Mackenzie crossed the line as winner, but O'Halloran, mistakenly thinking there was another lap to go, was drafted to the line by Bridewell, denying the team their second one-two of the season. Mackenzie's victory was the first for Yamaha at Snetterton since 2012.
The results see Mackenzie regain the second place in the standings he lost at Cadwell Park and most crucially moving up to second in the podium points table on 25 points. Team-mate O'Halloran now leads the championship by 110 points and has 57 podium points in his pocket.
It was a season's best qualifying for Ian Hutchinson in the National Superstock category as he took the Edwards 1902 Yamaha to fourth place on the grid for tomorrow's race.
O'Halloran will line up fifth on the grid for the second Superbike race with team-mate Mackenzie seventh.
Tarran Mackenzie
Qualifying: 3rd             Race 1: 1st 
"I was happy following Glenn at the start with Jason behind, we had good pace in practice but the tyre was wearing a lot. When Jason came by we had a gap to fourth place so I sat behind him and when Glenn crashed I was happy following Jason but when the gap started to come down I wanted to take the lead in case something happened as there are a lot of passing opportunities here and I didn't want to get involved in that. I got to the front and rode my own race, I didn't set an outstanding pace I was just comfortable and managing the tyre. On the last lap I wanted to push harder and bridged maybe one or two bike lengths which was enough for them not to be able to come back on me, I made a mistake on the last corner running wide on entry and then had a big wheelie on exit. I shut my eyes and got to the line to take another win and another double McAMS Yamaha podium. It'll be tricky starting on the third row here tomorrow, but I'm quite strong in some areas so if we can do some passing on the first few laps and then try not to use too much tyre in the extra four laps. I prefer the longer races, so we'll do some homework tonight and come out swinging tomorrow."
Jason O'Halloran
Qualifying: 2nd             Race 1: 3rd
"I missed the last lap board so I wasn't too fussed when Taz's mistake harmed my run to the line as I thought there was another lap to go! I felt good on the bike, I'm happy enough with the podium but we have some work to do for tomorrow as I had some quite big problems in the first part of the track which made it quite difficult. The last part of the track was really strong so if we can fix the first part, I think we can be stronger than we were today."
Ian Hutchinson
Qualifying: 4th 
"I am happy with that but also a little disappointed as if the red flag hadn't come out I think I could have gone a bit quicker and maybe got a front row, but it's our best qualifying of the season which is important as that's one area I wanted to improve. I think our pace is pretty good, so I'm looking forward to starting on the second row and seeing what we can achieve."
Steve Rodgers
Team Principal
"It was excellent to see Tarran bounce back from a tough Cadwell Park with victory here today, he rode an exceptional race from start to finish, taking a deserved third win of the season which is really important for the championship. It was a bit gutting to see Jason pipped to the line, but he thought there was another lap to go. Nevertheless, he still took a podium point which again is crucial for the championship at this stage. Tomorrow's races are longer so we'll need to look at improving a few things overnight as some of our rivals closed the gap towards the end of that race with impressive pace. It's great to see Ian take his best qualifying of the season on the Edwards 1902 Yamaha, he's had great race pace the last few rounds but qualifying has made it tough for him so it'll be interesting to see what he can do from the second row."
Mackenzie and O'Halloran victorious in Snetterton hat trick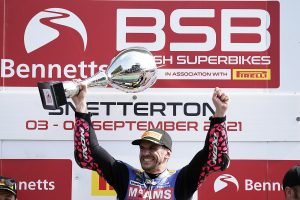 A win apiece for Tarran Mackenzie and Jason O'Halloran on Sunday saw McAMS Yamaha complete a third treble victory of the season at a sizzling Snetterton.
After finishing first (Mackenzie) and third (O'Halloran) in Saturday's opener, the duo looked strong coming into Sunday's two races but rapid pace from the Ducatis of Bridewell and Brookes had looked threatening.
As race day arrived, so did the sun and one of the warmest race days of the 2021 season, which was welcome news for the McAMS Yamaha team.
Starting fifth and seventh for the first race, O'Halloran and Mackenzie knew the start would be crucial and acted upon that, with Mackenzie shooting into third by turn two with O'Halloran fifth. However, it wouldn't be long before the McAMS Yamaha duo hit the front. At around half race distance, O'Halloran made a move on Mackenzie but the young gun was determined to lead, passing his team-mate straight back.
It would come down to a last lap showdown between the duo, exchanging places several times before O'Halloran secured a move into Brundle leaving Mackenzie little opportunity to respond. The result marked the team's second 1-2 of the season and O'Halloran's tenth victory of 2021.
Having set the fastest lap of the race, Mackenzie was determined to get a career-first double in the final outing and launched off the line to take an early lead. O'Halloran led briefly but it was the Ducati of Tommy Bridewell who proved the biggest threat, getting to the front in the early stages to lead the way. Mackenzie made a move for the lead at Agostini on lap eight with O'Halloran slipping through too, but the race would then be halted by a sudden red flag due to an incident further back in the pack.
The race was re-started over a five-lap dash with Mackenzie starting second and O'Halloran third. Mackenzie again vaulted off the line to lead almost the entire five laps, but Bridewell would once again prove to be his biggest challenger. Ultimately though, the Ducati didn't have enough with Mackenzie securing his fourth victory of the season. Struggling with a lack of grip on the restart, O'Halloran finished third.
Mackenzie's two wins and a second saw him win the coveted Pirelli Race of Aces trophy and reduce O'Halloran's series lead to 106 points while the podium gap between the duo heading to Silverstone is just 30 points.
Both riders are now confirmed in the 2021 Showdown with just one round remaining at Silverstone next weekend before the title fight gets underway at Oulton Park later this month.
Ian Hutchinson retired from the National Superstock race with a technical problem.
Tarran Mackenzie
Race 1: 1st    Race 2: 2nd      Race 3: 1st 
Championship: 2nd (293 points)
"It's been an amazing weekend and I didn't expect it after crashing at Cadwell. We started really strong in first free practice and the bike felt really nice all weekend and allowed me to ride it how I wanted. It was great to win yesterday, I felt like I could have done it again this morning but Jason just got the better of me and then I bounced back with another win in a five lap sprint. It was important to get a lot of podium credits and to have a successful weekend with one round to go before the Showdown is key. We move on to Silverstone now which is a great track for me, I love it there and the way the bike is working at the moment I'm sure we'll be up the sharp end and battling for wins and podiums."
Jason O'Halloran
Race 1: 1st    Race 2: 2nd      Race 3: 1st
Championship: 1st (399 points) 
"Compared to where I have been here the last two years this is a really strong weekend for us, especially as we head to Silverstone. I had a similar issue there to what I did here last year and we have clearly improved here so I'm looking forward to the next few tracks. To win the second race was a really strong race for me and then this afternoon I picked up a podium as I didn't quite have the tyre left after the race had stopped, but to finish third is another podium point and another really strong weekend for us. 17 podiums and 10 wins so far this year, so I can't complain, I'm really looking forward to Silverstone, we had a great test there earlier this year and we've improved since then so I can't wait."
Steve Rodgers
Team Principal
"What a weekend! We came here feeling confident but aware that it was the only track we weren't on the podium in 2020. However, we have made a big step with the bike this year and again that showed this weekend, last year we finished no higher than sixth whereas this weekend we've won all three races which is a credit to the whole team and both riders. For Tarran to bounce back in this fashion from what was a tough Cadwell just demonstrates that he's going to push Jason all the way for the title this year. Jason was on fine form once again, the race two win was important for him. Now we go to Silverstone, where both riders have been strong in the past so the aim will be to secure as many podium points for the Showdown as possible and then it's game on…"