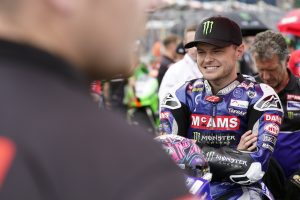 Straight off the back of a successful weekend at Brands Hatch, the McAMS Yamaha team heads immediately to Thruxton for Round 4 of the 2021 Bennetts British Superbike Championship.
 
Jason O'Halloran and Tarran Mackenzie are currently second and third in the series standings after taking a victory apiece and three further rostrum finishes for the team at Brands Hatch with Aussie O'Halloran leading the vital podium points table.
 
Now, just a matter of days after leaving the Kent circuit – the Fleetwood based team are preparing to roll into Thruxton for the first time since 2019.
 
Missing from the calendar in 2020 due to the restructuring of the season in response to the COVID-19 pandemic, the Hampshire circuit is a favourite among both of the McAMS Yamaha riders. It's ultra-fast, flowing nature has known to be kind to the Yamaha R1, with the bike's natural tyre-conserving strengths also suiting the abrasive airfield track.
 
O'Halloran scored a pair of fourths for the team in the last visit to Thruxton in 2019 despite being severely debilitated by a broken shoulder which hampered most of his season. Mackenzie was also enjoying a strong weekend until a slip off in qualifying resulted in him breaking his wrist.
 
Given the improvements seen with the R1 this year, both O'Halloran and Mackenzie are confident of continuing the team's 2021 success.
 
After three rounds and nine races, a McAMS Yamaha has been on the podium in every race and the team has won five out of the nine races so far – four with O'Halloran and one with Mackenzie.
 
Edwards 1902 Yamaha's Ian Hutchinson is also looking forward to the Thruxton weekend after weather conditions hampered progress at Brands Hatch.
 
Practice gets underway on Friday ahead of the now usual schedule of Qualifying Saturday lunchtime ahead of the opening Superbike race of the weekend and then two further races on Sunday.
Jason O'Halloran – Championship: 2nd 157 points
"It's been a really good start to 2021 for McAMS Yamaha with strong results for both of us. I think Brands Hatch showed we've made a big step forward with the bike as it was even stronger than it was there last October. I've been really looking forward to returning to Thruxton this year, it's such a fun circuit to ride and very different to most other places we go. In 2019 I led both races and finished fourth despite having a broken shoulder, so I'm looking forward to attacking it fully fit with the R1 in a much stronger place than it was last year!"
Tarran Mackenzie – Championship: 3rd 137 points
"I can't wait to get to Thruxton this weekend off the back of a really strong weekend at Brands. I've been on the podium in the last five races now so we are in a good position. It'll be good to get back to Thruxton, it's like nothing else to ride on a Superbike, just so fast and flowing and that suits the R1. The team as a whole has a lot of momentum right now, either me or Jason have been on the podium in every race so hopefully we can keep that up. As we've seen this week with Brands straight into Thruxton, this part of the championship is going to go very quickly so it is important to continue how we've started!"
Ian Hutchinson – Edwards 1902 Yamaha National Superstock
"The results at Brands weren't quite what we were hoping for. The weather conditions hampered us a little bit leading to poor qualifying which put us on the back foot for the rest of the weekend. The bike was feeling good in the dry, so that's the main thing and hopefully we can have a fully dry weekend and show our potential at Thruxton this coming weekend."
Steve Rodgers – Team Principal
"We said ahead of Brands Hatch that this run of races is going to be one of the most important of the year and nothing shows that than five minutes after Brands Hatch finishing, we are preparing to go racing again. Our truck is already at Thruxton and the team will be travelling down Wednesday and Thursday ready to go again! Clearly, things are going well for us at the minute but we need to remember we are three rounds in to the championship – there are a lot of races left and in a relatively short period of time, so it's about getting the best results you can without risking too much. We could not ask for more than what Jason and Tarran have given in the first three rounds of the year, so my only wish is for that to continue. Thruxton has always been good to us, so I'm confident ahead of the weekend."