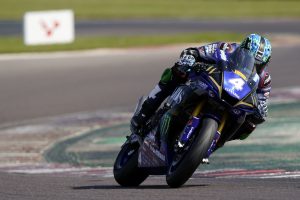 After enjoying their best ever weekend in the Bennetts British Superbike Championship at Thruxton, the McAMS Yamaha team are keen to carry that momentum through to round five of the championship which takes place at Donington Park this weekend.
A happy hunting ground for the team, who took a flurry of podiums and a race victory in two visits to the Leicestershire track in 2020, Donington is a strong circuit for both series leader Jason O'Halloran and local lad Tarran Mackenzie. At the official test back in June, O'Halloran posted the quickest time of the day with Mackenzie second on the timesheet.
Having stormed into the championship lead with a second treble victory of the season last time out at Thruxton, Aussie Jason O'Halloran is eager to get going at a venue in which he scored four podiums last year.
The 1.9-mile National layout hosts the first of two visits to Donington Park this year, with the venue also hosting the penultimate round of the 2021 season on the longer Grand Prix circuit.
O'Halloran fought for victory in each of the three races at Donington National last year, so is confident of adding to his all-important podium points haul given the improvements made with the R1 over the past 12 months.
In his last visit to Donington, Tarran Mackenzie, who lives just 10-minutes from the track in Ashby de la Zouch, took a stunning victory in the final race despite having endured a tough weekend. Having taken his sixth podium of the season last time out at Thruxton to complete McAMS Yamaha's first ever 1-2 in BSB, the youngster is confident about further bolstering his title challenge at his second home track this weekend.
O'Halloran currently sits 42 points ahead in the championship standings with team-mate Mackenzie third.
Ian Hutchinson and the Edwards 1902 Yamaha team are confident ahead of this weekend's National Superstock action having taken their best results of the season last time out at Thruxton. Hutchinson also enjoyed a positive test with the team at the Donington National circuit back in June.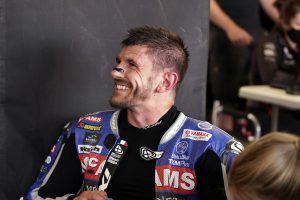 Jason O'Halloran
Championship: 1st (232 points)
"I can't wait to get to Donington at the weekend. I was quickest in every session and took pole on the national circuit last year followed by three podiums, but that was in the first round and I can't tell you how much progress we've made with the bike since then. We are taking it weekend by weekend this year, each weekend there are 15 podium points available and I want to get as many of them as we can each time, so that's the plan!"
Tarran Mackenzie
Championship: 3rd (173 points)
"Donington is a special circuit to me, I only live down the road so it's like a second home round after Knockhill! I've always enjoyed riding there, last year I had my best BSB weekend to date at the time including a win in the third race which meant a lot to me. The R1 is working incredibly this season and Donington is another track that suits the bike, so the goal has to be to bring home more silverware and build further on our podium points this weekend."
Ian Hutchinson
Edwards 1902 Yamaha National Superstock
"Thruxton was our best weekend yet. Progress has to be the word, we keep making decent steps forward with the bike so to be finishing in the top ten in such a competitive field despite being the only R1 on the grid is encouraging. We had a really good test at Donington so I am looking forward to the weekend."
Steve Rodgers
Team Principal
"As we have said before, we are taking 2021 race by race, but they are coming thick and fast. We now head into our second back-to-back event with two more on the way, so that very important period is rattling along quite quickly. We are obviously in a strong position, both Jason and Tarran are looking good to get in the Showdown given they are first and third in the championship and both riders have racked up a decent amount of podium points. The aim moving forward has to be to continue to do that. Come Oulton Park next month, podium points are the only points that matter so at this point in the year we need to be maximising that, especially at circuits like Donington Park which we know is a strong track for the R1 and our two riders."