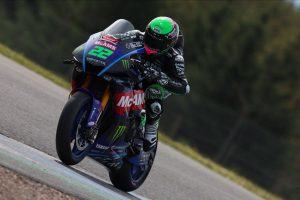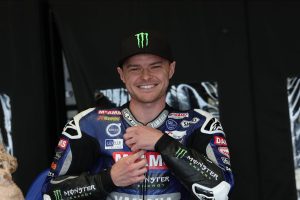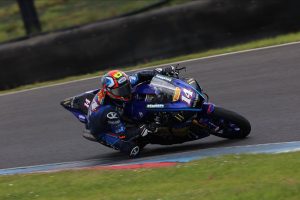 The McAMS Yamaha team enjoyed a productive two-day test at Scotland's Knockhill Racing circuit this week, as Jason O'Halloran and Tarran Mackenzie searched for further progress ahead of round four of the Bennetts British Superbike Championship later this month.
The McAMS Yamaha team returned to the Knockhill Racing Circuit this week, participating in a circuit-organised test event as they searched for the developments they needed at the Scottish venue. Making the most of the dry and sunny conditions, both riders completed plenty of laps, working through several changes to their Yamaha R1s.
Jason O'Halloran returned to the Fife circuit with a clear target as he looked for improvements at the Knockhill venue. Previously being a circuit the Aussie has struggled at, the 34-year-old completed a lot of laps across the two days running, working through changes with crew chief Les Pearson. Confident of the progress made, the Donington Park double race winner believes he's found a good direction to follow when round four gets underway across the 17-19th June.
For team-mate Tarran Mackenzie, the goal was to get further laps under his belt as the British Superbike champion continues his road to full fitness. Having made headway across the two days, the Ashby-de-la-Zouch rider is confident that he and his side of the garage made the steps they were aiming for. Working through a distinctive test program, the 26-year-old made a positive step and is confident of a strong performance come round four.
During the opening day of test action, Edwards 1902 Yamaha Pirelli National Superstock rider Tim Neave fell from his R1 on entry to the hairpin. He was taken to Ninewells Hospital, Dundee, where he was diagnosed with pelvic injuries. He underwent successful surgery on Thursday afternoon and is in good spirits as he looks towards his recovery.
The McAMS Yamaha team will be back on track at Knockhill for round four of the Bennetts British Superbike Championship across the weekend of 17-19th June.
Jason O'Halloran   
"The test was good for us as we worked through a lot of stuff and in general, the feeling was good, and I felt comfortable on the bike. It took a bit of time to get myself and the R1 adjusted to Knockhill again, but as a team we worked hard and overall, I'm really pleased with the progress we made across the two days. Knockhill has never been a track that I've got on with, but every year it gets better, so two days under our belt and a lot of laps completed puts us in a good position for the race in two weeks' time. We worked hard and I was riding right up until the final session; I was fast throughout both days and found a good direction to follow come race weekend."
Tarran Mackenzie
"After Donington Park I was happy to just get more laps under my belt. I was struggling with arm pump at Donington, but thankfully we had no problems at Knockhill, so I think it was just down to a lack of riding. We tried some new things which I didn't get to test properly during pre-season due to a number of reasons, so it was nice to get what felt like my first proper test of the year completed. We made a few good steps, and the main thing is I felt good in myself and on the bike. I'm looking forward to getting back north of the border to go racing in a few weeks' time."