Friday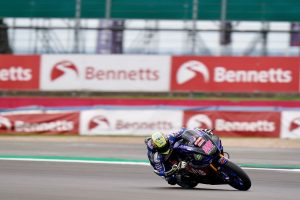 McAMS Yamaha riders Jason O'Halloran and Tarran Mackenzie were on the pace on a weather-interrupted opening day at Silverstone for Round 8 of the 2021 Bennetts British Superbike Championship.
Light rainfall ahead of the morning's first session limited early running as riders waited for the track, which wasn't dry enough for slicks or wet enough for wets, to dry enough to get some laps in. Heading out with around 20 minutes remaining, both O'Halloran and team-mate Mackenzie were quick from the off. O'Halloran's time of 53'802 saw him sit second fastest as the chequered flag was drawn with Mackenzie third, just 0.044 seconds behind his team-mate.
The rain would come again ahead of FP2, only this time slightly heavier meaning the track was fully wet as the session got underway. Some riders ventured out with around 20 minutes to go, but the times weren't on the pace until the final few minutes of the session. O'Halloran headed out for six laps at the end to test a revised setting, but did not lap any quicker. Mackenzie sat out the entire session as he was happy with his R1 following the morning's opening practice and did not want to take risks in sketchy conditions.
A number of riders improving their times saw O'Halloran move to fourth on the combined timesheet and Mackenzie sixth. The forecast is for no further rain for the rest of the weekend.
It was another strong start to the weekend for Ian Hutchinson and the Edwards 1902 Yamaha team with the TT ace sixth quickest on the combined timesheets in the national Superstock Championship with a lap of 54'974.
Jason O'Halloran
Free Practice: 4th – 53'802
"It was a difficult day with the weather hindering both sessions, it wasn't ideal but we managed to get 20 laps in this morning and another six this afternoon. The bike felt good straight away this morning but I wanted to try a few things in that second session which is why we went out at the end to see if that was a step forward and it was, so we can build on that for tomorrow as we look ahead to qualifying and race one."
Tarran Mackenzie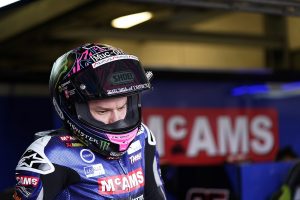 Free Practice: 6th – 53'846
"The first session was very good for me, being in the top three on a Friday is always good especially in FP1. I had a great feeling with the bike pretty much straight away, so I didn't go out in the second session as conditions weren't great. A few people did improve and I dropped down the times a little, but I was happy sitting in the garage as we weren't going to make many changes to the bike. We know where we are at and I'm looking forward to tomorrow."
Ian Hutchinson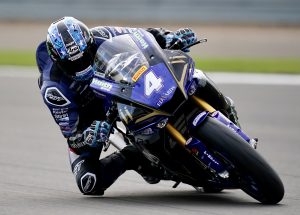 Edwards 1902 Yamaha National Superstock
Free Practice: 6th – 54.974
"It's been another good start here at Silverstone, we tested here ahead of the season and we have made a lot of progress with the bike since then which shows we are definitely heading in the right direction. There are a few improvements I'd like to look at making before tomorrow's qualifying session to see if we can get a little bit closer to the top but overall it has been a good start."
Steve Rodgers
Team Principal
"The weather has been a bit hit and miss today, as the forecast predicted! We managed to get a good chunk of laps in this morning and were second and third quickest and on the pace so we're happy with that. FP2 was a bit of a write off, Taz decided not to go out and avoid the risks – you can't win anything in free practice but you can lose a lot when conditions are like that – while Jason had a few things to try so he got a few laps in at the end. The forecast is much better for the rest of the weekend so let's hope it's correct again!"
Saturday
Shall we gloss over Saturday?
While sitting first and second in the opening Bennetts British Superbike race of the weekend at Silverstone, McAMS Yamaha riders Jason O'Halloran (22) and Tarran Mackenzie (95) were involved in a collision with two laps to go.
Fortunately Jason is ok, if a little battered and bruised. Tarran sustained a fracture to the fifth metatarsal of his left hand, but wait until you hear what happened on Sunday…
Sunday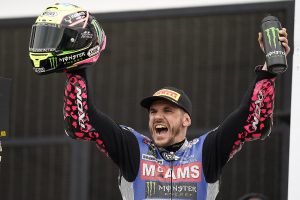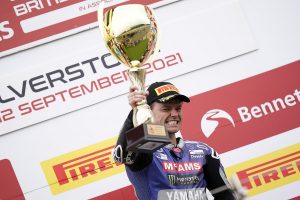 Jason O'Halloran and Tarran Mackenzie bounced back to take a victory apiece to complete a McAMS Yamaha double at Silverstone on Sunday ahead of the 2021 Bennetts British Superbike Championship Title Fighters' Showdown kicking off in two weeks' time.
The duo were riding battered and bruised after a coming together on Saturday with O'Halloran having taken a heavy blow to his back and leg while Mackenzie broke bones in his hand and wrist, but that didn't stop either of them as they stormed to an impressive first and second in both of the day's races.
Starting from second and fourth in the second race of the weekend, both riders dropped back slightly in the first half of the 30 lapper but it was the final third of the race where they came into their own having more tyre than their rivals. Mackenzie took to the front by passing Josh Brookes on the last lap and O'Halloran, who had been down in eighth at one point, also took the Aussie on the final circulation to take the team's third 1-2 of the season.
For the final outing, Mackenzie started on pole position with O'Halloran second on the grid. O'Halloran took an early lead with Mackenzie third but the duo would drop to third and fourth at the time a red flag came out to halt the race. The remainder of the race would be run over 15 laps, with O'Halloran taking control early on looking comfortable at the front. Passing Josh Brookes for second, Mackenzie set after his team-mate and made a pass at Brooklands on the penultimate lap but was unable to make it stick. He did however manage to get past his team-mate a lap later, but the Aussie came straight back to prevent the young gun from taking the double – meaning the pair leave with the same gap between them as when they arrived.
With the 'main season' now over and 'Showdown' points awarded, O'Halloran now leads the championship from team-mate Mackenzie by 30 points with their next closest challenger a further 15 points behind as the series heads to Oulton Park in two weeks' time.
It was another strong result for Ian Hutchinson on the Edwards 1902 Yamaha in the National Superstock class with the TT ace taking a sixth-placed finish.
Jason O'Halloran
Race 2: 2nd       Race 3: 1st
"After yesterday, to walk away with the same championship gap we had when we came here is a good result. To win in that final race means a lot, it wasn't easy but I was determined to get to the front and keep out of the battles and that's what we did. Taz tried at the end but we were straight back at him so I'm really happy with that as I'm quite second hand. Thanks to everyone over at the medical centre and McAMS Yamaha. We've had a great year, 11 wins now and 19 podiums so it would have been a shame to lose our advantage going into the showdown so to stay 30 points ahead is really good. I can't wait to get stuck in at Oulton Park now."
Tarran Mackenzie
Race 2: 1st          Race 3: 2nd
"After being declared unfit last night, I went to bed pretty unhappy but having my hand in a cast overnight seemed to really help. I got some physio in the morning and was re-assessed in the medical centre and they said I could ride in warm up. I gritted my teeth and was fastest, so I could ride in the race. I got into a bit of a rhythm in the race and as the race went on I felt a lot better, I was able to pick them off one by one and it was incredible to take the win. I was close to the win in the final race but we didn't quite have enough on that last lap, but I am really happy with today's work and looking forward to Oulton Park."
Ian Hutchinson
Edwards 1902 Yamaha National Superstock
Race 2: 6th
"It was another good result and a very productive weekend as I feel we have taken a big step forward to solving some of our issues with the bike, our lap times were really competitive and the bike has huge potential so now we have a good direction I am looking forward to the final three rounds."
Steve Rodgers
Team Principal
"What a rollercoaster weekend. Saturday was less than ideal for the team but the good thing was neither of the riders were seriously hurt in what was a very nasty accident. I am very proud of both of them for how they bounced back today, Jason can barely walk and Tarran's hand is broken so to take a win apiece just shows how strong we are. It's important now that we've got a weekend off before the final three races of the season which form the Showdown. We continue to lead the way and we are feeling very strong, we've had some great results at all three showdown tracks so we need to replicate that now as the real championship starts here."