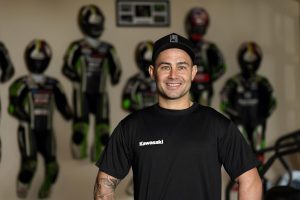 Leon Haslam is set to make an earlier-than-expected return to the WorldSBK Championship grid at Assen this weekend in place of Loris Cresson at Pedercini Kawasaki.
Leon, who made his return to the British Superbike Championship at Silverstone last weekend with VisionTrack Kawasaki, has already been signed to ride the Kawasaki ZX-10RR for a handful of outings this year, but will step in at Assen after the TPR squad split with Cresson.
Belgian racer Cresson has competed with Pedercini Kawasaki since the start of the 2021 WorldSBK season as part of a two-year deal. After he was dropped ahead of the release of the 2022 WorldSBK entry list, he was re-signed for the opening round in Aragon.
However, after team manager Lucio Pedercini failed to receive payment due from Cresson ahead of Round 2, he told Corsedimoto that he's called on Haslam early to get him on board for Assen.
"Contractual problems arose and progress was not possible. Leon is a friend of mine. So I called him and asked if he was available for this race and he said yes.
"He's supposed to have four meetings with us anyway that don't conflict with his BOD obligations. Now we've added races."
Haslam is no stranger to the odd WorldSBK showing while competing in BSB with a handful of outings between 2016 and 2018 competing for both the Pedercini and Puccetti satellite teams.
Also, Haslam – a five-time race winner at WorldSBK level – even scored a fine fifth place finish on a Pedercini Ninja at the 2016 Qatar season finale, the team's best ever result with Kawasaki machinery since its switch from Ducati in 2008.
Posted on Thursday, April 21st, 2022 in News