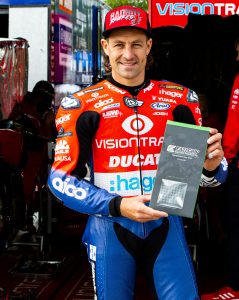 Josh Brookes is ready to kick off his Bennetts British Superbike Championship title defence this weekend at Oulton Park as the VisionTrack Ducati rider returns to the Cheshire circuit where he ended the event with a winning performance last season.
Brookes becomes the first champion to run the number one plate since Tommy Hill in 2012 and heads into the opening three races of the season determined to carry his winning momentum into the new campaign.
Brookes said: "I'm interested on getting started this year on a track that we've had good results at. We've got a history of doing well at Oulton Park with the Ducati so to open the season up at a track that we've had good results will be good – I'm interested to see how we'll go this time round."
Brookes though admits that his strategy for the new season remains unchanged for 2021 as he bids to equal Niall Mackenzie and Ryuichi Kiyonari's tally of three title victories.
"I don't really feel like I'm a target so much, but maybe that is for other people perhaps," added Brookes. "Winning the championship last year doesn't define me, so for example it won't change how I self analyse or prepare. You know, to come second, third or fourth in the championship is almost as much as what the champion did, and for as long as I've been in BSB, I've been in the top five let's say, I've been doing very similar as to what it takes to win the championship in the years that I haven't secured the title.
"Every year takes the same amount of work and desire and perseverance and sacrifice to get there, and so I don't really change my perspective on how I start the season. I wouldn't put myself in a position where I'm the target. I think everybody is going to be looking at improving themselves and looking at who the challengers are going to be, so to get the season started at a circuit where we've had good results, I think is just a positive for me and it'll be good for us to see how well we can get the season started."
Brookes ended the recent official test at Oulton Park fifth fastest on the combined times, bouncing back positively from a high-speed crash at the Silverstone test which left him sidelined from the limited track action at Snetterton.
"Testing has gone fine" said Brookes. "We haven't had any new fancy parts, so it's more been about just refreshing the settings that we're already familiar with and just seeing if we can manipulate a tenth or two here and there.
"The thing that has really been a focus for us, particularly during the test is the SCX tyre, which has been introduced. It's something a little different compared to what we had last year, so we have to try that at each track and see how the bike responds with it and see where the potential lies.
"So on that front testing has gone well, the negative was crashing at the end of the Silverstone test and having the finger issue. I didn't lose anything from not going to Snetterton, as it was wet and miserable, but we are ready to go to Oulton Park now."