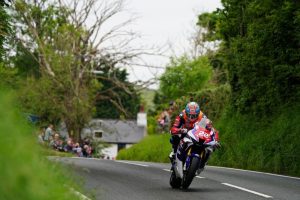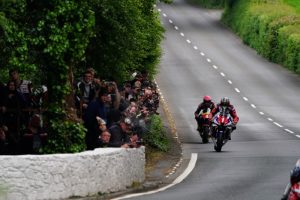 Honda Racing UK's John McGuinness MBE finished ninth in yesterday's RL360 Superstock TT Race aboard his CBR1000RR-R Fireblade SP. The race was shortened to three laps and delayed into the early evening, but conditions were good with cloud cover reducing the sun-strike issue that has blighted much of qualifying.
John admitted to not being on the pace for the first lap, entering the pits for the fuel stop at the end of lap one in 15th place with a lap speed of 125.905mph. However, early in lap two John found himself sharing the roads with his old rival Ian Hutchinson and together the pair upped the pace, John climbing to 10th place at the end of lap two. By now John and Ian had been joined by Michael Dunlop and the three freight-trained for half a lap before being joined by race winner Peter Hickman. After a highly entertaining three- then four-bike dice John crossed the finish line with a much-improved lap speed of 129.195mph to claim ninth place.
Glenn Irwin retired from the race on the opening lap, after experiencing some handling issues with the Fireblade which he wasn't comfortable with.
Sadly, Monday's racing was marred by the death of Davy Morgan in this morning's Supersport race. In the tight-knit roads racing community Davy, a highly experienced campaigner, was a respected competitor and a paddock friend to both John and Glenn. The entire Honda Racing UK team extends its deepest sympathies and condolences to Davy's family and friends.
#1 John McGuinness MBE
"Those conditions were great to ride in – warm, not windy and no low sun as you can get in the early evening. I had a shocking first lap though, it was like I was popping down to the paper shop the speed I was going. The team put in an excellent pit stop, so while we've not won the race we might well have won the fastest pit stop – even with a visor change, which wasn't to plan and put our tech guy Edoardo on the spot!
When my old sparring partner Ian Hutchinson came past me on the second lap I knew I could ride with him and I stayed with him for the rest of the race. Then, with Michael Dunlop joining us and Peter Hickman blasting through it was a great, enjoyable last lap. I rode as well as I have all week, I felt relaxed, using more tyre, more road, so that was a good last lap at least.
I think ninth was an honest result, although naturally I feel disappointed. I can't say anything but positives about the Superstock Fireblade, it hasn't missed a beat all fortnight. I'm looking forward to the big race now, the Senior TT on Friday."
#22 Glenn Irwin
"I'm disappointed to have to retire from yesterday's Superstock race, it was a chance for three extra laps of track knowledge, but I wasn't comfortable out there and decided to retire.
All in all our problems are irrelevant with the news that Davy Morgan has passed away. Davy was a friend, and right now it's more important that we think of his family rather than be too disappointed with our result."