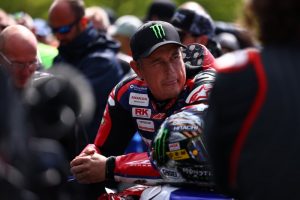 Honda Racing UK's John McGuinness MBE has finished ninth in the six-lap Milwaukee Senior TT Race aboard his Honda CBR1000RR-R Fireblade SP. The race ran Saturday after delays and inclement weather forced it to be rescheduled. While high winds kept a check on lap times, a clear weather window meant the race could be run to its full distance of six laps (226.38 miles). John's teammate Glenn Irwin was inside the top 10 when he retired at the end of the fourth lap.
John again made a steady start to the race, probably quite prudent given his place as first rider on the road and cross winds to contend with. John completed the first lap in 13th with Glenn not far behind in 16th. While John upped his pace on the second lap, a mistake operating his pit lane speed limiter saw him incur a 30-second penalty, dropping him to 16th place after two laps, now two places behind Glenn who was 14th after his pitstop.
Over the next two laps both John and Glenn regained lost positions, so that the pair were in 11th and 10th as they pitted for the second time at the end of the fourth lap. Unfortunately, Glenn's race ended there after he reported a small technical issue, just as he'd made the top 10 with an excellent lap speed of 128.293mph.
John, as he has in every race this TT, came out fighting for the last two laps. Riding in company with Michael Dunlop and James Hillier, John posted his fastest time on the last lap, finishing the race with a sixth lap speed of 128.735mph to secure ninth place – completing a trifecta of top 10 finishes for the Honda Racing UK Fireblade SP.
The Honda Racing UK team will now turn its attention back to the Bennetts British Superbike Championship as the 2022 season continues with Round 4 at Knockhill next weekend 17-19 June
#1 John McGuinness MBE
"Those have to be the windiest six laps I've ever done around here – probably the most physical as well. Everyone who finished these sixth laps must have been gritting their teeth, that was seriously hard work, I had hardly any energy left at the end!
Speeding on my first pit stop wasn't in the plan and it cost me a place. I was just being a bit 'amateur', I had my thumb on the button but it wasn't engaged and by the time I realised, and braked, it was too late, the damage was done. Again I'd been slow in the first laps, which isn't my style, but I got into it and once I was sharing the road with Michael Dunlop and James Hillier I was really enjoying it, even with that wind.
To finish the week with three top-10s (fifth, ninth, ninth) and to be putting in 128mph-129mph laps, I can't ask any more than that. I've been away a long time. Full credit to my Fireblades, they've finished every lap of every qualifying and every race – that's testament to the bike and to the team.
It's been great coming back. There's been pressure, anyone who has sat on that start line, on that road, with the number one plate, on the number one Honda, would understand that. Equally, there's been good times, I now have a cheeky gold TT replica after my fifth place finish in the Superbike TT – my 100th TT – and that's very special."
#22 Glenn Irwin
"I was enjoying that race, I was sorry to retire. I took it steady at the beginning, what with the wind. When you're a newcomer and you're not going to win there's not much to gain whether you finish sixth or 16th, so it was steady-away. The conditions seemed a bit crazy, but it was fairly constant so you got to know where the wind was at its worst and be ready for it.
So after I'd settled in, I started picking up the pace. It seemed like with every pit board I was gaining a place and I was happy with my pace on the fourth lap, I was catching Hutchy and Jamie Coward.
In all it's been an intense fortnight, certainly a steep learning curve and it's tough as a competitor, we've done a lot of laps. I've had joy with my result in the Superbike TT (eighth – and fastest ever newcomer) and disappointment with my two retirements but I'll not complain. My thoughts are with all those people who have been affected by the racing incidents that have occurred this week."
International Road Racing, Isle of Man TT Races – Milwaukee Senior TT Race
| | | | | | |
| --- | --- | --- | --- | --- | --- |
| Pos. | Name | No. | Team | Constructor | Time/Gap |
| 1 | Peter Hickman | 10 | Gas Monkey Garage by FHO Racing | BMW | 01:44:56.494 |
| 2 | Dean Harrison | 5 | DAO Racing | Kawasaki | 01:45:13.412 |
| 3 | Conor Cummins | 11 | Milenco by Padgett's Motorcycles | Honda | 01:45:30.099 |
| 4 | Davey Todd | 74 | Milenco by Padgett's Motorcycles | Honda | 01:45:32.926 |
| 5 | Michael Dunlop | 6 | Hawk Racing | Suzuki | 01:47:15.918 |
| 6 | James Hillier | 37 | RICH Energy OMG Racing | Yamaha | 01:47:26.991 |
| 7 | Ian Hutchinson | 4 | Milwaukee BMW Motorrad | BMW | 01:48:01.669 |
| 8 | Jamie Coward | 36 | KTS Racing by Steadplan | Yamaha | 01:48:25.506 |
| 9 | John McGuinness MBE | 1 | Honda Racing UK | Honda | 01:48:35.748 |
| 10 | Nathan Harrison | 28 | Isle of Man Steam Packet Company | Honda | 01:49:30.139 |