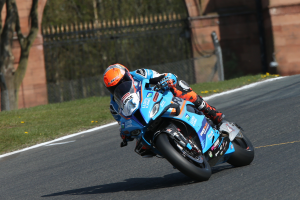 iForce BMW will make the short journey to Oulton Park this bank holiday weekend for Round 2 of the Bennetts British Superbike Championship.
The 2.96-mile circuit in the heart of Cheshire is both a rider and fan favourite with its demanding layout and great spectator viewing points. The Cheshire circuit will offer many challenges to the two iForce BMW riders, who are looking to improve in their championship standings after the season opener at Silverstone. Both #4 Dan Linfoot and #44 Dan Jones were given the opportunity to negotiate this picturesque 17-turn circuit during the official BSB testing session earlier this month.
Speaking on the test, Linfoot said. "Unfortunately, we didn't learn much, as I crashed in the second session, so missed out on a lot of development time. The time I was on the track, I was very pleased with the progress we were making, unfortunately, when I was just starting to get going my day was done." He added. "The target for this weekend is to qualify and finish inside the top 10, which won't be easy, as the competition this year is fierce."
Dan Jones continues to ride high after his impressive debut in the BSB class for the team in blue.
However, testing proved to be another learning experience for Jones, as he said. "Oulton is very different on a Superbike when compared to the machine I rode last season. Everything is so much harder in every way!"
Nevertheless, Jones improved throughout his time during the official test, completing his fastest lap during the final session, where he recorded a time of 1:37.842.
This weekend's action kicks off on Sunday, with BSB Superpicks Qualifying 1 starting at 13:35, followed by Qualifying 2 at 13:54. With the first race of the weekend on Sunday at 16:00, followed by Race 2 and Race 3 on Monday at 13:30 and 14:30.