Friday
Great progress for Honda Racing UK in qualifying at the Isle of Man TT Races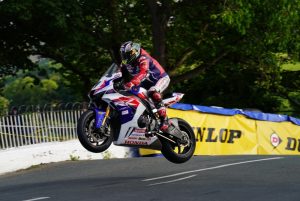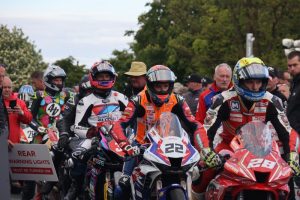 Qualifying week at the 2022 Isle of Man TT Races is finished and the Honda Racing UK duo of John McGuinness MBE and Glenn Irwin have made great progress, refining the setup of their Honda CBR1000RR-R Fireblade SP machines, posting impressive lap times ahead of their first race tomorrow (Saturday 4 June), the six-lap RST Superbike TT Race.
For John this is a much longed-for return to his favourite race circuit after years thwarted by injury and global pandemic. John has been reunited with the Fireblade, the bike on which he's secured 12 of his 23 TT victories. This new SP version is much updated on his previous racing Fireblades but clearly John feels very much at home and has been quietly, diligently refining his setup, improving his lap speed with every qualifying session so far.
Starting on Sunday, John lapped at 124.995mph on his Superbike, by Tuesday night's Q3 he improved this to an impressive 128.644mph (sixth fastest). Thursday was the week's highpoint for John, and while sun strike made vision in certain sections of the course difficult John still set an impressive 129.278mph lap. On his Superstock bike John has ridden three sessions posting a fastest lap of 127.399mph.
Glenn, meanwhile, in his debut year, has been firing in as many laps as he can in every session in order to increase his circuit knowledge. In the opening qualifying session last Sunday, he managed to squeeze in an incredible seven laps. Glenn's lap times have been impressive right from the start, reflecting the 'homework' he's put in ahead of his first competitive laps at the TT Mountain Course.
Glenn started with an opening lap of 111mph, but by the end of Q1 had already lifted this substantially to a 122.616mph. Between Q2 and Q5 Glenn lifted his times to an excellent 125mph, but left it to Q6 to uncork a cracking lap despite the course being damp through the Ramsey sections – his speed: 128.268mph.
#1 John McGuinness MBE
"It's been a really good start to the TT fortnight. We've been chipping away at it, ticking the boxes, getting the mileage in, the bikes are probably better than me even now, I've been learning how to ride them again, and there's lot of new technology with the bikes as well, plenty for me to learn, step by step, lap by lap.
At the start it was a bit of a handful, so I was hurting after that first qualifying, Monday morning I felt like I'd been run over but now I'm gripping the bike less, and the more relaxed you are, the more flowing, the less tiring it is, and we've made a little tweak here, a little tweak there so I'm getting into a more comfortable position with the bike. But everyone's in the same boat, we've not done this for a while, so we we're all a bit nervous, grabbing the bull by the horns, but now we're settling in and enjoying it more. And we are figuring it out, and putting in 129mph laps we're not a million miles away.
It's been good sharing the garage with Glenn. The TT is vibrant right now, it's flying, but we need riders like Glenn to come through and take over the mantle, so if I can help in any way I will, just as I got help when I was younger from the guys with more experience. But the kid's got tons of talent, he wants it and he's done his homework, and you can only commend him for that. And finishing the week on a 128mph lap – that's blown us away!"
#22 Glenn Irwin
"Every day it's a big nerves-build here at the TT. It's all new to me, quite a different pattern, normally I go to the gym in the morning, and if it's a BSB weekend I'm on track by late morning or at latest one in the afternoon, but here it's a day of emotion and adrenaline building, and nerves, understandably because of where we are, all the way to six in the evening.
On track, though, everything has been steady away. I'm building into it in the correct way, going a little bit quicker each time because you've got to take your time. I'm probably still riding certain places a gear too low, like fifth instead of sixth through Crosby – but I'm just not ready to go through Crosby in sixth, it's scary! But I'm really enjoying it, and I was happy to be lapping at very nearly 125mph by the third night. You naturally improve your lap times because you go round that corner one more time than last time. I've been around each corner 14 times now. But it's funny here, if I was talking Knockhill I would have done turn one 14 times in 14 minutes, but this is the TT so it's three days to do that many laps!
The bike and the team are all working perfectly, I was surprised that come midweek I'd even started making little setup changes, which I didn't think I would get around to this fortnight. I've been appreciating the support I'm getting from John, too, in giving me tips and helping my learning process. I'm very happy to have finished the week with the 128mph lap, it felt comfortable doing that, even on a partly damp track. I'm looking forward to tomorrow's race, six laps, fuel stops and all – it's going to be an experience!"
Saturday
Glenn Irwin claims fastest newcomer lap, while John McGuinness MBE celebrates 100th TT start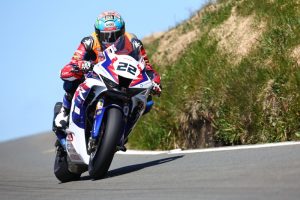 The Honda Racing UK team enjoyed an excellent start to TT race week with fifth and eighth places for John McGuinness MBE and Glenn Irwin, respectively, in the RST Superbike TT Race today. Both riders, riding the CBR1000RR-R Fireblade SP Superbike, were in the thick of the action, inside the top 10, posting impressive 129mph lap times. Finishing in eighth Glenn was the highest placed newcomer, on his last lap setting a new outright newcomers lap record (129.85mph).
The race ran under near-cloudless blue skies and the warmest temperature seen since the beginning of qualifying (16ºC). Getting underway shortly after midday, John was the first rider on the course, riding with the number one plate on his special '100th TT' liveried Fireblade, to celebrate his 100th TT Race start.
John repeated his excellent form from qualifying, consistently lapping at 128mph to 129mph, climbing from 10th (after lap one) through to fourth place after three laps. John held on to fourth place until the second refuel when rival Ian Hutchinson snuck ahead. John closed the gap to just 1.5-seconds with a lap to go but 'Hutchy' held on to the finish. John and the team were nonetheless very happy with his result, and to have been knocking on a podium finish after a layoff of so many years, on a new machine, is an impressive result.
Glenn was holding 11th place after his first lap, just behind John. Also posting 128mph laps, Glenn also climbed the leaderboard to be placed sixth at mid distance. For a while Glenn was caught in a heated three-way dice (on time) with James Hillier and Jamie Coward. Posting the fastest ever newcomers' lap of 129.85mph on his final lap Glenn finished in an impressive eighth place in his debut TT race. For a newcomer to be dicing with the cream of TT talent, setting the times he did, has been a stunning performance.
#1 John McGuinness MBE
"I'm so happy with the result today. To be back here on the Fireblade and with this team has been like coming home, I'm so grateful to Harv (Havier Beltran – team manager) for bringing me back into the team. And at the end of the day it's my 100th start, it's been a wonderful day celebrating that with my family, the team and the fans. I've never seen so many on the course, and they're all waving. It's been special.
It's also been serious. I'm on a Superbike and there's no getting away from it, they're hard to ride, seriously powerful things. Before the start we figured to bring it home in the top six would be a realistic result, so it's good to do that, although I can't deny I feel I let the team down a bit. There again I know my limits, you have to bring it home.
Also, I have to doff my cap to my teammate, Glenn. That was an incredible result, and to lap at nearly 130mph in your first race, he's a special talent!"
#22 Glenn Irwin
That was an amazing day. Before the start I felt a lot of nerves, I was quite emotional! I've never felt like that before. But once I got going I felt really good. I think I probably respected the bike too much when it was on new tyres and full fuel load on laps one, three and five – but I think it's important to do that.
After the second pit stop I could see that the gap to James Hillier had grown too much so I concentrated on hitting my marks, although I was also watching the crowds, there were so many on the course, waving – I really wanted to wave back!
I'm thrilled to get that newcomers' lap record. In my head it was always a possibility, but I didn't expect to achieve it so soon. I didn't expect the laps to fly by so quick, too. I remember starting lap two, thinking no way was I here already. It was all really enjoyable, and hats off to Hicky, Dean and Michael. The guys here are on another level.
I'm really proud of my teammate as well. We had a good chat before the race and another afterwards. Not only was that his 100th TT but he proved he's still so fast, and consistent. That was an impressive result. I also want to thank the team, they've been brilliant. And special thanks to Harv, he's brought Honda Racing UK back to this level. I know there's been a lot of effort, a lot of pressure on him in achieving what we have in BSB and now here, so he gets a huge pat on the back from me for what we as a team together have achieved."
International Road Racing, Isle of Man TT Races – RST Superbike TT Race
| | | | | | |
| --- | --- | --- | --- | --- | --- |
| Pos. | Name | No. | Team | Constructor | Time/Gap |
| 1 | Peter Hickman | 10 | Gas Monkey Garage by FHO Racing | BMW | – |
| 2 | Dean Harrison | 5 | DAO Racing | Kawasaki | – |
| 3 | Michael Dunlop | 6 | Hawk Racing | Suzuki | – |
| 4 | Ian Hutchinson | 4 | Milwaukee BMW Motorrad | BMW | – |
| 5 | John McGuinness MBE | 1 | Honda Racing UK | Honda | – |
| 6 | Jamie Coward | 36 | KTS Racing by Steadplan | Yamaha | – |
| 7 | James Hillier | 37 | RICH Energy OMG Racing | Yamaha | – |
| 8 | Glenn Irwin | 22 | Honda Racing UK | Honda | – |
| 9 | Shaun Anderson | 19 | Crendon Suzuki by Hawk Racing | Suzuki | – |
| 10 | Dom Herbertson | 16 | Haith | BMW | – |
| 11 | Michael Rutter | 3 | Bathams Racing | BMW | – |
| 12 | Nathan Harrison | 28 | Isle of Man Steam Packet Company | Honda | – |