Saturday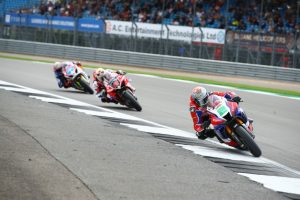 Glenn Irwin returned to the top step of the podium today, taking the win in a dramatic opening Bennetts British Superbike race at Silverstone's National Circuit, claiming his first race win of the 2021 season aboard the Honda CBR1000RR-R Fireblade SP. 
Building up to today's first Superbike race of the weekend Glenn was showing good pace and wrapped up Friday's combined practice sixth fastest promoting him straight into Q2. Qualifying fifth, Glenn started the race from the second row of the grid and stayed with the leading group during the first few laps. An incident with Takumi Takahashi brought out the safety car at the start of lap three, where Glenn's teammate was involved in an incident with Keith Farmer at Copse. Takumi is unhurt from the crash and will take part in Sunday's races. 
As the race resumed Glenn pushed hard and was soon sitting in podium contention in second place. A move from Tarran Mackenzie saw Glenn drop back to third place, where he was having to defend challenges from a chasing Christian Iddon. On the penultimate lap Tarran and Jason O'Halloran crashed out, and with a clear track ahead Glenn took the race lead. However, soon after the crash the race was red flagged with Glenn declared as the Race 1 winner. 
Ryo Mizuno has also got his Silverstone challenge off to a solid start getting into today's Q2 session for the first time this season. With his quickest qualifying lap of 53.570s, Ryo took his best qualifying position this season in 12th place. Enjoying the race and some on-track battles Ryo crossed the line 12th, collecting more valuable season points and also his best race finish of 2021.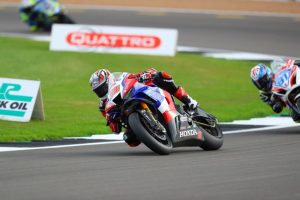 Meanwhile Tom Neave in the Pirelli National Superstock Championship struggled to get a clear track during today's qualifying session, where he qualified 16th on the grid for his first race of the weekend. Knowing he had some work to do, Tom set about picking off his Superstock rivals as soon as the lights went out. Making up places lap by lap, Tom eventually crossed the line fifth, having made up an impressive 11 places throughout the 22-lap race. Setting the fastest time on lap four (54.673) Tom and his Fireblade machine will line-up in Pole Position ready for tomorrow's second race. 
The team will be back in action tomorrow (Sunday 12 September) for two more Superbike races when the 'Title Fighters' will be decided, as well as the second Superstock race of the weekend. 
Glenn Irwin
"It was a chaotic race, but I wanted to be one of those not making lunges at the beginning. I had to play it quite safe as I know the place in the Showdown is what we need this weekend. I saw with about eight laps to go Jason [O'Halloran] was starting to push and I did feel okay. But we also have a bad sector, which is sector three – Brooklands. I lose a little bit of traction front and rear and I start to understeer a lot, so we'll sit down and look and see if that's something we can improve for tomorrow. But a win – what a way to kick-start this Showdown decider weekend. There is pressure; we put ourselves under the maximum, but I like that because I think that's when I perform and I'm really happy with today. When the Fireblade is good like it is this weekend, I'm up to fight for the wins and podiums. I'll be trying my best again tomorrow, I think now we can go really get stuck in. To lose a 32 point buffer in two races would be silly, so let's go get stuck in!"
Ryo Mizuno
"Today was my best result of the year at my favourite track. We were lucky in some areas but we were able to work step by step from the first day and today we made it to Q2 for the first time, so I'm happy with the day. We have two more races tomorrow, so I'll do my best to move up!"
Takumi Takahashi
"I couldn't improve my lap time in the qualifying and I was 20th on the grid. In Race 1 I started and concentrated on improving my pace for a few laps. But on the third lap at the first corner I was hit from behind, crashed and had to retire. We have still 2 races tomorrow and I will switch my mind for tomorrow's race."
Tom Neave
"I didn't have a very good qualifying this morning, so I knew it was going to be a difficult race. I got a good start and worked my way through the group cleanly, I didn't do anything stupid, but I might have used a bit too much of my tyre coming through to get into the chasing pack and once we got right on the back of them I could see I was faster, but I had used the best of my tyre. I made a pass on Alex but didn't make it stick unfortunately, but we learnt a lot in that race. To start from Pole tomorrow is the best outcome I could have hoped for really and it'll make a huge difference to the race tomorrow."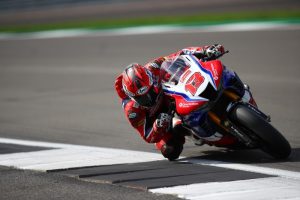 Sunday
Glenn Irwin and the Honda Racing UK team have confirmed their place in the all-important 2021 Bennetts British Superbike Championship Showdown in seventh place, after a solid point scoring weekend at Silverstone's National Circuit, and Tom Neave celebrated on the podium after placing the CBR1000RR-R Fireblade SP on the podium in the Pirelli National Superstock race.  
Winning the opening race of the weekend, Glenn wrapped up Round 8 of the series finishing today's races 13th and ninth. Race 3 and the Showdown deciding race was restarted after a red flag on the 12th lap, with the restart as a 15-lap dash. With the grid decided from the positions at the time of the red flag, Glenn was 11th. Dropping back slightly, Glenn dug deep to make his way into the top-ten and crossed the line ninth, to secure a place in the all-important Showdown. 
Ryo Mizuno had a strong weekend at his favourite UK circuit, having scored his best finish (12th) in yesterday's race, the BSB rookie finished today's first race just outside the points in 16th place, and wrapped up his weekend in the final race 15th. Suffering a little after his crash yesterday, Takumi Takahashi had a bad start off the line and wasn't able to fully push in today's first race to finish 22nd, with his luck not getting any better in the final race when he was forced to retire due to a technical issue. 
Meanwhile Tom Neave kept his championship hopes on-track after taking a closely fought runner-up spot in today's race. Starting from Pole Position, Tom kept the chasing pack at bay for the majority of the race, but it was during the final stages where Alex Olsen was able to catch him. With Tom quicker in some sections and Alex in others, it was a tense battle to the line with Tom taking the runner-up spot 0.326s behind Alex. 
The Honda Racing UK team now has a two week break, before the championship resumes with Round 9 at Oulton Park on 24-26 September.
Glenn Irwin
"A place in the Showdown was the goal coming into this weekend, I didn't think we would get a race win with the form of Yamaha and Suzuki from the past two seasons here, so to tick that off in Race 1 was amazing. In Race 2 we tried something with the bike and today was a day we could slightly get away with it with the points buffer, so it wasn't too detrimental to us, but it set us up for a nervy last race! I was riding round calculating the points, and 'if I crashed out now would I still have a place in the Showdown'. Today has been an enjoyable day, the Fireblade in Race 3 was a big step from the bike we had in Race 2 set-up wise. To make the Showdown, and go into it with some podium credits, considering we had a difficult start to the season technically, and with an injury, it hadn't been the smoothest of starts this year, but we made it into the Showdown!"
Ryo Mizuno
"It was a very satisfying weekend. Thanks to the team staff, I think I was able to ride the best I could. This was my favourite track and I had a good run from FP1. In Race 2 we had a little trouble and I couldn't improve my pace, but by Race 3 I was able to improve and do my best riding. I would like to thank the team for their hard work. I'm looking forward to the next round at Oulton Park and hopefully we can make the continue to score points!"
Takumi Takahashi
"In Race 2 I made a bad start and it was a disappointing end to the race as I was unable to attack some of the corners due to my crash in Saturday's race. In Race 3 I was able to ride for a few laps without any strange feeling, but then I had a problem at the end of the fourth lap. It has been a difficult race weekend for us. I will continue to prepare for next round at Oulton Park."
Tom Neave
"It's been a bit of a tricky weekend and not really the weekend I anticipated. There was 50 points up for grabs this weekend and we've not had a win and we've only lost two points of our championship lead, so really in the grand scheme of things we're in a really good position. We salvaged solid points and we've kept focus all weekend, if a bad weekend is only losing two points then we've done a good job! There's still a long way to go, and I feel sometimes it's important to have a testing weekend to keep us on our toes, keep focused and motivated. A massive thank you to the team and everyone supporting me!"