Pole positions at Snetterton for Honda Racing UK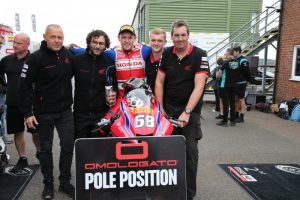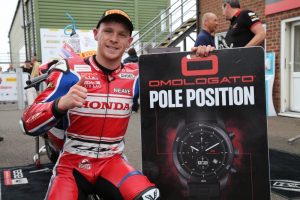 Honda Racing UK's Glenn Irwin and Tom Neave set the pace at Snetterton today in both the British Superbike and National Superstock qualifying sessions claiming consecutive Pole positions aboard the Honda CBR1000RR-R Fireblade SP.
Leading the way throughout Friday's practice sessions topping the combined times, Honda's Superstock rider Tom had a sensational qualifying to set a Pole position lap time of 1:49.078, unofficially smashing the lap record on a Superstock machine at the Norfolk circuit.
Meanwhile in the Bennetts British Superbike Championship, Glenn claimed Pole position with a lap time of 1:46.354. For the afternoon's 12-lap race he had a blistering start off the line and was holding the lead until the fifth lap when he made a mistake and crashed out of the race. Unhurt from the fall, Glenn will be back in action for tomorrow's two Superbike races.
Glenn's teammates Ryo Mizuno and Takumi Takahashi had a strong showing with Takumi finishing fourth in Q1 and going through into Q2 to qualify 15th. Dropping back during the opening laps of the race, he fought back through the pack to come home 14th, his best finish this season. While Ryo made progress from his starting position of 21st to finish just shy of the points in 16th place.
The team will be back in action tomorrow (Sunday 5 September) for two more Superbike races and the Superstock race of the weekend.
Glenn Irwin
"Pole position today was good, I've been feeling good on the bike lately and I'm confident when we roll out on new tyres we can go as fast as anyone round here, if not faster. We know we have to improve the second half of the races and today we tried something different with a hard tyre, which felt good and I felt like I was controlling the pace. On lap five I made a really silly mistake, simple as that. I braked a bit deeper and it was a school boy error. We have two more races here tomorrow and I'm looking forward it, we're 12th on the grid but we've had some good rides on the Honda with lower grid positions so hopefully it's a day where we can make a lot of moves and finish higher up the pack."
Ryo Mizuno
"We made some changes to the set-up for the race to improve, but we didn't go in the right direction. I made a bad start and it was a tough race chasing after the front group. I'm going to use the morning warm up and try to finish higher in the two races!"
Takumi Takahashi
"It was difficult to find a good rhythm until FP3 but in the qualifying session I was able to find a bit of a rhythm. In the race I tried to make rhythm and good pace up after start but I couldn't push 100%. We will make changes tonight, and tomorrow I will push hard from the start."
Tom Neave
"Harv said to me in the garage before the session that Glenn had a pole position so there was no pressure, but it's a Honda thing so you've got to go and get pole now, so that's what I did! It definitely motivated me with Glenn doing that. We're both on a bit of a roll now with consecutive poles and we want to keep that form going. I love this place and we won here last year, we've got the Fireblade working amazing now and did the fastest ever lap on a Superstock bike, smashing the lap record and I'm absolutely ready to race tomorrow!"
Tom Neave dominates aboard the Fireblade at Snetterton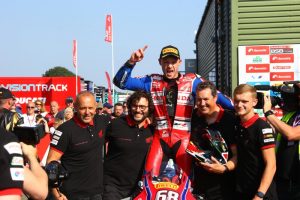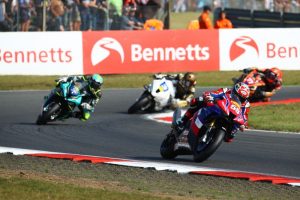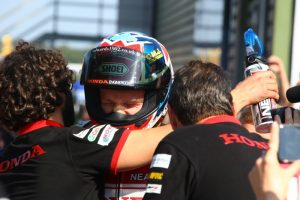 Today in glorious conditions at Snetterton, Tom Neave took a dominant victory in the 12-lap Pirelli National Superstock Championship race, making it three wins from three aboard the Honda CBR1000RR-R Fireblade SP and further extending his championship lead by 24 points.
Proving to be the man to beat all weekend Tom topped the timesheets in practice, qualifying and dominated the race from start to finish at the 2.96-mile circuit. Starting the race from Pole position Tom momentarily dropped a place, however he regained the lead at Turn 4 where he stayed for the remainder of the race, crossing the line 2.084 seconds ahead of Taylor Mackenzie in second place. Smashing the lap record at the Norfolk circuit not once, but twice during the race Tom holds the new record of 1:49.516.
Meanwhile it's been a frustrating weekend for the teams' Bennetts British Superbike Championship riders with Glenn coming home 14th and 11th in today's races, retaining his seventh place in the championship standings with 161 points. Takumi Takahashi was not able to better his 14th place result from yesterday finishing today's two races 21st and 17th, while Ryo Mizuno retired from Race 2 and was not able to start the last race of the day due to a technical issue.
The team now has a quick turn around ready for the next round of the championship which takes place next weekend at Silverstone's National Circuit on 10-12 September.
Tom Neave
"That was probably the best fun I've had on a bike all year, normally you only pull point-one of a second each lap, but as soon as I got that two second lead on lap four or five, I enjoyed riding the Fireblade and hitting my points. Everything was working great, and I just reminded myself why I love racing bikes and why I do this. We knew coming into the weekend we can be strong here, we won here last year and we're on a winning streak at the moment. You do put pressure on yourself and my rivals have been with me all weekend, so I've had to be on my A-game, but to pull it off in that style is exactly how I wanted to win!"
Glenn Irwin
"I think what we can take away from Snetterton is once again I've shown that myself and Fireblade have the ability during a qualifying session and what we can do in terms of outright pace. Maybe it's something since yesterday's crash, but today we had no pace whatsoever. It's frustrating but we've gathered data and information with my teammates to try to narrow things down on what's hindering us at the moment. I hope we can go to Silverstone having found some solutions."
Ryo Mizuno
"Today was a really unlucky day for me. I had to retire from Race 2 due to a problem, and in Race 3 I had a problem before the start and couldn't start the race, which was a frustrating end to the day. Trouble can happen to anyone, so I'm going to refocus and try again next week at Silverstone."
Takumi Takahashi
"I struggled in today's races and just didn't have the same feeling as I did in qualifying and yesterday's race, so I wasn't able to better my position. I'm still struggling, but I'll be ready for a good result at the next round at Silverstone."