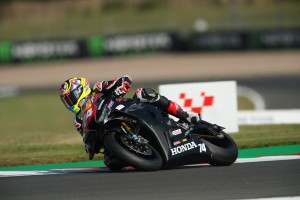 The penultimate event of the shortened 2020 Bennetts British Superbike Championship takes place this weekend (2-4 October) at Donington Park, where it's all to play for as Glenn Irwin and Tom Neave fight to keep their Championship hopes alive in BSB and also the Pirelli National Superstock 1000 Championship.
With just six races left of the 2020 season, the Honda Racing team arrives at Donington Park leading the British Superbike Championship by just two points with Glenn and second in the Superstock standings, with Tom 27 points shy of the lead.
With Donington's 2.487-mile GP track on the cards, it is yet another different layout for the all-new CBR1000RR-R Fireblade SP with the addition of the Fogarty Esses and the Melbourne Hairpin compared to the National circuit, which holds positive memories for the Honda team.
At the opening round on the National circuit, Andrew Irwin took victory in two of the three Superbike races, with Glenn claiming three second-place finishes, and Tom took his maiden Superstock win, all on the debut outing for the all-new Fireblade – so spirits are high as the team look ahead to the weekend.
Practice begins on Friday 2 October with qualifying and Round 13 on Saturday, ahead of Rounds 14 and 15 on Sunday.
#18 Andrew Irwin
We arrive at Donington Park positive, it helps to go back somewhere were you have had success as you know the bike works well there, I went from a one-time race winner to a three-time race winner in one weekend, and if we can get back close to where we were that weekend, then we've done a good job. I've got to keep fighting, in practice and qualifying we're OK, but when it comes to the races we've got to improve and get our fight back, finish in the top-six where we should be and fighting for podiums where we can. The weather isn't looking great for the weekend, but either way I think we'll be fine, in the dry we have good pace at Donington, and we're bound to have one wet race this year! We were fast there at the start of the year, but we also know our competitors have been improving and we need to make sure we also improve.
#2 Glenn Irwin
I'm confident ahead of the weekend, I can't go and say I'm going to win, but what I can say is the championship is close and I would like to go to Brands Hatch with obviously a lead in the standings to start with, and a bigger lead than we currently have now. I think we need and want to do that and being at a track where I think we realise that we can do that with our package is important. If we didn't think we had the pace at the track with the bike it would be difficult aiming for higher results, but there is no reason why we can't perform at a high level. Obviously, our opposition can bring their A game as well, which can always make things difficult but that's where we are. The weather could throw some variables as well, so that will be exciting.
#68 Tom Neave
I'm feeling good heading back to Donington Park, but I do feel like I've got to right a few wrongs after the previous round being a disaster as far as the championship is concerned. I'm in a tricky position as I'm 27 points behind, it's not over just yet, but it's going to be fairly difficult when you're against someone like Chrissy [Rouse], who is riding consistent. I just hope luck will be on my side this weekend and all I can do is the best job I can! Thankfully we are back at a track where we had good results at for the opening round, where I took my first win, so I'm hoping that can transfer onto the longer GP circuit.
#74 Davey Todd
I love the full GP circuit, I last raced there in 2017 and had good results, leading the race pretty much for the whole time and ended up third, so I'm looking forward to getting back there and building on what we've been building on this year and to a circuit that's not so different to what we have been racing, and not as difficult as Oulton! We're in a good place with the Fireblade and also with me, so I think we can make some good progress. It's crazy to think we have just two more rounds left, when in a 'normal' BSB season we'd be a third of the way through, so it's a bit of shame there's just two rounds to go, as we're in a good place and I'd love to see what we could do with eight rounds left compared to the two we have!
Team Manager Havier Beltran
This weekend I'm confident we can have a good round, the guys were strong on the National circuit, we got three wins and three podiums last time across BSB and Superstock 1000, so I think we can be strong. The only concern is the weather, we've not had any time with the bike in the wet, so if the forecast is right, Friday we'll be working on our wet setting! But I'm confident with the team we can get this turned around and ready for whatever the weather throws our way.