As the British Superbike Championship does not use the big grand prix circuit at Silverstone, we are not based in the fancy 'Wing' Formula One pits complex. Still, the iconic pitlane and garages between Woodcote and Copse are by far and away the most spacious we have to work out of in the season.
The short, 1.64 mile, National circuit layout is covered in around 53 seconds and is not a riders' favourite. However, it generates entertaining racing for the spectators who would have to wait over two minutes to see the bikes each lap if we were using the GP circuit. On track traffic is always an issue and with high-speed corners linking the three straights, overtaking is a real challenge and can lead to high-speed incidents. The two big righthand corners – Woodcote quickly followed by Copse – generate high tyre temperatures and wear rates so, for safety reasons, we can't use the super soft SCX rear tyre meaning everyone would be on the more durable SCO Pirelli Supercorsa slick.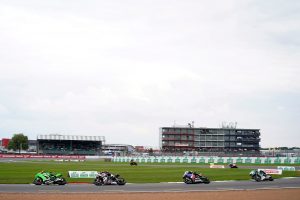 As for Lee and Rory, they were up for the challenge of securing a Showdown place. At the end of the three race round, the top eight riders in the points standings would go into a 'Title Fighter' pool. Their points are reset at 1000 each plus podium credits scored over the previous eight rounds: five for a win, three for second place and one for third. It's all a bit confusing for the uninitiated but its main aim is to take the championship battle down to the wire.
For the riders and the teams, there are no direct benefits but if you are not 'in' the Showdown, the final three rounds are a bit of an anti-climax. As we arrived at Silverstone, Lee was in the Showdown group, occupying the final place but with Ray and Brookes hard on his heels. He was still frustrated to have lost a good haul of points at Snetterton when he crashed on water from Buchan's bike. Rory was just keen to get to grips with another track in racing conditions, although he still had a mathematical chance of getting through. With four remaining Showdown places up for grabs and 10 riders with a chance of getting through, it was going to get nervy.
Free Practice
FP1 and a few drops of rain but not enough to slow things down. Lee got in 17 laps and Rory 27, both circulating in the 54.1 seconds bracket, 0.5 off Bridewell's fastest time. Lee P11, Rory P14. It rained properly ahead of FP2 and as the new surface at Silverstone is notorious for holding the wet, the track was only dry enough for competitive lap times in the final 12 minutes or so of the session. Lee and Rory got in eight or nine laps, and both posted their fastest time on the last time around. Lee P5 and Rory P9, both in the 53.9 bracket. On combined times for the two sessions, Lee was P9 and straight through to Q2 with the others in the top 12, while Rory was P14 meaning he'd have to make progress through the Q1 session. 18 riders inside one second. It was that close.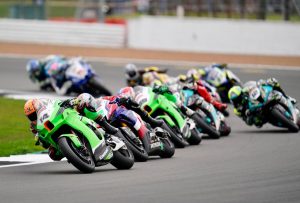 Warm and sunny on Saturday morning for the 20-minute FP3 session, ideal for race pace running on the tyres used in FP2. Lee was matching his best times on tyres that were 26 laps old and Rory was not far behind. The times were still very tight and qualifying for grid positions was going to be decided by thousandths of a second.
Qualifying
Rory was out first to challenge for one of the six Q2 places. Immediately on the pace, Rory lapped in 53.7, his fastest of the weekend so far and the fastest time throughout the 12-minute session – P1. Just five or six minutes before Q2 so back in for new tyres, a small suspension change and a drink of water. Rory shaved another 0.1 of off his best time but despite having already had a run, he was now up against the fastest 12 from free practice and his 53.6 was only good enough for P16 on the grid.
Lee was trying a slightly harder suspension setting to allowing for getting hard on the power as in qualifying he didn't need worry about race distance tyre management. The Q2 session is only 12 minutes long but as it's a short lap there's time to come back in, which is what Lee did as the set-up change was a bit too much. A quick change to his K-Tech suspension and he was back out to record a 53.5 for P9. Just 0.1 faster than Rory but eight places further up the grid. All 18 Q2 runners covered by 0.6 with the two Yamahas topping the times.
Race One
The Saturday race runs over a shorter distance than the main events on Sunday and so the grid lined up for 24 laps. Rory got a decent start, making up two places on lap one and a further two next time round, up into P12. Safety car. There had already been a lap one incident putting Hickman out and on lap two Buchan – chasing points after a poor qualifying – collided with Vickers taking both down. Farmer was also down in a dangerous spot. The safety car was in for a restart at the end of lap five.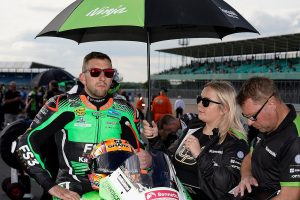 Lee held his position off the line and was battling with his two main Showdown challengers – Ray and Brookes. Ray got past on lap eight, but it was close. Then on the pit wall TV we saw the devastating sight of Lee parking his Kawasaki and leaning his helmet on his hands, knowing he had lost another hatful of points. For the second time in six years, one of our bikes had failed to finish due to a technical issue. Why not in practice or even qualifying, and why at such a critical time?
The race went on with Rory racing Fores and Ryde and working up to P10. Then more drama. With one lap to go, Mackenzie high sided out of the lefthander at Brooklands. Teammate and championship leader O'Halloran was too close behind to avoid him – big crash. Red flag to end the race with both Yamahas out in a nasty incident. Meanwhile, earlier in the lap, Fores had run wide, and Rory was through. He had started the lap in P10 but crossed the line P7, just before the red flag came out. His survival in a crash strewn race had seen him move up nine places from P16. Glenn Irwin inherited the win, scoring enough points to secure his Showdown place.
Lucky breaks for Rory, total disappointment for Lee. Something had broken in the engine so all we could do was share his frustration and fit a new engine ready for Sunday. To add insult to injury, both Ray and Brookes benefitted from all the retirements to record fourth and fifth places, scoring enough points for Ray to jump Lee in the Showdown standings by six points and for Brookes to draw level with him.
Race Two
Ten minutes and 11 laps each in Sunday morning warm up. Lee P7 and Rory P8, both happy with their bikes. Both riders had been experiencing some suspension 'chatter' issues again but although that hadn't been completely overcome it was manageable. Remarkably, both Yamaha riders made the grid carrying injuries from their collision the previous day.
Lee's engine failure disappointment was compounded as it had been relatively early in the race before fuel loads dropped and lap times with them. Race two grid slots are determined by race one lap times so Lee would have to start the 30-lap race from P16. Deep in the pack and difficult to overtake as the times are so close. Rory would start from P11.
No dramas this time, just three technical retirements from the 26 bike field. Rory had a race long battle with Hickman and Vickers, eventually crossing the line in P9, just ahead of Hickman and less than half a second behind Vickers. Lee made up five places to P11 after a huge battle to head home his old teammate Buchan who was chasing points again as his Showdown place was under threat too. With neither of them scoring big points and Ray and Brookes benefitting from good grid positions and finishing much higher than expected with Brookes on the podium again, the pressure was mounting. Ray now P8 in the Showdown standings, five behind Buchan, and Brookes P9, 11 ahead of Lee. Rory was now technically out of it with 143 points. Yamahas at the front again with Mackenzie taking the win despite a hand injury.
Race Three
Grid. Lee P9, Rory P12. 30 laps again but more drama at around half distance when Stapleford's Suzuki went up in smoke and he crashed at Brooklands. Red flag and a delay for track cleaning. Bikes back in the pit garages on tyre warmers but no tyre changes allowed. Suspension changes are permissible but that wouldn't help Rory as he had a rogue tyre which still looked like new and was not offering the normal level of grip. All he could do was ride to the tyre in the restart and not risk pushing it.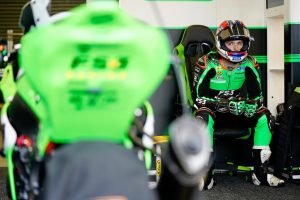 New race declared over 15 laps with the grid determined by track positions at the red flag. Lee P10 and Rory P13 struggling with his tyre issue. In the end, Rory crossed the line out of the points in P16 but only two seconds behind Hickman in P12, a creditable effort in the circumstances.
Lee was soon locked in his battle with Buchan again and Ray joined them this time, all three scrapping over P6. Brookes was away at the front again. Fighting for positions, Vickers was trying to repass Lee at Brooklands but collided with him. Lee was pushed wide, losing him time, and letting Buchan get away as Lee lost his rhythm for a lap. That allowed Ray to pass him on the final lap leaving him P8. In the meantime, Buchan made some brave passes in the final three laps to get to P4. Yet again, Yamahas at the front but this time O'Halloran took the win.
Showdown
Despite his race one crash, Hickman took the first of the four remaining Showdown places as he had only needed one more point over the weekend to secure his place.
The race one win saw Glenn Irwin safely in.
Buchan's P4 in race three gave him just enough points to hold on to his Showdown place, P7 overall in the points.
Brookes was on the podium again in race three and took the final Showdown place, five behind Buchan and just four ahead of Ray who didn't quite make it. Lee P10 a further 15 back on 167. Rory's 143 points left him in P12.
All competition can be cruel and motorbike racing is no different. It's all ifs and buts, and everyone has their story. There had been ups and downs throughout the earlier rounds, but Lee's story is that if he hadn't crashed on the fluid from Buchan's bike in race three at Snetterton, if the engine hadn't failed out of the blue in race one, if he'd had better grid slots for races two and three, and if Brookes and Ray hadn't suddenly upped their games, then he would have comfortably made the Showdown. That is certainly the opinion of expert commentator James Whitham.
IFs! We've chalked it up as a moral victory. Lee has been consistently fast, and Rory is doing an excellent job as a superbike rookie. We are just looking forward to the next nine races over the final three rounds. At the end of the day, each race is its own adventure.
Max and James Cook
Not much British Talent Cup practice running for James due to wet conditions and not wanting to risk anything. Qualified P8 and was very racy in race one. 22 laps and the usual tight Silverstone field. Immediately up to P6 and on lap 7, P3 and going for it. Bit too racy into Brookland on the following lap as his out-braking manoeuvre took him in to the lead – for about 50 metres! In deep, carrying a bit too much speed caught him out on the change of direction and down he went. The only good thing was he had lapped fast enough to start on the front row for his second race.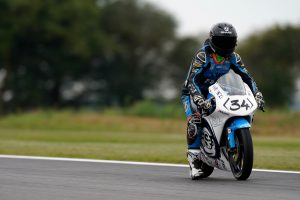 Determined to make up for his mistake and with new tyres fitted, James had a quiet race as he picked up a vibration under braking which slowed him down. He didn't trouble the leading group and came in eight seconds behind in P10. Not a usual James performance at all so hopefully the issue will be sorted out for next time. P7 in the points.
Over in the junior superstock field, Max also sat out FP1 due to the rain before ending up P8 and only 0.8 down in FP2. Max reduced the time gap to 0.4 in qualifying but as it is so close, that put him in P11 on the grid. Average start put him back in the mid-field pack and Max was lucky to avoid a multi-crash at turn two – the Maggots/Becketts section. Fortunately, there is a huge Formula One run off area there so Max took the car park route to avoid the carnage and came back onto the track dead last. In a field of 37 young chargers, incidents are inevitable. 13 didn't make it to the end but at least no one got badly hurt.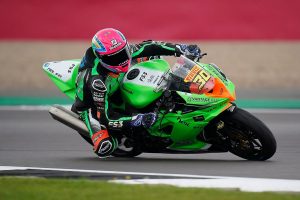 The safety car was out for the first three laps to clear up the mess and which enabled Max to catch up to the back of the field – P31! Slow progress through the pack initially before making some strong, clean moves and benefitting from retirements, Max scored the final point in P15. Disappointing result but good recovery. Still in the top ten points scorers overall.
Next Time
Spectacular Oulton Park in two weeks' time. With all eyes on the Showdown runners, we are just looking forward to a trouble-free weekend, under the radar and without any distractions. Lee is always strong at Oulton and Rory did well on his first superbike visit there earlier in the season. I am sure both boys will be in the mix.
Hope to see you there.
Regards. Nigel. Team Principal.