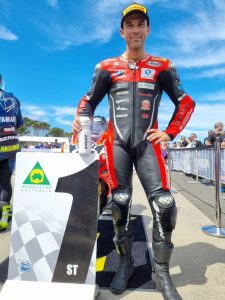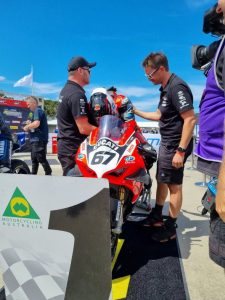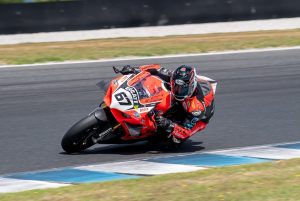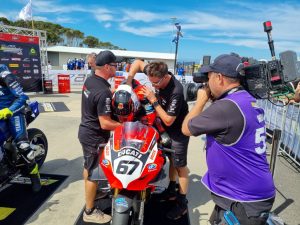 The first round of the Australian Superbike Championship (ASBK) for 2022 is in the record books with Bryan Staring taking 1-2 race results, after qualifying 5th, to secure the overall round win on his first race weekend on the DesmoSport Ducati Panigale V4 R superbike.
Qualified: 5th (1.32.968)
Race 1: 1st
Race 2: 2nd
Fastest Lap: 1:31.983
Championship Standing: 1st
Team co-owner, Ben Henry: "Seeing that emotion from Bryan as he came into parc ferme… It was an incredible moment. Bryan and I have been mates for a long time outside of racing, so to be a part of that moment was really special to me. I'm proud of the whole team this weekend. We weren't expected to win, although we firmly believed we could, and it was far from perfect. We made a mistake with our tyre choice in qualifying, putting us on the back foot for the two races, and a small chassis change prior to race two resulted in a little less grip instead of more for Bryan, but he put his head down, rode smart and to his strengths and got the job done."
Bryan Staring: "What a weekend! I really want to thank the DesmoSport Ducati team for everything they've done to get me comfortable on the bike and within the team. At this level, it's so important to have a good group of talented people around you to perform. Losing Byron Draper) on the weekend due to covid was a blow for us, but Ben (Henry) led the team well to adapt and perform. I never expected to leave round one with the championship lead, even though I was confident we would do well. It's a long championship and we have strong competition, but I'm really happy with this start to the season, and to finally be reunited with my wife after border closures kept us apart the last few weeks so I could test and race this weekend."
Team co-owner, Troy Bayliss: "When I got the news that Byron (Draper), our Crew Chief and suspension specialist, wouldn't be at the track right before the team arrived on Phillip Island, I was a bit worried, but the team really pulled together to make it happen when it counted. Watching the first race, Bryan rode fast and smart to capitalise when the opportunity came to take the win, although a slight change to the bike before race two didn't give us the result on track we were looking for. It was a great ride by Bryan to maximise points and take the round win. A big thanks to everyone in DesmoSport Ducati for your work to start the season so strong. I can't wait for round two when we have the whole team together again."
The team will now take a moment to relax and have some fun with a host of other Ducatisti as we host the very first Ducati Track Day, powered by DesmoSport, at Phillip Island this coming Friday.
Round two of the ASBK will soon fire back into life at Queensland Raceway after three short weeks on March 18-20.