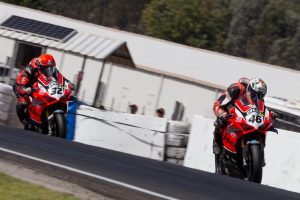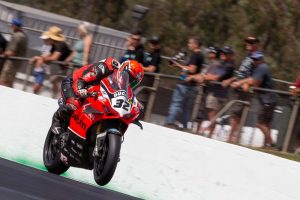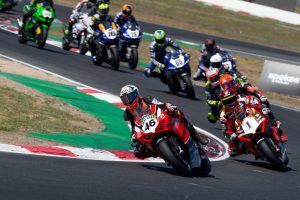 The Australian Superbike Championship (ASBK) resumes this weekend, two hours south-west of Sydney, at the 2.2km Wakefield Park raceway. After a solid two-day test at the circuit, both Mike Jones and Oli Bayliss are confident of strong results aboard their DesmoSport Ducati Panigale V4 R superbikes.
Team Co-Owner, Ben Henry: "We're always striving to go consistently faster and at the test, I'm happy with our end results and confident that we'll continue to improve from where we left off. Mike is as motivated as ever to win races and Oli keeps making strong progress with every pit exit, so I'm really looking forward to seeing the bikes roll out of the garage and go racing this weekend".
Team Co-Owner, Troy Bayliss: "Oli and I have been riding together a lot lately and it's been a lot of fun to get back on a bike. It's competitive at the front of the superbike field and while there's still a lot of work to do, I'm really happy with how things are progressing from him. As for Mike, he has so much experience at this stage in his career, I can see the determination in his eyes to put the V4 R on the top step, and I can't see any reason why he won't be challenging for the win this weekend".
Mike Jones: "We come to Wakefield with confidence after solid results at Winton and I'm feeling very motivated to win races this weekend. I think we'll see some fast times through practice and qualifying, and the racing will be tough. We had a very promising performance at the test and I'm confident we'll keep progressing throughout this weekend".
Oli Bayliss: "At first, I wasn't exactly looking forward to riding a superbike at Wakefield, but after the test it was actually a lot of fun on the Panigali V4 R! I'm feeling more at home on the bike than ever and I know I can keep pushing to improve for some good results on Sunday".
Friday

10:40am
Free Practice 1 – 30min
1:30pm
Free Practice 2 – 30min
3:45pm
Free Practice 3 – 30min

Saturday

10:45am
Timed Practice – 35min
3:00pm
Qualifying 1 – 15min
3:45pm
Qualifying 2 – 15min

Sunday

9:30am
Warm Up – 10min
11:30am
Race 1 – 20 Laps
3:10pm
Race 2 – 20 Laps
Posted on Friday, April 16th, 2021 in News