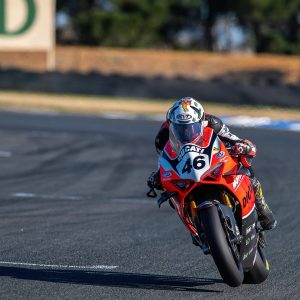 Darwin's Hidden Valley is set to host the Merlin Triple Crown this weekend, with the Australian Superbike Championship (ASBK) racing alongside both drag racing and Supercars on the exciting 2.87km racetrack. With three races across the weekend, the DesmoSport Ducati Panigale V4 R superbikes of Mike Jones and Oli Bayliss are set for some incredible racing as the pair challenge for the ASBK championship.
Team Co-Owner, Ben Henry: "It's a big effort getting the team to Darwin, but it's well worth it. The track is a lot of fun to ride, the atmosphere is always fantastic and I'm excited to get Mike and Oli back on track and racing. Both guys have tested well recently and they carry confidence into the weekend. We've all been working extremely hard behind the scenes and it will be great to put that preparation to work".
Team Co-Owner, Troy Bayliss: "After my accident, I haven't been as hands on with the team and with Oli as usual, however everyone has continued to put in the hard work to put us in a strong position this weekend in Darwin. Mike has shown some incredible speed recently and Oli is still working hard everyday to keep progressing. I still have a way to go in my own recovery, but I'll be at the track to support the guys through the weekends three races".
Mike Jones: "I came up to Darwin a few weeks ago for some media commitments prior to the round, and I've been really excited to get back up here ever since. I've never actually ridden a superbike at Hidden Valley, but it's a fun track and with a 1.1km straight that really lets us stretch the legs on the bike, so I can't wait to hit the track on the Panigale V4R. My preparations have been really strong and the team have the bike working extremely well, so I'm confident of some strong results across all three races."
Oli Bayliss: "I last raced at Hidden Valley on a 300, so it's another pretty big change to race it on the Panigale V4R superbike, but I'm really looking forward to it. We tested at home a few weeks ago and I'm feeling better than ever on the bike and I think I can keep moving forward in that lead group this weekend. It's going to be hot, and riding a superbike is physical, but I've been working hard at home to prepared, and I'm confident of some strong results."
Darwin Superbike Schedule
Friday
10:25am
Free Practice 1 – 40min
2:20pm
Free Practice 2 – 30min
Saturday
10:15am
Qualifying 1 – 20min
10:40am
Qualifying 2 – 15min
(top 12)
2:05pm
Race 1 – 16 Laps
Sunday
10:50am
Race 2 – 16 Laps
2:05pm
Race 3 – 16 Laps
2021 ASBK Calendar
Round 1: Australian All Wheels Race Fest  – Phillip Island, VIC *cancelled
Round 2: Winton Motor Raceway, Benalla, VIC Mar 12-14
Round 3: Wakefield Park Raceway, Goulburn, NSW Apr 16-18
Round 4: Hidden Valley Raceway, Darwin NT Jun 18-20
Round 5: Morgan Park Raceway, Warwick QLD Aug 20-22
Round 6: The Bend Motorsport Park, SA Sept 23-26
Round 7: Wakefield Park Raceway, Goulburn, NSW Oct 15-17
Round 8: Phillip Island Grand Prix Circuit, VIC Nov 4-7