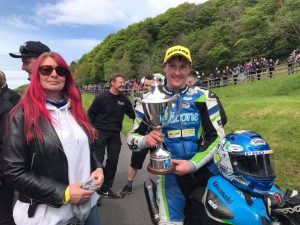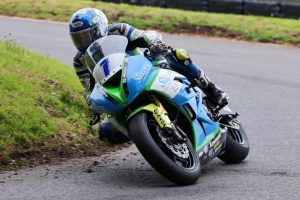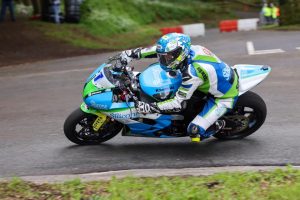 Harrison defended the coveted Bob Smith Spring Cup trophy, which he won at the last event held in 2017, along with picking up wins in the second Supersport race and two of the Classic Superbike scraps.
After winning his 600cc heat on Saturday afternoon, his first main race was the opening Classic Superbike battle, where he lined up on the team's Kawasaki ZXR 750, taking the win by 10.5 secs over David Bell.
Despite a small off during Sunday morning's opening Supersport race, he was back out around an hour later on his Kawasaki ZX-6R for the blue riband Bob Smith Spring Cup feature race.
With Lee Johnston – who has been Harrison's biggest rival at Scarborough in recent years – missing from the grid, Dean got a clean getaway and led over the line at the end of the opening lap with fellow Yorkshireman Davey Todd chasing him down.
But Todd was no match for Harrison, who managed to build a healthy gap at the front to take the win by 4.771secs to pick up the silverware once again.
After a grid presentation it was straight onto the ZXR 750 for the second Classic Superbike race. This time it was Bell who got out ahead and a four-bike battle ensued as Mike Norbury and Rob Hodson joined the battle.
On lap five, Harrison was running second and slid up the inside of Bell at Mere Hairpin to take the lead before stretching a gap of almost six seconds to take the win and smash his own Classic Superbike lap record with a 1min 48.664.
Opting to sit out of the third Classic Superbike race, Harrison's final battle came in the second Supersport 600 race which he dominated with a lights-to-flag win, never coming under any pressure as he powered to his fourth win of the weekend, beating Jim Hind by 3.422secs.
Dean Harrison said: "It's been great, apart from my little excursion this morning everything's been great. It was just at the Mountside Hairpin I just tucked the front on the way in, I was just a bit exuberant I think.
"I went down but the bike was fine, we got it sorted out for the next race and it's been spot on from there so I can't complain.
"It's nice to win the Spring Cup again, and get a few more wins. I've clocked up over 100 wins now if you include heats which is surprising…I still remember my first win here about 13 years ago.
"We chose not to go out in the last Classic Superbike race because the old girl's done a few miles and we want to keep her fresh for the Classic TT next year. But it's been a great day, I've enjoyed it, we've got some more wins and it's good to be back."
Team Manager Jonny Bagnall added: "It's been a pretty good weekend. Dean had a little off this morning but he was okay. It was a shame that Lee wasn't in the big race but it's still good to get a victory.
"It's all down to Dean really, he's done really well as per usual here, he just  knows the place inside out.
"Next for the team is a BSB test at Knockhill and then we are heading to Donington Park for the final test and then we're looking forward to starting racing again.
"This weekend was a little chance for us to get back competing and doing something that we all enjoy, so now we are looking forward to completing the final few tests and then starting the BSB season."