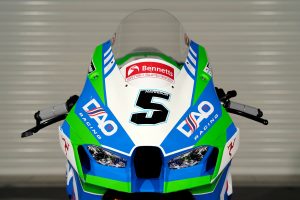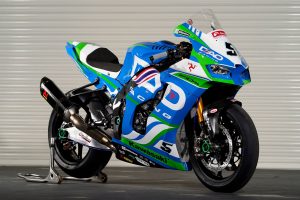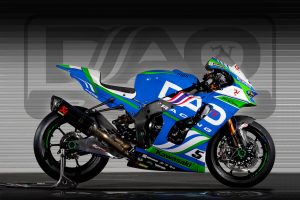 The team has unveiled a stunning new livery on the Kawasaki Ninja ZX-10RR which Dean Harrison will pilot in this year's championship.
The new machine was revealed today at the Carole Nash MCN London Motorcycle Show and marks the start of a new phase for the Cumbria-based team, which rebranded this year.
Gone is the traditional pale blue which had long been a trademark for the team's distinctive and successful Kawasaki, replaced with a brighter, bolder hue which reflects the team's new identity.
The new look retains the green and white which adorned the previous machine, the green now a little more vivid to reflect the team's long-running relationship with Kawasaki.
There are also a few hints of red and nods to both the Thai and Isle of Man flags, reflecting the heritage of team owners Clarissa Beadman and Sommai Nantakoon.
The new livery will be seen at all 11 rounds of the 2022 Bennetts British Superbike Championship – with Team Manager Jonny Bagnall confirming a further reboot will follow for the squad's road racing campaign as the official Kawasaki squad.
"Following a complete rebrand for the team, we wanted a new look for our ZX-10RR and I'm delighted to reveal our 2022 British Superbike livery," he said. "This is the bike we will run at all BSB meetings this year and we will be unveiling our roads machine at a later date.
"We have chosen to go for quite a dramatic change in style and colours. Although we have stuck with blue, green and white, we've gone for a darker and brighter blue this year, moving away from our traditional old shade and have retained the green to reflect our involvement with Kawasaki.
"The livery also includes elements such as the Thai and Manx flags and I believe we've created a bold and striking machine to fly the DAO Racing flag in the Bennetts British Superbike Championship in 2022."
The team is expected to reveal its road racing livery, which it will run in all international road races this summer including the Isle of Man TT, North West 200 and Ulster GP, in the coming months.