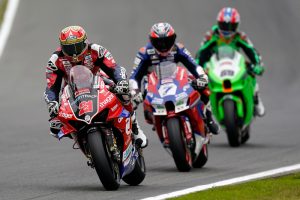 Christian Iddon finished third in last year's Bennetts British Superbike Championship; however, this season marks the first time he has lined up in the end of season Showdown. The VisionTrack Ducati rider arrives at Brands Hatch in the fight to claim his first title, trailing standings leader Tarran Mackenzie by 15 points, which represents the strongest position he has been in ahead of the decider.
Iddon started the Showdown with a 45 point deficit to Jason O'Halloran, but with the points closing down and this the tightest margin between the top four since 2010, the VisionTrack Ducati rider is feeling optimistic.
Last time out at Donington Park, Iddon continued his form of consistent podium finishes, remaining the only title contender to have scored points in all six of the Showdown races so far. This hat trick of top three finishes cut the deficit from 33 points before the start of the weekend, down to 15 ahead of this weekend.
"Going into the last weekend at Donington Park I knew that the Yamahas were going to be strong; they don't tend to have any bad tracks, but certainly that is one of the good ones, but also has been good for us," reflected Iddon.
"We went into the weekend knowing that we were on a level playing field with all to play for, but I was also aware that I was starting the weekend 33 points adrift, I had to make sure that didn't increase again. It is really hard to make the points swing in your direction, especially when you are already more than a race win behind and if you lose any more it can go the wrong way very quickly.
"When I was sat in the gravel an hour before the first race I hadn't set a lap time, I thought it was all going the wrong way. I sat on the grid for the first race knowing pretty much that anything could happen but I wasn't feeling completely confident as I had managed a lap and a half in qualifying and very nearly had a crash on the sighting lap!
"I just had to do whatever I could do, but came out of the first corner and pretty much everyone ahead of me had a moment and that gave me the realisation that we were all in it together and it was going to be a hard race.
"I managed to go from 17th to ninth on the first lap and obviously a lot of people fell down in front of me in the race, but I made my way forward and I got on the podium and a lot of my closest championship challengers either didn't finish, or didn't finish that highly. The first day was really good and then the dry race on the Sunday I was surprised with the pace and then we had another downpour before race three and I felt much better on the bike and the conditions felt better than the day before.
"Myself, Gino and Lee were in a bit of a class of our own in the last one, I wanted to try and get some more points back, but three podiums was the way we needed to go racing. It was hard for me as I was in the battle with Gino in the final race and I knew the five extra points could prove vital, a bit like the four extra points in race one against Kyle, but it is super difficult in a race like that.
"In a dry race you balance risk versus reward but in a race like that, it is even worse as the smallest lapse of concentration means you can be punished for something really silly and we saw that from so many riders."
The turning point in the weekend came when championship leader Mackenzie was forced out of the action with an uncharacteristic technical problem, meaning for Iddon that the deficit would massively reduce.
"I knew Tarran was out in the final race as I had 'Mack out' on my board, so it's tough," said Iddon. "I knew I had to balance between getting a good finish and finishing! The sunlight in the last one also made it tough to read my pitboard and that made it tough to know what was going on in the race, so the big screen helped me out massively to know the gap or the group behind!
"Over the last couple of laps Gino upped the pace and made a bit of a gap, and if there had been no championship to think of I might have had more of a go, but you have to manage it in your head."
A 15 point deficit is one less than what he went into last year's title decider with and Iddon is confident after a victory on the Grand Prix circuit earlier in the season.
"The championship is fully in shot; I am in a similar scenario to Donington and that I need to have a good race on Saturday to reduce the deficit, to be genuinely within a shot on Sunday," added Iddon.
"From the outside looking in there is not a lot between the Yamahas and I don't think they will work for each other, so that will be an interesting scenario.
"I need to make sure I reduce the deficit on Saturday and then it will be all to play for on Sunday, but given that there are so many riders who are fast, the points can change quite a lot, especially if they are between us and that can create a big swing. I am up against the title rivals as well as everyone else!
"The last time we were at Brands Hatch I won and I think we are in a better place than we were coming into the final round this time last year. Back then I couldn't take the fight to them in the Sunday races which hurt me. This year we have a better setting for the bike that I feel that I can compete and that showed at Brands Hatch earlier in the year.
"It will be a bit like the first round of the series where everyone wants to show what they have got and prove themselves for a number of different reasons. It won't be just the Title Fighters trying to win races, there will be a lot of others in the mix too and they can have a big impact."