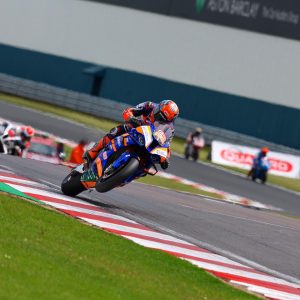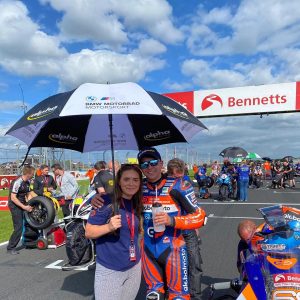 Chrissy Rouse powered to his first Bennetts British Superbike Championship top 10 in the final race at Donington Park on Sunday afternoon in just his third race weekend in the world's leading domestic series.
Rouse and the Crowe Performance BMW team made their BSB debuts this year, but suffered bad luck in the opening round with an engine problem and a crash beyond his control, which he still hadn't totally recovered from when the series moved to Oulton Park earlier this month.
However, as he arrived at the iconic Leicestershire track and found a good pace almost straight away, making it through to Qualifying Two for the first time before lining up 17th on the grid for the opening race.
Finishing 14th, Rouse was pleased to pick up his first points of the year and then proved it was no fluke when he went out for race two and brought his BMW over the line in 12th place.
There was still more to come in the final race. Lining up 17th, he was feeling strong and confident as he carved his way through the pack, making moves on some of the championship's biggest hitters as he stormed through to cross the line 10th, the best result of his career.
Rouse said: "It's been a really good weekend. It was my first time getting through to Q2 which was a good milestone and to get our first points in race one and then to better it in race two then get first top 10 in race three ticked off a lot of things!
"We made a few changes to the bike as the weekend went on and managed to find a little bit more every time I went out. I was particularly pleased with my ideal lap time in Q1, which was just under the lap record which considering how inexperienced we are as a team, I was really chuffed with that.
"It was great to be in the mix with some fantastic riders and getting to learn from them and it really felt like we got season underway. After and engine blow in the first race of the season and then getting knocked off and out in the second and therefore missing the third race and still not being fully right at Oulton, it feels like this has been our first round.
"I have to say a huge thanks to my full team. We run on a very small budget in comparison to a lot of the other teams, so when we have a weekend like this, it really does make it all worthwhile."