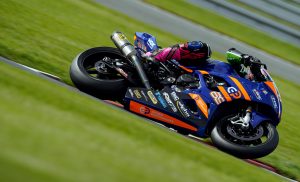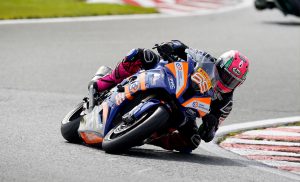 Geordie maths teacher Chrissy Rouse has lifted the 2020 Pirelli National Superstock 1000 Championship after crossing the line third at Brands Hatch.
The Crowe Performance Racing rider was crowned champion at the end of a hard-fought and dramatic season of the fiercely-competitive motorcycle racing series.
Rouse, of Burnopfield near Newcastle, went into the weekend 10 points ahead of rival Tom Neave, but with 25 to play for, he knew anything could happen and was determined to beat him on track during Sunday's race to secure the title.
Sine of success: The maths teacher has added another championship to his tally…
And as Rouse, 25, got a good start from third on the grid and moved up to second in the opening lap, disaster struck for Neave as he crashed out after starting from 13th.
On track, Rouse knew the title was already his but was determined to celebrate it on the podium so pushed on, enjoying a race-long scrap at the front with Dan Linfoot and Danny Kent.
While Kent went on to take the win ahead of Linfoot, an emotional Rouse crossed the line third, just half a second behind the winner to be crowned champion.
"I'm so happy, I'm kind of overwhelmed!" he said. "I didn't look at my pitboard for the first few laps but when I did it told me that Tom was out so I knew instantly I'd won it.
There were no problems for Mr Rouse as he celebrated on the podium with team boss Phil Crowe…
"I kind of celebrated for one corner and then I remembered I had to get back to the race! If it had been any other race in the season I'd have pushed harder for a win but I knew I didn't need to and I wanted to bring it home safe and enjoy a nice podium. The feeling was just incredible. It's the joy mixed with relief…it's just an amazing feeling."
The title feels even sweeter for Rouse, who had believed his season was over before it started after the Covid crisis meant the team he was meant to be running with was forced to pull out.
But Phil Crowe and his team jumped in to save his season by quickly preparing a spare BMW to allow Rouse to start the year, giving up their own free time to attend race events.
"I can't thank everyone involved at Crowe Performance enough for what they've done. Obviously I'm delighted to have won but it really is a shared win among a lot of people.
Yes sir, I can boogie: Rouse couldn't help but show off his signature moves again…
"A lot of folk have a vested interest in my success, so many people have given up time, money, loaned us things…so it's really nice to be able to pay them all back for believing in and helping me.
"There are too many people to list but without them, I wouldn't be here today and this wouldn't have happened. It's probably going to be a few days before it all really sinks in but I'm going to enjoy it.
"This is for Phil, Gabriel and everyone else at Crowe Performance, my friends, family, all my supporters and everyone who has believed in me since the start and I really hope it will be a platform to go onto something really good next year."