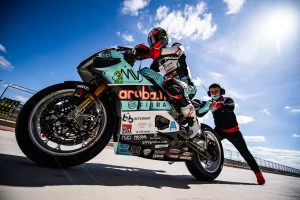 A cold and windy Motorland Aragon, on the first day, hosted the protagonists of the Superbike circus. For the event, the complete Ducati and Yamaha line-ups are present, and will be back on track again today.
In the morning, the freezing wind and low asphalt temperatures forced Chaz Davies to wait a couple of hours before leaving the pit lane with his light-blue Ducati. Once the engines were warmed up, the work focused on the geometry and balance of the bike. In the afternoon the track was considerably faster, so much so that the times got closer to those of last year's races. The Go Eleven Team was thus able to carry out various comparative tests between the different set-up solutions on the two Panigale V4RS, looking for a good balance in view of the first race of the season, which will be held on the Aragon circuit, on 22 / 23 May. At the end of the day, Chaz Davies was the fastest rider, breaking the wall of 1.50, with the best lap of 1.49.878, obtained with relative ease of riding. The laptime it's always not so important in pre-season tests, but it certainly helps to create a beautiful harmony within the team!
Today there will be another eight hours of work on the track, where the team will try to further improve Chaz's feeling on the bike!
Day 1 Results:
P 1   C. Davies   1.49.878
P 2   M. Rinaldi   + 0.069
P 3   S. Redding   + 0.111
Denis Sacchetti (Team Manager):
"We kept on the work started in Barcelona test, here in Aragon. The harmony inside the team is really nice and Chaz is giving us correct, precise and interesting feedbacks. Now we are focused on bike balance and geometry. I am really satisfied after this first day, not just for the final result but for positive rider and team's feelings, too, even if the first position is always amazing!"
Chaz Davies (Rider):
"We tried a different balance on the bike, and we find an interesting direction, but we just started the work. The feedback was quite positive, we compared the bike to the one I used in the past two years here in Aragon. The best thing about today is that I feel quite comfortable with every tyre, and I felt good on the bike. It's a good step forward compared to Barcelona test, a couple of weeks ago. I think we have a good plan also for tomorrow and some other areas to start to explore!"