Championship leader Bradley Ray looking for more points this weekend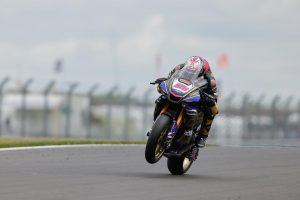 Bradley Ray heads the Bennetts British Superbike Championship standings ahead of this weekend's fourth round of the season at Knockhill, as the Rich Energy OMG Racing Yamaha rider holds a 28-point lead over Yamaha rival Jason O'Halloran.
Ray has only failed to finish on the podium once from the opening nine races, delivering his best start to a title campaign so far, and as the championship chase reaches Scotland, the Kent contender is feeling confident.
Ray said: "I am really looking forward to Knockhill; it has been one of the tracks where I always seem to do pretty well regardless of what bike I have been on, so I am looking forward to getting out on the Yamaha there after the amount of success we have been having so far this season. I missed the test last week but I am not too worried about that. I think we will be straight on the pace. Hopefully the weather stays good too!
"It is nice to go to Knockhill leading the championship with quite a few points on the board but for me it isn't looking about that right now. We need to be looking at the podium points and doing the best job we can, which is what we have been doing so far. I am looking forward to getting there and trying to keep fighting for podiums so that we can look to secure our place in the Showdown as early as possible and then we can start thinking about the championship.
"I am not really feeling any pressure at all this season. Back in 2018 when I did the double and led the championship for a while, I felt it then, but to be honest it was a good experience and it all helped. Going into this year I am not feeling that and I go out, have fun and getting the best results possible."
Jason O'Halloran is up for the challenge at Knockhill
Jason O'Halloran celebrated his first victories of the 2022 Bennetts British Superbike Championship last time out at Donington Park, launching himself up to second in the overall standings and feeling confident for this weekend's fourth round at Knockhill.
O'Halloran had historically had a tough time at the Fife circuit in the past, but turned it around last year with his first podium finish in Scotland. The Australian  is bidding to carry his momentum from the previous races into this weekend, knowing that the McAMS Yamaha team also have the knowledge from their recent test at the circuit to use to their advantage.
O'Halloran said: "It's been a good few weeks now since Donington Park and we had such a good weekend there taking a double win. We found a great feeling on the bike and I felt so strong in all the races.
"It's been nice to have a few weeks off, last year we were straight into the next weekend so it never really felt like you could enjoy the victories, you always had to turn your attention straight to the next round and track. This year it's nice to soak it all in and enjoy the result.
"We have had a test at Knockhill which again went well for us. I really enjoyed riding the bike there and we put in plenty of work. I can't wait to see what we can do this weekend, it's always a challenge but I'm up for it and can't wait to get started."
Christian Iddon continues to build momentum with Buildbase Suzuki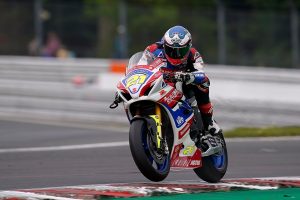 Christian Iddon has high hopes ahead of the fourth round of the Bennetts British Superbike Championship at Knockhill next weekend (June 16/17/18) as the Buildbase Suzuki rider bids to build on the momentum from the previous event at Donington Park.
Iddon elevated himself up to seventh in the championship standings following a consistently improving performance at Donington Park, claiming two top six finishes to record his best results of the season so far.
The Buildbase Suzuki rider has fond memories of the Scottish circuit after claiming victory there last year, so is hoping he can replicate the strong performance with Suzuki next weekend.
Iddon said: "So far the season has been pretty solid, that is the best way to describe it. We keep progressing round on round, every meeting we have gone away from so far we have come away with more points. That is really important and I think we are starting to get there with my feeling with myself and the bike and I really enjoy working with the team and feel happy there, which is good.
"The results haven't been bad, but that also means they haven't been good, and I expect a lot more from myself, so I am really looking to improve on that as I have been left a bit frustrated with my final positions in a lot of the races. You know it is difficult, because BSB is so inherently difficult but we have to keep pushing.
"As I said we keep improving my feeling with the bike, that is starting to show and we are always somewhere in the mix we are just missing that last little bit which I would really like to try and find. That is easier said than done but we are pushing hard for it.
"I am looking forward to Knockhill, although I look forward to every round, but I won there last year so it should be good. We didn't test like some of the other teams, so that could be interesting when we have the first free practice as it will be my first time on the Suzuki out there. But I am starting to understand the bike more so that hopefully shouldn't be too much detriment as it is a short lap so you can get loads of laps in quickly anyway, so shouldn't be too much of a hindrance.
"I am looking forward to continuing the season and hopefully building up on some of that momentum we are starting to get I think."
Rory Skinner seeking success at his home track after a positive test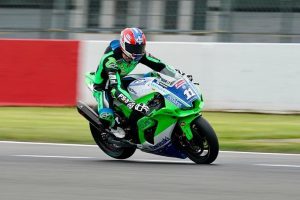 Rory Skinner is gearing up for his home round of the Bennetts British Superbike Championship next weekend (June 17/18/19) at Knockhill with high hopes of a podium return for the Cheshire Mouldings FS-3 Kawasaki team.
Skinner scored his first podium in his rookie campaign at the Fife circuit last season, making it a pair of second place finishes for Team Green. Following a positive test last week at his home circuit, the young Scot is now counting down the days until round four in just over a week's time.
Skinner said: "The Knockhill test went really well, being a two day test and being a short lap, gave us lots of opportunities to try new things with the bike. In total we completed nearly 200 laps and I came away feeling really positive for going into the races there.
"Being my home round it'll be great to have full capacity of fans again as that wasn't able to happen last season. I can't wait to be back out on the Cheshire Mouldings FS-3 Racing Superbike in front of my home crowd!"
Danny Buchan is hoping for more success at Knockhill with SYNETIQ BMW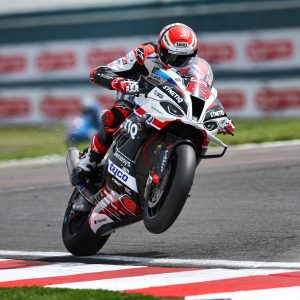 SYNETIQ BMW's Danny Buchan is eager to get back to podium finishing form when the Bennetts British Superbike Championship returns to Knockhill in Scotland on 17/18/19 June.
The Fife circuit delivered Buchan his best results of the season in 2021, claiming a double win and a third place and he heads into round four bidding for a repeat performance. The SYNETIQ BMW rider took advantage of track time at Knockhill to get more laps under his belt in preparation for the forthcoming round as he bids to climb into the top eight of the standings.
Buchan said: "It was nice to come back to a circuit I know so well and feel so good at last week. It's no secret I go well there so after a tough weekend at Donington Park it was clear that we needed some direction and I needed to get the feeling back that I have had with my SYNETIQ BMW M 1000.
"After completing 22 laps in the morning we got down to some respectable lap times, but the biggest thing was how I felt on the bike. The day ended early with a crash, but heading to Knockhill for the race weekend I am happy with my feelings from the test and excited to get some racing underway there."