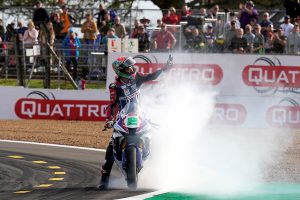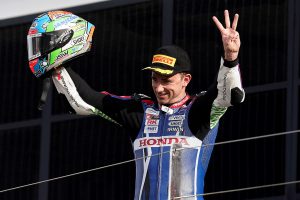 Glenn Irwin and Honda Racing UK were the team to beat at the opening round of the Bennetts British Superbike Championship, claiming a hat trick of victories to head the standings into this Bank Holiday weekend's second round of the season at Oulton Park.
Irwin's clean sweep at Silverstone means he has the target on his back this weekend as his title rivals bid to overhaul his early advantage. The Honda Racing UK rider finished last week's Official Test in second position, 0.388s adrift of Bradley Ray and is determined to maintain his momentum.
Irwin said: "Obviously coming into round two at Oulton Park as the championship leader is a good feeling. It is a feeling I enjoy and feeling that I think it can bring more out of me, similar to in 2020. It helped bring good momentum and it is nice to have that tag and everything that comes with it.
"We did have a good test at Oulton Park last week and I think it showed two things. It showed that it continues to be a more difficult track for us and our rivals have some sort of 'free time' as I would like to call it. Where they are strong there is not much I can really do, but it also showed that we have made a step there so I expect it to be difficult.
"As a racer you always want to win but I think targeting three top sevens is realistic and good, but that being said I feel honestly I am riding the best I have ever rode in my life. I know this is a more difficult for us and I do think the bike has made a step but I feel that I want to get in amongst it and maybe make the difference and that is exactly what I will be trying to do! We are in a good moment and we will work hard to continue this momentum."
Posted on Thursday, April 28th, 2022 in News