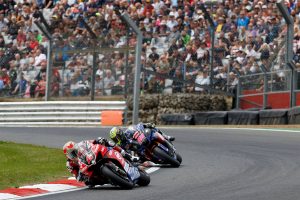 Bennetts British Superbike Championship leader Christian Iddon holds a narrow six-point advantage over Jason O'Halloran as the rivalry continues this weekend at Thruxton.
The pair have been trading blows at the top of the overall standings after the opening three rounds and as the title fight reaches the high-speed Hampshire venue, the VisionTrack Ducati team currently lead the way, knowing they need to close on their McAMS Yamaha rivals Podium Points tally.
For Iddon this will be the first visit with the VisionTrack Ducati to Thruxton, but with the team claiming a double podium in race one in 2019, followed up by a victory in race two with Josh Brookes, confidence is high.
"I have never been to Thruxton on the Ducati, obviously we hadn't at Knockhill either, but we had at least been there testing," said Iddon. "It will be a bit of an unknown for me so I am more interested to see how we get on with that. It will be nice to try and find a good feeling early on and hopefully we can guesstimate as best we can to begin with!
"My philosophy going into the weekend is the same as always, I do know Thruxton will be as it always is, a race of tyres so you need a good setting. I will do my best every time I go out and it is nice to be leading the championship, I have had that for two consecutive rounds now. Certainly, the target is obviously to be leading the standings still at the end of Sunday when we leave Thruxton."
The order in the standings changed between the races at Brands Hatch just a few days ago, but following his second victory of the season, Iddon moved back ahead of O'Halloran in the points.
"It's a hard-fought championship and you never know who you are going to be up against, but at the moment there seems to be a couple of riders who have been stand out who have been there every weekend," added Iddon.
"Myself and Jason have probably been the most consistent of those and it has been really, really close between us! There has been a swing in the championship and Jason is really strong and you can never count him out as he showed on Sunday morning after having a really difficult Saturday.
"I also think that Josh is going to be right up there, he is spectacular at Thruxton as he is at most tracks and he had a very good end of Brands Hatch and I think we will see a good return to form for him."
For the teams and riders, finding an optimum setting for Thruxton is even more crucial than usual, with tyre preservation key to victory in the closing stages of the races.
"Thruxton is a really interesting track and different to a lot of the others on the calendar. It is not overly technical in terms of corners, but it is massively technical in terms of trying to get the most out of the track," said Iddon.
"The slipstreaming and final corner is important and I don't know who is going to be right up there come the races, but I think the main guys, and I am more interested in seeing how my bike reacts as I feel really good with it at the moment.
"We have a good flow and I want to keep the ball rolling, which is much easier said than done, to maintain this consistency is no easy task in such a tight championship, but I will continue to do the best job I can and as a team."