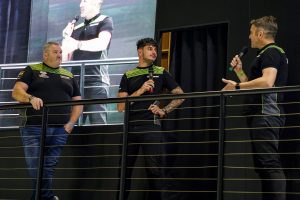 Quattro Group British Supersport Championship winning team Bournemouth Kawasaki/DB Race Services have announced the signing of Jamie Perrin for the 2022 season as they bid to defend their title next year.
The Bournemouth Kawasaki team were victorious this season in the Supersport Championship hunt, winning the title with Jack Kennedy as together they claimed seven victories and a further ten podium finishes.
Perrin joins the team as a regular contender in the Supersport class, switching to GP2 for this year's campaign where he finished the championship in sixth place after scoring seven podium finishes including a victory.
Perrin said: "I'm really excited to be jumping on the Bournemouth Kawasaki straight off the back of the bike and team winning the championship in 2020. I am sure we will be fighting at the front once again and I'm looking forward to being back in the Supersport class after spending this season racing in the GP2 series. I can't wait to get out testing on it and build some momentum ready for the start of the championship at Silverstone."
Team Owner Dave Tyson commented: "In 2022 we will defend our championship team title with Jamie Perrin. We have worked with Jamie in the past so we know that he is more than capable of winning at this level and taking the fight to his rivals.
"Jamie spent last year on a GP2, but some of the characteristics of the two will be similar, and with his experience in the class, I am sure we can be challenging again this coming year.
"It's our second season with the Kawasaki ZX-6R 636 and we have continued to develop the package since the end of the season, plus we have some more information coming from Kawasaki UK as well which will see the bike continue to improve.
"I would just like to thank Kawasaki UK and all our technical partners for the support for 2021 and into next season and we are looking forward to another great year for the team and DB Race Services."
Posted on Monday, December 13th, 2021 in News