Originally built in 1940 as RAF Thruxton, a World War II airfield and home to both the RAF and USAF, the site was used for troop-carrying aircraft and gliders during the D-Day landings. In 1946 it was decommissioned and from 1950 it was used for motorsport. Motorcycling was the first sport to be staged there, with four-wheeled racing commencing from 1952.
Here a few of our supported riders share their thoughts ahead of round 7…
Jack Kennedy
Jack Kennedy and the Mar-Train Yamaha team celebrated their best finish in the Bennetts British Superbike Championship last time out at Brands Hatch with a fourth place in the BikeSocial Sprint race and now the reigning Quattro Group British Supersport champion is targeting more at Thruxton.
Kennedy has celebrated plenty of success at Thruxton in the Supersport class and now together with the Mar-Train Yamaha team, they are bidding to carry the momentum into next weekend's seventh round at a circuit where the Yamaha was strong last season.
Kennedy said: "The Saturday at Brands Hatch was a great day for me and the team; from making it through Q1 and then the rain came and the team had a big job on to get the wet setting into the bike ready for Q2. We decided we would rather do that and miss a few minutes of the qualifying than go out on a dry setting that was just backed up with about eight minutes to go, so I got about three flying laps in the rain. I managed to qualify fourth and that was great as that was my best outright qualifying in Superbike.
"I didn't get a great start, dropped back to about eighth or ninth and then managed to pick a few off and get towards the front of the pack. We brought home a fourth place with the red flag, the racer in me always thinks what would have happened if it had gone full distance, could we have stuck it on the box, but that is all ifs and buts. I felt really comfortable in the race and it is not every day you can say you felt comfortable in the wet on a Superbike, so hats off to the Mar-Train team for giving me a great bike and set-up which gave me the confidence to push in those conditions.
"It was great to get mine and the team's best result in BSB and I suppose we have set the bar quite high with that one again and we have to try and improve now again next time out. I am really looking forward to Thruxton; it is a track I really enjoy. I love any high-speed track and there isn't anything more high-speed than Thruxton! I have had good success there in the past with Mar-Train and the Yamaha has a great track record for managing the tyre there so we are going into the next round with a very positive and happy outlook on the round. Hopefully we can get some even better results over the three races there."
Max Cook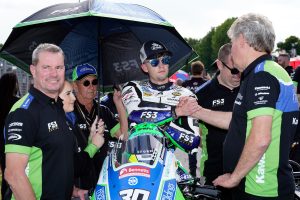 Max Cook continued building during his rookie campaign in the Bennetts British Superbike Championship as the Cheshire Mouldings Kawasaki rider scored a pair of top ten finishes at Brands Hatch to celebrate his best performances to date.
Cook bagged his first top ten finish in Bennetts BSB in the wet BikeSocial Sprint race at Brands Hatch, which he followed up with a repeat performance in the dry conditions in the final race of the weekend. The consistency has launched the reigning Pirelli Junior Superstock champion to the top of the standings in the R&G Rising Stars standings as he aims to continue his progress at Thruxton next weekend (August 11/12/13).
Cook said: "I had a really good weekend at Brands Hatch, obviously I got my two best results in the wet and dry so I was super happy with that. To be fair I wasn't too confident about Brands Hatch before the weekend, I don't know why, I just didn't have a brilliant feeling with it like I did at Snetterton or Donington Park.
"I feel like I have definitely understood the Superbike now and have got to grips with it; the team know what I like and I know what I like set-up wise so it we are in a real good space now. It is all working brilliantly.
"I do enjoy Brands Hatch but on the Superbike it is quite a different story; it wants to wheelie everywhere, out of Clearways it moves about a lot. That was also my first time racing the Superbike in the wet so I am really pleased with the tenth. At the time I was disappointed it got red flagged as I was just finding my feet in the rain and had started picking a few people off so I think I could have got a better result but there will be another time to get a wet race.
"To do it in the dry was great too and to do it in race three, I felt really good and can now make some overtakes later in the race which is something I couldn't do earlier in the year.
"This year has been great for me to see the improvement. It is never a huge improvement say every weekend, but it is just step by step and maintaining that consistency and I am having a brilliant time."
Jason O'Halloran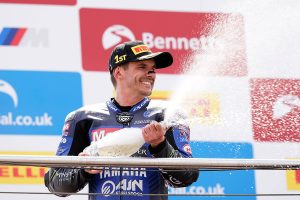 Jason O'Halloran has won five of the last six Bennetts British Superbike Championship races at Thruxton and the McAMS Yamaha rider will be determined for history to repeat itself when the title fight reaches the high-speed Hampshire circuit this weekend (August 11/12/13).
Last season, Thruxton produced the closest race finish of the championship with the Yamaha riders duelling for supremacy all the way to the chequered flag. History has proven Thruxton to be one of the strongest circuits on the calendar for O'Halloran, he did the double there last season and will be pushing to return to winning ways for the first time since Donington Park earlier in the year.
O'Halloran said: "Looking back at Brands Hatch, it was a weekend where we scored some good points and top five finishes, which was good with the changeable conditions but ultimately myself and the team are looking for more. We want to be on the podium and ultimately challenging for more race wins.
"I think Thruxton can be that weekend for us; it's a track that I get on really well with and the Yamaha gets on well there. I have won five of the last six races at Thruxton, so it has been a really good circuit for us as a team and one that I feel that the Yamaha should do really well at this year.
"It's obviously a really competitive season, our competitors are strong at every track that we go to but I feel like Thruxton might be the circuit this year where we potentially can have a little bit of an edge. I am feeling good and ready to get stuck in, hungry to get back on that top step. I want to win some more races this year and get that winning feeling back.
"When I look back at last year, probably, and maybe the fans will know better than me, but it was probably one of the best races of the year between myself, Brad and Taz, all three races were enjoyable to be a part of; I obviously won the first two and finished third in the last one. But they were amazing races and was such good fun racing with those guys and especially with us all being on the same bike, all doing similar things.
"Three enjoyable races and even more enjoyable when you manage to win a couple of them so I am looking forward to this year and getting back there and getting stuck in and seeing if we can get a couple of first place trophies."
Christian Iddon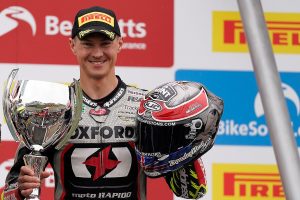 Oxford Products Racing Ducati are gearing up for their home round of the Bennetts British Superbike Championship at Thruxton this weekend (August 11/12/13) and after a double podium last time out, Christian Iddon has high hopes of success at Thruxton.
The team are based at their Winchester-based Ducati dealership and arrive at their home round off the back of a double podium finish at Brands Hatch, as Iddon heads to Thruxton with confidence high as he targets his first win of the season.
Iddon said: "It was obviously mega happy to take the first podiums of the season at Brands Hatch I did think they would have come sooner in the season than round six though! The first wet race we had this year and the bike felt really good actually – really, really good! In that race and the bike felt so good that I was just biding my time, as it is so easy to make a mistake. The race didn't go full distance but I would like to think that I had a good shot at winning it but it didn't so it is kind of irrelevant but I took the first podium which was mega and a good reward for the whole team and their hard work.
"The first race gave me pole position for the second race and to be honest, for the last three rounds I have almost had the pace to run at the front, but I have just not got away with them. My rhythm has been pretty much the same as the guys at the front, but I have just not been there to make an impact.
"Finally, I had the chance to make an impact and we did just that. The first dry race wasn't amazing, when Bridewell came passed me I didn't have an answer for him and all I could do was defend from the guys behind. But we made some changes for the final race and that made a massive difference on how I felt and I led, I wanted to lead, until Tommy came through and I know that was a big telling factor as I knew what he had in the earlier race.
"He got in front but didn't really have anything extra so I was really excited and thought I could win it but ended up in more of a battle than I anticipated and ended up losing places then with three laps to go, I lost the front at Paddock and lost a load of time and ended up in fourth. So funnily enough, my best dry race was the my worst result of the weekend!
"That was a massive confidence boost and we have been working away bit by bit and improving bit by bit, we were so far off and the start of the year as I didn't have the feeling with the bike and now I do and it really does. We only have to fine tune and at Brands Hatch, we only had to make a few tweaks so I can work on my riding and I am finding a flow.
"Thruxton is a kind of a track, which is just like its own with nothing else like it anywhere in the world. It is the Oxford Products Racing Ducati team's home round, so obviously they want to do well and I am feeling confident coming off the back of the last round, so we are going to continue to work hard and hopefully push towards the front.
"This is pretty much the start of our season now as I feel like at the first three rounds we didn't even turn up! Since Knockhill we have really got going and now we are really hitting our stride, so let's keep that momentum going to move forward."
Ryan Vickers
Ryan Vickers became the 57th different race winner in the Bennetts British Superbike Championship at Brands Hatch and the LAMI OMG Racing Yamaha rider is ready to try and add to his podium tally this weekend as the title fight reaches Thruxton (August 11/12/13).
Vickers claimed his first podium finish in the Championship at Donington Park and now after a career best weekend at Brands Hatch; he is ready to keep the momentum rolling into the high-speed Hampshire circuit, which was a happy hunting ground for Yamaha in 2022.
Vickers said: "I am really looking forward to Thruxton especially coming off the back of Brands Hatch as that was my best ever Superbike round of my career. It was an amazing round at one of my toughest circuits, so to have my strongest performance at my worst circuit as such made it even better. That shows the run of form that we are getting at the moment.
"I am really happy to get to Thruxton, which is probably the strongest circuit for the Yamaha and also probably my favourite circuit and in the past my best results have always come at Thruxton, and on some bikes that don't usually have the strongest of results there. I am really looking forward to it; we are going with the same attitude of the last couple of rounds, and just build and concentrate on ourselves and then we should be right there in qualifying and for the races.
"The team have given me a great bike and I want to be battling for the wins and podiums again and I am sure we will be doing just that. We have been building nicely the last four rounds but to have podiums at four rounds and leading races has been amazing.
"We are clawing the gap back in the championship a bit, we haven't moved position but we are really closing the gap to the guys in front and they are also not too far away. Once the points change for the final rounds, we just need to be in that battle at the front again and then we could seriously catch up. I am not focused on that right now, we just want to keep working hard and doing what we have been doing the last few rounds to keep the momentum going."
Tommy Bridewell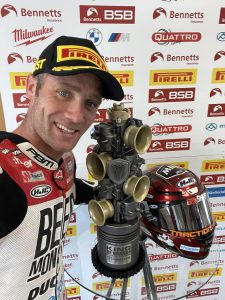 Tommy Bridewell heads to his home round of the Bennetts British Superbike Championship at Thruxton bidding to maintain his advantage over his title rivals after his double race win last time out at Brands Hatch.
Bridewell holds a 34.5-point advantage over his BeerMonster Ducati teammate Glenn Irwin ahead of this weekend's three races, but the punishing Hampshire circuit has traditionally been a tough round for the Devizies local.
Bridewell said: "Brands Hatch seems like a long time ago now to be honest! It was another brilliant weekend for us and I just feel at home with the bike and the team. Since Snetterton, we have changed the way we work on my side of the garage and it is really paying off – I feel relaxed and comfortable.
"It was a good weekend; I got pole in the wet and the only small negative would have been the wet race as we couldn't get any grip, but we know why, so that is the main thing. The Sunday races I rode and did what I needed to do; it was a good, strong weekend and still a little bit surreal when I think about it and that I have won the last five dry races. That is a brilliant achievement and the team is working great.
"Coming into my home round I don't have any expectations in all honesty as that is the best way for me to approach this weekend. We all know that Thruxton is an all-out tyre war – who is able to manage the tyres the best and whose bike is able to manage the tyre with the power delivery.
"Plain and simple, we are going to carry on working the way we have been and if it works for us and we get the results that we know we are capable of then fantastic, and if it doesn't we will take what is on offer and then roll into Cadwell Park. I am really looking forward though to taking our momentum into our home weekend."
Josh Brookes
Josh Brookes is heading into the Thruxton round of the Bennetts British Superbike Championship this weekend (August 11/12/13) ready to bounce back from a disappointing event last time out at Brands Hatch.
The FHO Racing BMW Motorrad rider still holds fourth place in the standings as he heads to one of his favorite circuits on the calendar, bidding to return to the podium at a circuit where he has been victorious previously.
Brookes said: "I still feel a little wounded after the results of Brands Hatch, but it will soon be in the past. Thruxton has always been a track I like to go to, in fact it is one of my favourites of anywhere in the world as it is a very unique track.
"On that note I am looking forward to it, but my last two visits have been disappointing and the results haven't come so I haven't enjoyed the positions I have finished and that has put a spoiler on a track that I have had good feelings about. But this is a new year, with a new motorbike so we will see how it goes. I don't want to put any expectations on this event, I just want to arrive and see what it has on offer for me."
Glenn Irwin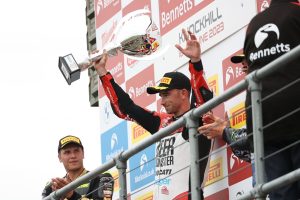 Glenn Irwin arrives at Thruxton bidding to close down his BeerMonster Ducati teammate at the top of the Bennetts British Superbike Championship standings this weekend (August 11/12/13).
Irwin sits second in the standings and 34.5 points adrift of Tommy Bridewell, and is focused on reducing the deficit in the three races this weekend at a circuit that has in recent years not been the strongest for the Ducati.
Irwin said: "I am looking forward to getting back on the bike at Thruxton, especially after two weekends off and I have had an enjoyable holiday and been working hard on training so I am feeling refreshed ahead of this weekend.
"With Thruxton it is very much like Silverstone with the mindset going into it. It has been tough for the Ducati in recent years so we go into this weekend with an open mind that it could be a difficult weekend. I expect Yamaha to be really strong as always, we know Hicky has shown good form, as has Josh in the past, so there will be a lot of riders in the mix. The Honda was competitive there last year, so I expect Danny to be up the front so I feel like it is one of those weekends where it could be any one of ten riders winning.
"I guess as form has shown so far this year the Ducati has been competitive everywhere but we go into the weekend with an open mind as it could be one of the tougher rounds. Certainly at the start of the year we expected Silverstone and Thruxton to be tough and we will go into the weekend with open eyes, do our work as we did at Brands Hatch, and see how it pans out – we will know more on Friday!"
Kyle Ryde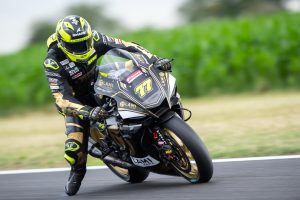 Kyle Ryde is hoping he can pick up the mantel as the Bennetts British Superbike Championship returns to Thruxton this weekend, with the LAMI OMG Racing Yamaha rider determined to continue Yamaha's successful winning streak at the Hampshire circuit.
Ryde didn't have the easiest of times at Thruxton last season, but all three races were won by Yamaha, and after a disappointing time at Snetterton and Brands Hatch, he is ready to be back in the podium fight this weekend.
Ryde said: "I obviously want to get things back on track this weekend as we have had a bit of bad luck recently. It happens to everyone at some point but it has been a bit annoying as the last two rounds I have struggled on the first race and then ended up coming back slowly but surely so Snetterton's last race was great. The same at Brands Hatch and the bike felt great, and I was ready to take a trophy home and then unfortunately the gear lever broke so I was left sulking and with not many points!
"Obviously Thruxton has been a great track for the Yamaha in the past, even though I didn't do too great last year. I am ready to put things right, I want to be taking some trophies home this weekend!"